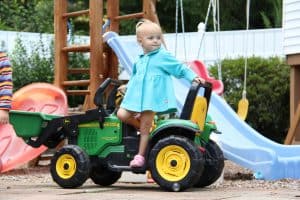 Zutano makes some of the softest children's clothing I've ever had the pleasure to dress my children in.  No matter what the article of clothing is, from outerwear to tights and everything in between, the pieces have held up, without fading, and kept their shape.  The fun and funky colors and
designs only serve to make the pieces really, really cute.  We have had many Zutano pieces over the years, some gifts, some purchased, and some hand me downs- all have been excellent quality and as I said before, held up really well.
Zutano sent us some lightweight jackets for my 2 younger kids- for Baby B, she's rocking the Pool Toddler Bodice Jacket <— in a 3T which is too big but with the sleeves cuffed fits perfectly fine and she'll wear it at least fall and spring if not next fall too.  This coat is 100% cotton lightweight terry, adorable, and cut so she can still run and play while looking very adorable (pants, as you can tell, are optional with this child).  This coat is made for layering and also comes in Mandarin, Fuchisa and Chocolate.  This little coat also has a twirl factor for your girlie girl!!
My little guy got the Navy Stripe Reversible Toddler Hoodie, and he is, quite simply, smitten with his new "cool, oh yea, cool" jacket.   He is so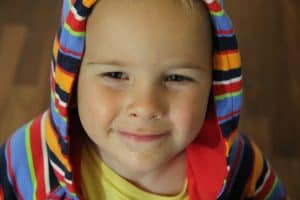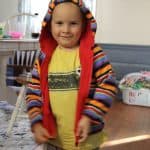 happy with the colors, and is very excited that he can maneuver the zipper by himself.  His favorite hoodie from last year, the zipper was a nightmare to contend with and he couldn't get it to budge on his own which frustrated his independent little self.
This hoodie is, as all things Zutano are, made with super soft 100% cotton and designed to be played in, moved in, jumping-off-rocks -to-save-the-world-in.  I would like a hoodie like this, for me.  I'd probably never take it off.
One of my favorite things about Zutano is the fun prints and patterns- and the print families that can be mixed and matched to your little one's heart's content- encouraging them to express their individuality from an early age (if you know me, I let my kids do this- my little guy wore winter boots year round for almost a full 12months at one point, even with shorts and a tank top).  I think mixing patterns is so much fun anyway, especially on little ones, and delight in seeing the combinations Zutano always offers.  I can't find anything I'm NOT in love with from Zutano, much to the chagrin of my husband….and our bank account…
Since I have baby fever yet again (still?) thanks to my friend Jenni, I spent a good long time perusing the Nursery section of the Zutano site.  How I would love to have Zutano pieces in my nursery!!  The softness, snuggliness, fun prints, playful patterns? Oh, how fun these would be to have!
One of my readers will win a $75 Gift Certificate to spend at Zutano. 
Mandatory Entry: Leave a comment with your name and be sure to use a valid email address in the comment form.  I need to be able to reach you if you've won!
Extra Entries:
Follow Zutano on Facebook
Follow Zutano on Twitter
Visit Zutano and tell me what your favorite item is!!
Follow me on GFC, Facebook, Twitter or RSS/Email Subscription (+1 each)
Share this giveaway on any social networking site : #win a @Zutano #giftcard from @mamatomjr https://www.thismamaloves.com/?p=10957 #baby #toddler #preschool #clothes  (can be done 2x day on each share site at least 1hour apart)
This giveaway will end on September 8, 2011 at midnight, EST. US only. Winner to be chosen randomly. Winner has 48 hours to respond to my email or a new winner will be chosen.
I received a sample of this product to facilitate my review. All opinions expressed are my own.
0