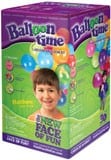 I don't know about you but my dad was always the one stuck blowing up balloons, and anything else inflatable, period.  No questions asked.  Its kind of the same with my family now, my poor husband is always having to inflate things.  I have a freakish fear of balloons, which is unfortunate for me because my children LOVE balloons!  I don't mind letting them have balloons although I won't touch latex balloons, thankyouverymuch.  I stick to the non-scary Mylar variety!! 
Balloon Time makes helium balloon kits with tanks that make it possible to have the helium balloons you buy at the store for a ton of money from your home for a fraction of the cost.  Awesome.  They have different sized tanks and balloon packages so you can buy according to your needs.  Plus, its so EASY to use the tanks and they give you all you need for the balloons- even the ribbon for them!!  Genius!!
I can tell you this is a company with a heart because when Julie (wwwayearwithmomanddad.com) and I did our Storytime for The UPS Store and Toys for Tots Literacy campaign last week, guess who donated a tank and 50 balloons for our event?  That's right, Balloon TIme!  How awesome of them!! 
Not only that but they've offered to send one of my readers a voucher to get a Balloon Time tank!!!!!!!!!!!!!!!!
Mandatory Entry: Leave a comment with your name and be sure to leave a valid email address in the comment form!
Extra Entries:
Like Balloon Time on Facebook (Feel free to say " Thanks to them for supporting #ToysforTotsLiteracy storytime with @this mama loves her bargains & @ayearwithmomanddad" on their wall and get +1 extra entry)
Follow me via RSS reader or Email subscription +1 entry each
Enter this SAME giveaway at A Year with Mom and Dad and DOUBLE your chances to win (and get +1 entry for entering there too!!)
Share this giveaway on any social networking site: #Win @BalloonTime kit and make your event *pop* http://wp.me/p1qA6G-1Wk from @mamatomjr (can be done up to 2x/day at least 1 hour apart)
This giveaway will end on June 22 2011 at midnight, EST.  Winner to be chosen randomly. US only. Winner has 48 hours after initial contact to respond or a new winner will be chosen.
0