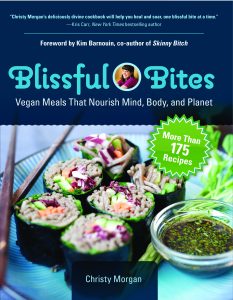 Blissful Bite -Vegan Meals That Nourish Mind, Body and Planet was written by Christy Morgan AKA The Blissful Chef. I have been following and chatting with Christy on Twitter for quite some time now. She is a wonderful, caring, compassionate woman. Check our her site for great ideas and recipes. Christy wrote a truly beautiful cookbook that has tasty plant-based recipes for vegan, vegetarians and meat-eaters as well.   Seriously-  look at that cover, doesn't it make you want to make the soba noodle sushi with apricot-ginger dipping sauce?   Her dipping sauces are amazing and the flavors are authentic. I tried the asian rice paper rolls with almond bliss dipping sauce.  I made extra sauce and used it on rice and veggies for lunch.  My mouth is watering just thinking about it.
Blissful Bites has more than 150 exciting plant-based recipes.  The book begins with a comprehensive section on plant-based diets and all the spices, kitchen tools that are used in these recipes.  You will love the Hearty Lentil Soup, Lemon Basil Potato Salad, and the Lemony-Lime Hummus.  As you can see by the picture I posted, I have so many favorites I want to try.
You can buy your copy of Blissful Bites on Amazon http://www.amazon.com/gp/product/1935618512 currently for $13.57 US.
One reader will win a copy of Blissful Bites!


I received a copy of this book to facilitate my review. Opinions expressed within are my own.
0