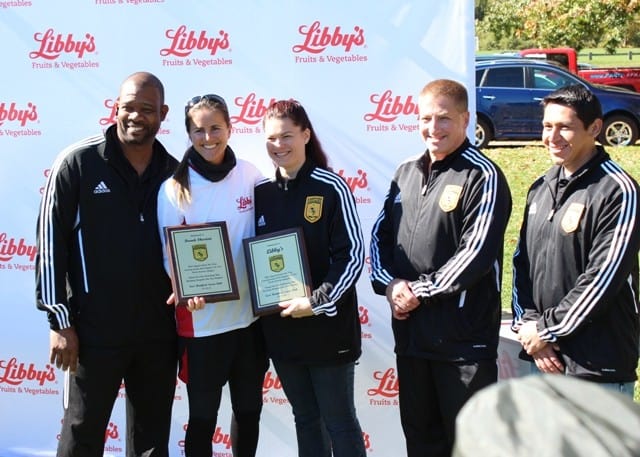 Saturday morning I got to bring my kids and share with them an experience that had nothing to do with us and everything to do with "paying things forward." Soccer star Brandi Chastain and Libby's Snack Duty Takeover Program were in a nearby town to give samples of Libby's and a $5,000 check to the town's soccer club. We were there to watch it happen and were fortunate enough to be able to get some photos with Brandi. She even autographed my son's soccer jersey (ok, so it did relate to us a little, but it wasn't an event for our town). It was a really cool thing to see. Plus, for the first time ever, I got to see one of the huge checks that are always shown in TV and in the movies.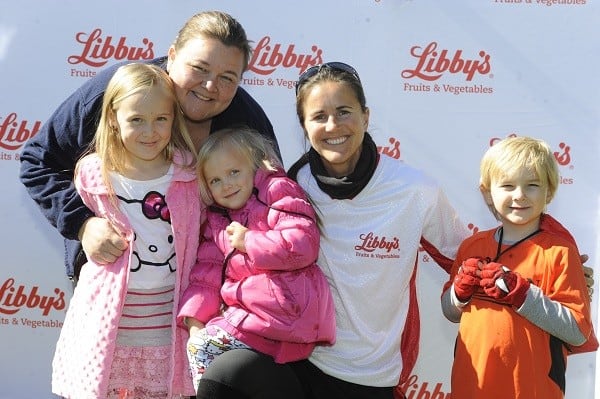 Mostly, it was really neat to see a world class soccer player doing what she does best- playing soccer on the field- with all different groups of children- little, big, it didn't matter. Brandi Chastain was playing soccer and it was very clear to all that she loved every second of it. How cool of her to be out there on fields, in a town full of strangers, teaching kids some of HER favorite soccer techniques, just like any one of us might be. Did I mention that it was about 40 degrees and really chilly? You'd never have guessed. The folks from Libby's and Brandi were full of smiles and happy to be there, to be presenting a cash gift for the soccer club. It was a pretty awesome experience. I was glad I could bring my kids to see what an impact things like this can have.
Brandi's words were very motivating. I was pretty impressed that even as she was speaking about being able to give money to support the sport she loves to people who live in a town she's not from- she turned her head, reminded a few boys who were a little bit antsy where their attention needed to be, and never missed a beat. Brandi Chastain may be a soccer star, but it's also very clear she's a mom. She's a pretty cool lady, if you ask me. It was neat to hear her talk to the kids about never giving up on their goals– no matter how bad things may seem (and I was surprised that the example she gave was one that was probably a hugely embarassing moment for her- but a powerful message for the kids). Mostly, it was just pretty cool to know that even superstar athletes can be normal and down to earth.  Plus, Brandi exemplifies healthy living and really encourages kids and families to eat healthy and play healthy.
When we local bloggers were introduced to her, we were each asked a question. I was so unprepared. I wasn't anticipating US being asked questions! It was really cool to talk about snacks and food for kids to keep them going especially before and after sports practices.
Brandi's Kid Friendly Tips for Healthy Living:

Hydrate to perform great. Kids should drink water before, during AND after exercise. While exercise generates heat and increases the body's core temperature, water works to bring body temperature back to the normal 98.6 degrees Fahrenheit. Let your child pick out a colorful water bottle to make drinking water fun!

Always make time for healthy meals. The USDA says that half our plates should be filled with colorful fruits and veggies, but when your children are constantly running from school to practice and back, it can be tough to get them to eat that perfect meal. Add Libby's® Single Fruit Cups, which contain one complete serving of fruit, to your children's bags for an easy and nutritious snack.

Sleep is important! Children should receive an average of eight hours of sleep each night. Without enough sleep children get cranky and lazy, and will not perform to their full potential during school, practice or games. Help your children stick to a regular sleep schedule by making bedtime fun – read them a story or sing a song while they fall asleep.

Turn exercise into a family affair. When exercising is a solo act, it can sometimes feel like a chore. Bring the whole family on-board and make exercising fun, family time! Join your kids in a game of soccer, Double Dutch or kickball.

Lead by example. When you set a good example, your kids are more likely to follow. Although it's easy to stop at the drive-thru on the way home from practice, make an effort to eat well and live a healthy lifestyle. Become a role model by exercising regularly and eating healthy foods, like Libby's Canned Fruits and Vegetables, with your children. It's easier when you make it a team effort!
Libby's wants to send one of my readers a prize pack just like the ones handed out Saturday at the fields to all of the players (and bloggers)!
To enter, leave a comment telling me your go-to healthy snack for you or your kids.
Want an extra entry?  Like "Libby's Table" on Facebook
And of course, feel free to tweet, share this on Facebook or Google Plus for extra entries.
This is a sponsored post from Libby's and The Motherhood.  Opinions are my own.