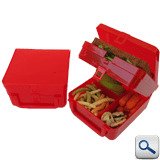 Be friendly to the earth with a reusable, BPA free Brightbin lunchbox and keep your little ones happy at lunchtime!  If your kid doesn't want their foods to touch (like me- I am the one who doesn't want food to touch!) or simply prefers things to be in their own place, Brightbin offers a great solution to keep all of the lunch parts and pieces in one place, and one of my favorite parts is that it tucks into just about any standard sized lunchbox with room for a drink!
We have many, many reusable containers in our home- different sizes, shapes, colors, purposes- and while they are wonderful and get used regularly, they also haven't been to school with a first grader who maybe gets a little bit distracted like her mama and might throw them out by accident.  I was glad to try the Brightbin out- it has all of the components and functions of our containers we have, along with being BPA, phalate free, etc, but there is a big difference: the Brightbin is one piece.  One unit.  She can't really toss this one out by accident unless she's having a particularly spacy day (as my dad used to say "Having a Brett day" haha).  One side has a large, square shaped compartment for something larger- like an entree or a sandwich- and the other side, which obviously opens separately, has some different sized compartments for the rest of the lunch items.  The compartment sizes are compatible, in my opinion, with serving size recommendations. 
We are still adjusting to the school routine and having snack and then lunch at school in our house, so I'm still unsure just how much is the "right" amount to send to school with my Busy girl.  I like having the options that the Brightbin allows for- and the pink color makes her happy.  Its nice being able to fill this up even if I think she won't eat everything- I know if she IS hungrier from one day to the next, she will have something else- I'd rather pack a bit extra than too little!!  Thankfully, the Brightbin can be washed in the dishwasher (even daily, we've tried!!)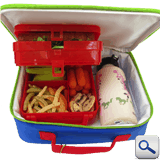 You can purchase your Brightbin by itself (it fits into most standard sized lunchboxes/bags), or you can purchase it as a combo
pack with an insulated lunch carrier (we received one with ours from Crocodile Creek in the Tie Dye print) and with the basic colors of the Brightbin, you can mix and match to coordinate (or clash) the lunchbox with the lunch carrier!  Buying the Brightbin means you will also save MONEY over time because you won't be buying plastic baggies, and you won't be running the risk of replacing reusable containers and lids!!   Great for your wallet and great for the earth!!
One of my readers will win a Tie Dye Combo from Brightbin!!
I received a sample of this product to facilitate my review.  Opinions are my own.
0