I have loved the Britax brand since my youngest was in utero and I began the search for the safest car seat we could find. We have had I think 7 Britax seats total at various times- some we don't use any more, most we do. Up until March 13th of this year, I hadn't ever seen a Britax stroller in person.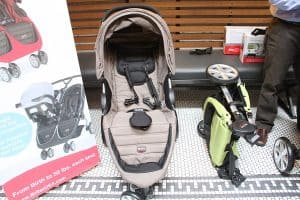 Then Britax invited me to come have brunch in New York City with them and preview their new strollers coming in May. I'm in love.
Britax has taken their known emphasis on safety and quality materials and put all of that into their strollers. From the B Ready to the B Agile double, they have some amazing strollers that offer safety, function with a whole lot of style…and diversity.  Really nice, comfortable fabrics, well stitched, easy on/off accessories, 5 pt harnesses, all of these components combine to make for very strong, very durable strollers.
The B Ready offers the infamous "travel system" that so many parents look for, but with 14 different ways to configure the seats.  There's the seat you can get for the back, to make your B Ready a double, and still have it keep  it's narrow footprint.  The seat rides nice and high so your little one doesn't spend their time in the stroller staring at handbags and rear ends, and can enjoy the sights and sounds surrounding- including, of course, YOU, if you have them facing you.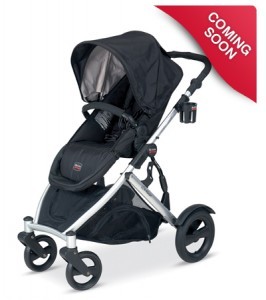 The B Ready comes in several great colors meant to match the infant carseats and has several accessories available to make this the "ultimate" stroller experience for your family.  I will have a review and giveaway coming of this stroller with the second seat likely in May so I'll be sure to let you know! We have many family adventures planned this summer and will be testing this stroller out many times.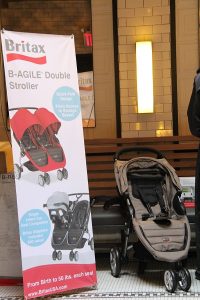 The 2012 B Agile double is coming soon (May of 2012) and oh my gosh.  I had my 29 lb 2.5 year old and my friend's 25 month old in this stroller (I think he's about 26 lbs) and it was NOTHING to turn the stroller.  If you've pushed kids in strollers, you know how important this is.  There's even a stroller board that you can attach (it takes a few moments, but I watched the Britax designer attach it to the stroller in front of me, and while it does take several minutes to get the stroller set to go with the stroller board, once you do that, its easy on and off.  This is big news for folks like me who have 3 kids, who don't often want nor need a stroller but sometimes do get tired.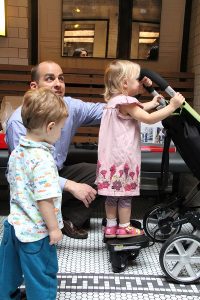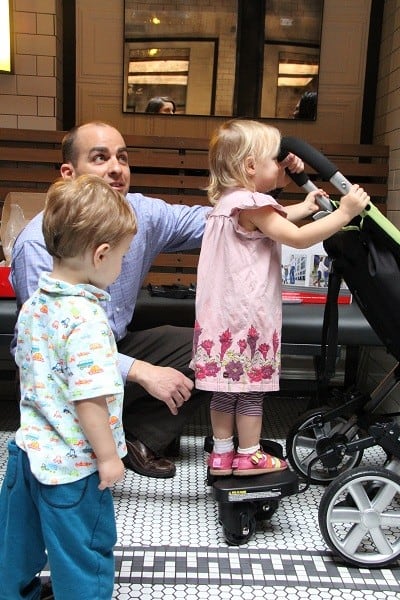 What do you love about your stroller?  What is your favorite brand?
I was invited to come to have brunch and check out the new strollers from Britax.  No compensation or product was received in exchange for this post.  Opinions are my own.  
1