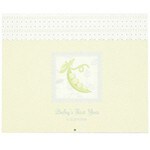 Every new mother has dreams of documenting their child's first years in a memory book.  I for one made a great effort with my first baby.  I would keep the baby book in a handy place so that I could easily run over and document the day's achievements during naptime.  Yes, I even documented his sleeping and eating patterns during those first days.  Why, I don't know, but it is funny to look at now.  His memory book is complete with samples of napkins from my baby shower and a scrapbook type photo album inside.  Oh no, I wasn't going to become one of those cliche women who don't document a single thing after their first baby.  After all, how hard can it really be?  It just takes a few minutes a week.  Besides, I have some gorgeous photographs that I would love to include inside for memories.  Well,  I'm not too proud to say that I failed.  Miserably.  When  baby #2 was on the way I was on bedrest and spent endless hours researching that perfect, beautiful baby memory book.  I ended up spending a lot of money on a nice, but not fabulous, baby book.  I started out strong.  Documenting my pregnancy, the family tree, the birth announcement.  It's not that hard to find the time when your baby is a newborn and sleeps all day.  However, as the months went by, I completely forgot about the baby book.  It is so disheartening to me that I don't even know that date that my baby first crawled or walked.  What was I thinking!  I could have at least marked it on the calendar.
So, needless to say, now that baby #3 is on the way I am going to redeem myself.  I found the most gorgeous baby books at C.R. Gibson.  They offer a wide array of gift items, but also have a nice selection of baby memory books.  I wanted a book that was already laid out with descriptive pages and designed so that I didn't have to do any scrapbooking.  This time around, I know that the easier it is, the more likely I will be to actually fill out the book.  The Jack & LuLu Baby Collection by Anna Griffin immediately caught my eye.  I love the paisely pattern on the cover with the center cutout for a nice photo.  This is a nice feature when you have several children.  Making it easier to remember whose book is whose without leafing through it.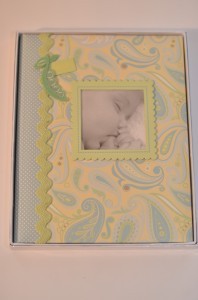 "Anna Griffin's Jack & LuLu Baby Collections feature embroidered felt, ric-rac and tip-ons. This fresh collection is available in a loose-leaf memory book, bound memory book, baby's first year calendar, keepsake chest, bound photo journal album, grandma's brag book, large and extra-large embellished gift bags, and a scrapbook complete."
9 x 11 1/8″ cover size
Decorative pages to record memories and milestones of baby's first 5 years
Acid-free, lignin-free
Gift boxed
Pages include: All About Mommy/Daddy; Family Tree; Mommy/Daddy's Family; Mommy & Daddy are Having a Baby; Showers of Good Wishes; It's About To Happen; Oh Look, It's Me; Small Wonder; Tiny Prints; Announcing Me; The World Around Me; Home is Where My Heart Is; The Price of…; Watch Me Grow/Immunization Chart; Here I Go… Watch Me Grow; My First Teeth; All of My Firsts; New Adventures; Holidays & Celebrations; Some of My Favorites; My First Day of School; Letter from Mommy; Letter from Daddy.

12 full pages for first 12 months
5 full pages for first 5 birthdays
8 pages for notes, keepsakes, and photos
 This description says it all.  There is no planning or decorating to do.  This beautiful book comes ready to use.  All you need to do is fill in the blanks.  When I received this book in the mail I was really surprised by the quality.  The book is nicely bound with a sturdy and fashionable cover.  It was nice to see that the sweet pea and rick rack embellishments were actually fabric pieces and not just printed onto the cover.  I think this gives the book a much more "scrapbooky" feel.  Besides, who doesn't love ric rac?  Each page is printed with a coordinated color and theme, with scrapbook type borders and embellishments printed onto every page.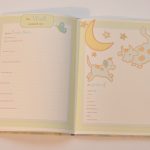 The colors are soft and baby – like.  The layout of the book makes chronological sense, with a page or area dedicated to every milestone or event that you could think of.  The Jack & Lulu Baby Memory Book comes with a nice sturdy storage box and is packed nicely for gifting.  This my third baby book and and my favorite.  It is a nice size without being too large and bulky, each page is designed thoughtfully and interestingly.  A lot of baby book just print a coordinating or border onto every page.  I have found that Anna Griffin really took that extra step to make this book special with thoughtfully designed pages throughout the book.  You can purchase the Jack and Lulu set here for an extremely reasonable $32.  You would be hard pressed to find a cuter book of this quality for a more reasonable price.
I was also lucky enough to try out the Baby's First Year Calendar of the same design.  This item is fabulous!  I wish I had one for every baby.  The theme and decoration follows suit with the Jack Baby Memory Book.  It is used just an any other calendar, but with a twist.  If you are just too busy to get out the baby book to write down an entry, but want to make sure that you remember the specific date of an important milestone, just jot it down on the calendar.  They even provide you with milestone stickers in the back.  All you need to do is find the correct sticker on the last page of the calendar and stick it on the appropriate date.  Voila!  You didn't even have to find a pen.  Later on, when you have some quiet time, you can take a look at your calendar then write down your memory book entries.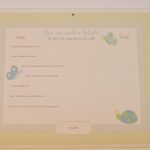 Stickers provide special and easy way to remember baby's milestones
Acid-free, lignin-free
Open calendar measures 11 x 18″
I am going to start using my calendar now, during the last trimester of my pregnancy.  This way I can record important appointments and details from my pregnancy.  Won't that be fun to look at later?  The calendar is printed on archival paper, so there are no worries about the calendar deteriorating over the years.  It is meant as a keepsake and companion piece to the Baby Memory Book.  I love this combo.  Cute, affordable, convenient.  This is going to make my journey of recording every baby milestone much more efficient and convenient.  The Jack and Lulu First Year Calendar's can be purchased here for $14.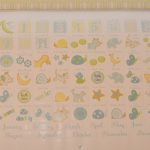 This cute and affordable set, the Baby Memory Book and the Baby's First Year Calendar can be purchased at C.R. Gibson.  With a total price under $50, this would make an excellent choice for a baby gift.  Check out the Anna Griffin baby sets here to see all that she has to offer.  Baby Memory Books, First Year Calendar, Loose Leaf Memory Books, Keepsake Chests, Melamine Dinnerwear, Photo Journal's, Brag Books, Scrapbooks and coordinating Gift Bags.
I received a sample of this product to facilitate my review.  All opinions expressed are my own.  [ad#glam between posts]
0