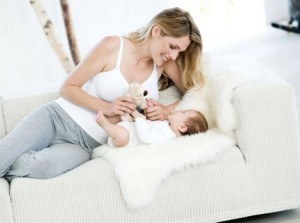 It is so difficult to find quality, comfortable pregnancy and nursing undergarments. I frequently find that many products on the market are made cheaply, and often made from subpar material, with uncomortable seams and plastic nursing closures. By the end of the day I am usually pretty uncomfortable in these items. Cantalo0p offers a line of pregnancy and nursing items that set the standard so much higher. They offer a variety of undergarments including:
Pregnancy Bra
Below-Tummy Pregnancy Hipster
Over-Tummy Pregnancy Brief
Pregnancy Support Belt
Pregnancy/Nursing Tank Top
Nursing Undershirt
Adjustable Nursing Bra
Post natal Brief
I tried out the Nursing Undershirt and the Below Tummy Pregnancy Hipster. I chose a the light pink color in both, withe intention of using them to wear at nighttime, and possibly during a maternity photo shoot. The items arrived promptly and the feel/look of these items is GORGEOUS! The garments are made from a polyamide blend which is luxuriously soft and comfortable. The light pink color that I chose is soft and delicate. Just the perfect shade of light pink. The Cantaloop collection is available in 7 beautiful colors including: white, light pink, dark pink, light green, dark green, buff and black.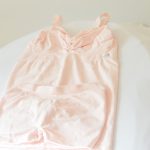 When ordering from Cantaloop, you will first need to take your measurements. The website outlines how to do this easily. Their sizing is numbered 1 through 5. I normally wear a size 4 (prepregnancy) and measured a size 2 (30 weeks pregnant). The sizing was right on for the Below Tummy Pregnancy Hipster. The Nursing Undershirt fits, but does not cover my belly. However, this is not a maternity item, so I would not expect it to fit as such. The fit will be perfect post pregnancy. The Hipster is very comfortable under my clothing. There are no seams to contend with and the cut of the Hipster works great with my maternity pants. There is no riding up or bunching at all. The Nursing Undershirt is really unique. The cut is wonderful. It's not too baggy and not too fitted. Instead of the typical scoop neck top (which I never find flattering), it is cut in a slight v, with gathering in the middle. The cut is not too deep and as such, does not expose too much skin. It is really a beautiful item. It could be worn alone as a tank during the day, underneath your regular clothing or at nighttime for convenient nursing. The nursing clasps are also worth mentioning here. They are made to blend in with the design of the garment. They do not look like nursing clasps, but rather, 3 delicate plastic balls on the strap of the tank. Very inconspicuous.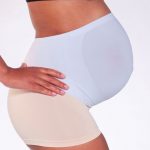 The Cantaloop website has a great section on breastfeeding tips and essentials before/after birth. I just love when a company dedicates themselves to not only selling quality nursing products, but makes a concerted effort to educate their customers on the importance of nursing and proper nursing technique. I have been impressed with all of my items from Cantaloop and definitely plan on purchasing a few more items for post pregnancy, including the nursing bra and tank. You can find online and local retailers of Cantaloop products here. I received a sample of this product to facilitate my review. All opinions expressed are my own.
0