This is where I spent my Saturday night.   You know, just like any other Saturday night…at El Capitan theater in Hollywood, walking in on the red carpet, milling about with other mom bloggers, Disney and Pixar folk, and a few celebrities.  Yep.  Just another Saturday night…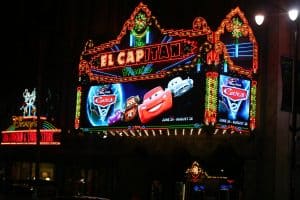 Cars 2 has been very much anticipated worldwide- including in my own house.  We loved Cars.  LOVED it.  I am fairly certain I squealed when I heard there was to be a sequel.  This is a sequel in the sense that the characters we fell in love with in Cars are back, but they have aged, have matured (well, most of them…) but this is more a new, more grown up chapter in the book of the Cars' lives. 
Cars 2 is more…James Bond on Pixar.  Only Disney could take Mater out of Radiator Springs and put him smack dab in the middle of a spy movie- and pull it off with lots of laughs!!
Star racecar Lightning McQueen (voice of Owen Wilson) and the incomparable tow truck Mater (voice of Larry the Cable Guy) take their friendship to exciting new places in "Cars 2" when they head overseas to compete in the first-ever World Grand Prix to determine the world's fastest car.  But the road to the championship is filled with plenty of potholes, detours and hilarious surprises when Mater gets caught up in an intriguing adventure of his own: international espionage.  Mater finds himself torn between assisting Lightning McQueen in the high-profile race and towing the line in a top-secret mission orchestrated by master British super spy Finn McMissile (voice of Michael Caine) and the stunning rookie field spy Holley Shiftwell (voice of Emily Mortimer).  Mater's action-packed journey leads him on an explosive chase through the streets of Japan and Europe, trailed by his friends and watched by the whole world.  The fast-paced fun includes a colorful new all-car cast, complete with menacing villains and international racing competitors. 

John Lasseter returns to the driver's seat to direct this follow-up to his 2006 Golden Globe®-winning "Cars." "Cars 2" is co-directed by Brad Lewis, producer of the Oscar®-winning film "Ratatouille," and produced by visual effects industry veteran Denise Ream (associate producer, "Up"; visual effects executive producer, "Star Wars: Episode III – Revenge of the Sith").  The film hits the track on June 24, 2011, and will be presented in Disney Digital 3D™ and IMAX® 3D in select theaters.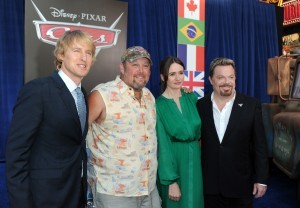 I can fully admit that having met Director John Lasseter, Producer Denise Ream, and several of the stars of this film, I felt a much deeper connection with them watching the movie.  We had a chance to interview the talent behind this film in the early afternoon on the day of the premiere (more to come on that later).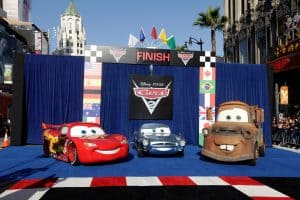 I love this movie.  Really, truly, honestly.  I love it.  The story was fun, characters engaging, and the special effects were pretty awesome too!  I think its great how much Pixar really looks to try to reach out and connect with all ages and not "just" kids, although this movie is quite definitely geared toward the 7+ crowd, with the spy theme and the related violence that goes along with any spy movie.  As most Pixar films seem to do, there's a bit of silly, a bit of drama, nostalgia, some romance, and it would be hard to find someone who wouldn't enjoy this movie. 
Speaking of spies- you'll notice a new Cars character between Lightning and Mater in the above shot.  That's Finn McMissile.  He's all sorts of spy-like, a classic British spy with crazy cool moves and a slick exterior appearance. 
One of my (not surprising) favorite storylines of this film was Mater's involvement and experience as a "spy" – and the sidestory of him finding love.  So sweet, but I've always been a sucker for underdog stories, and Mater, as we know, has always been the underdog!!   I love the whole movie, but Mater is so loveable and funny, and always gives a good laugh!!  I also love that he's fallen for a strong, intelligent female character who has some really cool spy accessories she's toting around.  (I fully admit I was impressed at the bells and whistles Holly gets!!)
I really do love this movie and I can't wait to see it again with my family- although my kids are a bit young for this movie and I will be taking them to the "regular" version and not the 3D.  At almost 6 and almost 4 I think the combination of 3D and the spy storyline will be too much for them.  They won't mind and I know they'll love it when we do see it!! 
Ready, set, START YOUR ENGINES!!  Mark the calendar for June 24th so you can be one of the first to see Cars 2 World Grand Prix!! 
Want to hear what some of my other blogging friends thought of this film? Check out what MiscFinds4U and Faithfully Free have to say! Check here for more links as more of us post our reviews).
My travel & accomodations were provided for this trip including my red carpet attendance, but all opinions expressed within are my own. [ad#glam between posts]
0