Lazy may be too harsh.  Overtired, and stuck to the couch mama?  In any event, we had a super full dishwasher two nights ago, and both my husband and I forgot to run it.  Not only did this mean the dishes didn't get washed, but all three of my favorite coffee mugs were in there.  Tragic. I haven't been really happy with the dishwasher detergent we've been using, and was very annoyed because I just *knew* that the dishes weren't going to come clean.  Then the doorbell rang- it was a delivery including a sample of Cascade Complete Pacs!  Score!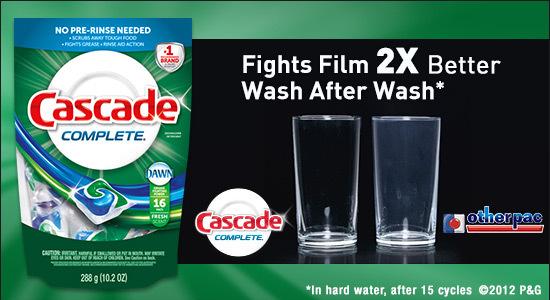 See, with an older dishwasher…things haven't been getting quite so sparkly clean.  That's with rinsing ahead of time.  I get really, really annoyed when I have to pre-rinse things and then put them into the dishwasher (first world problems, I know. But if you have a machine that's got a job, I want it to do the job it's supposed to do!) The new Cascade Complete pacs combine all the cleaning power of powder and the power of gel and combine to make a super cleaner.  I think they need to make an icon for this product wearing a superhero cape. I love it.  Take that, icky dishes!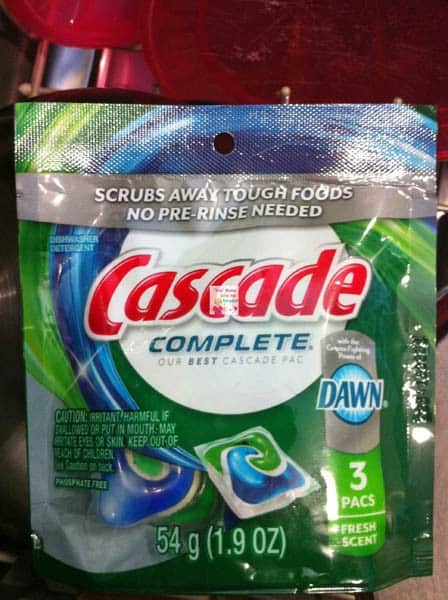 So after my dishes sat dirty overnight in a very full dishwasher, I was all mad at myself because I just knew I'd be doing handwashing to finish the job.  Annoyed with myself for forgetting, I popped a Cascade pac into the dispenser, turned the dishwasher on, and crossed my fingers.
Turns out, I didn't need to cross my fingers.  These tiny pacs have a powerful punch.  I may not always be one to use "regular" store bought cleaners, but especially during cold and flu season, especially with the illnesses my family has had in the past month alone, I do use them.  There was nothing left on any dish nor on any piece of flatware in my dishwasher.  Usually there's a little surprise waiting for me somewhere amongst the clean dishes, waiting to taunt me and make me want to scream in frustration (I can't be the only one who finds the "treasures" the dishwasher misses?)– but even after sitting overnight in their filth, the dishes were shiny clean.  No spots, even.  I'm a happy girl.  I'm a convert, too. A box of the Cascade Complete Pacs is already on my shopping list for this week!
Of course, I have a shiny new dishwasher in the garage waiting for my husband to have time to install it and then I will REALLY be off to a fresh clean start, with a brand new, efficient dishwasher AND Cascade Complete!  Until he gets the chance, I'm glad to have these pacs because they work so well.  It'll be a dishwashing dream, having a new, efficient dishwasher and a well performing product to clean the dishes with!  

About Cascade: In 1953, Cascade entered the automatic dishwashing market with claims of "spotless dishes" to the 4% of households with dishwashers. This fast-moving world of household innovations was just in its beginning stages, and Cascade stayed at the forefront for the next 50 years by developing a range of automatic dishwashing products perfect for a variety of families, needs, and lifestyles. Today, with decades of experience and dishwashers in more than 60% of households, Cascade continues to grow, striving for immaculate dishes every time with its brilliant automatic dishwashing powders, gels, pacs, and additives.
"This blog post is part of a paid SocialMoms and Cascade blogging program, and I received free product from P&G for participating. The opinions and ideas expressed here are my own. To read more posts on this topic, click here."
0