As we are celebrating the Fourth of July this week, it's important to take a minute between the barbecues and fireworks to remember why it is that we celebrate this day at all. With so many in the world without their liberty, we need to remember so we can appreciate all that we have in the USA.
Some fun facts about the Fourth of July:
-July 4, 2013 marks 237 years since the Declaration of Independence was signed.
-Betsy Ross sewed the first American flag in 1776
-Those who created and signed the Declaration were doing so in objection to the British taxing them without representation
-In May, 1776, after nearly a year of trying to resolve differences with England, delegates were sent by the colonies to the Second Continental Congress….in June a committee was formed to compose the formal Declaration of Independence.
-The 4th of July wasn't declared a federal holiday until 1941
-Stars on the original American flag were laid out in a circle so each colony would appear equal.
-Ben Franklin wanted the turkey to be the national bird but was outvoted by Thomas Jefferson and John Adams who wanted the bald eagle
-56 men from 13 colonies signed the Declaration of Independence (which was not actually signed by most until August of 1776)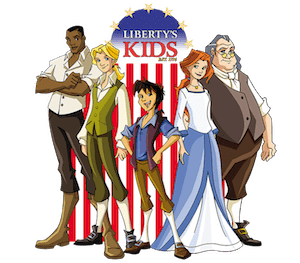 Liberty's Kids
is an animated series geared toward  7 to 14 year olds to teach them about the United States of America. The show  tells of young people in dramas surrounding the major events in the Revolutionary War days. Wikipedia calls it an "animated educational historical fiction television series."  I call it a great way to engage kids to want to know more about our nation's history.  We need to find ways to keep our history alive and exciting to youth so they'll continue to find ways to keep it alive and exciting for the next generation.
One reader will win a prize pack which includes these DVDs: (Approx $75 USD retail value)