I love shopping.  Shopping is fun.  Shopping is necessary. 
I do not, however, love the plastic bags that items are sometimes put into when I purchase them, not at all.  I don't like the feel of the plastic bags in my hands or worse, on my arm- call me weird, but I don't.  Plus, they are not great for our earth.  I far prefer to use regular old bags for my purchases.  I started out using the bags you can usually get for .99 or $1.00 at stores- but they aren't made to last and don't hold up in the wash, which isn't ok with me. I need to wash my bags especially when I've had meat in them!  IEW!!
I'm also the first to admit that if I can chose pretty or cute things, I will chose them every single time.  I'm all about practical, but why does practical have to be boring?  Why would I choose a plain old reusable bag with nothing on it to look nice when I can have a bag like this in Chicobag Vita in SpringLove in larkspur: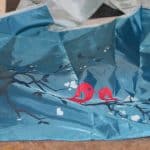 that can be tucked all nicely into itself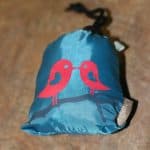 or hung/toted around to be admired.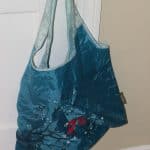 Still practical, still functional, but durable, washable, and cute.  
Plus, the fact that these stuff into themselves to make a little pouch means you can always have your own bag with you- without carrying around a large tote bag!  This tucks right into even  a smaller bag without taking up a ton of space.  I've used mine for groceries, for clothing purchases, Target runs, snacks for preschool when I'm parent helper, goodies to bring to my sister's house for Easter- all kinds of things. 
I love that it looks great but is so functional- and so versatile!  The longer straps mean its super easy to sling it over my shoulder and not have to tote heavy things in one hand while juggling a 5, 3 and 1 year old along with a bag.  It holds a LOT and I'm not worried about it breaking from too much weight.  It can hold 40lbs.  I'm not saying I put my 43 lb 5 year old in the bag to try it out, but I've put it quite a lot of weight in it and zero issue. 
Along with my tote, Chico also sent me some produce bags.  These are one of my favorite things- I love them.  They keep things where they need to be, and in the produce bags, they are kept separate while still getting the air they need.  Awesome.  The warm colors don't make me sad either!  I love them.  These are also easy to tote around- they roll up quite small and have an elastic sewn on that you can wrap around it to keep the bags nice and small for ease of travel.   They are also far easier to use than the little plastic produce bags at the store- I always have small kids helping me and this definitely makes them have an easier go of things- which makes for a much more enjoyable shopping trip.  Three bags, three colors, all washable. 
One thing I really love about Chico as  a brand is that they don't just make a quality product that's attractive- they also make an affordable product.  The bags don't run more than $40 for special collegiate editions!  Most of them are under $15.00 which to me makes them even more attractive.  I'm always glad to have a cute, fun bag and at the pricing Chico offers, its easy to grab a few – or buy a few for a gift! 
One of my readers will win a Chicobag Vita of their own!
Mandatory Entry:  Leave a comment with your name and be sure to leave a valid email in the comment form so I can reach you if you've won!
Extra Entries:
Like Chicobag on Facebook
Visit Chicobag and tell me which Vita bag you'd like most to try!  (Actual bag sent will be based on what sponsor has available)
Follow my blog publicly via GFC or Facebook +1 entry each
Enter any other giveaway on my blog +1 entry/giveaway up to 5 entries
Coment on any non-giveaway post +1 entry/comment up to 5 comments total
Share this giveaway on any social networking site: "I just entered to win #Reusable bags that aren't boring thanks to @Chicobag http://wp.me/p1qA6G1pm & @mamatomjr" can be done 2x/day at least 1 hour apart per site
This giveaway will end on May 18, 2011 at midnight, EST.  US only. Winner to be chosen using "and the winner is" plugin.  Winner has 48 hours to confirm interest in prize or a new winner will be chosen.
I received a sample of this product to facilitate my review.  Opinions expressed within are my own.
0