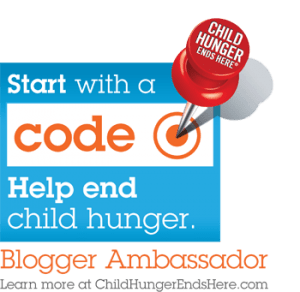 1 in 5 children in the United States of America suffers from food insecurity. That's over 17 million children.  You know all those commercials we see, and infomercials, pamphlets and ads that come to our mailboxes?  All those starving children across the world?  They are here, at home, as well.  That's not acceptable to me.  It infuriates me.  Unfortunately, I do not have a wallet nor the bank account as large as my heart so I have to find creative ways to make a difference and try to help stop this food insecurity.  Child Hunger Ends Here, a campaign started by ConAgra Foods to get rid of child hunger in America,  is a really great way for the "rest" of us to be able to give back, to help others.
This is the fourth year for Child Hunger Ends Here.  This year, CHEH is working with some top musical artists moms (like me!), kids and employees to donate up to 3 million meals.  Fill a Heart is a song meant to inspire- and has a version sung by Carly Rae Jepsen, Tori Kelly, Amber Riley and Cody Simpson. You can download Cody Simpson and Amber Riley's versions of Fill a Heart for FREE from Child Hunger Ends Here! These talented kids have given their time and talent to this cause in the hopes of inspiring other kids to get involved and help work to decrease child hunger.  Tori Kelly's version will be available on iTunes 3/18 with proceeds going to CHEH.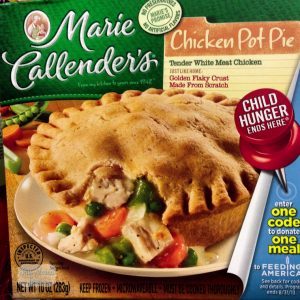 What can YOU do?  Well, you can do just what I do.  If you buy a ConAgra product, look for the big red push pin on the packaging.  There will be a code on that package that you can enter right over in my sidebar —->  OR, just below this paragraph.  It's super easy.  It'll cost you nothing but a few seconds of your time.  It WILL ask your zip code, and no, that's not because they are going to come visit you.  Your codes entered can be sent to a food bank near to you so that you can help locally.  Isn't that cool?  (Just so you know, you will be asked with each code to enter your zip code.  It's an extra half second of time.)  It's SO easy and takes almost no time.

Every time you enter an 8-digit product code at ChildHungerEndsHere.com, you also have the option to submit a zip code and give your local food bank a chance to receive the monetary equivalent of 80,000 meals from the total donations ConAgra Foods makes to Feeding America through the Child Hunger Ends Here program this year. If two million codes or more are entered, then the ten food banks nationwide with the most codes entered within their service area (based on zip codes) will each receive $10,000 (the equivalent of 80,000 meals) from ConAgra Foods to support the important work of feeding local children and their families.
There are over 151,000 kids going hungry in the state of Connecticut alone. We're a smaller state.  That's a lot.  I'm happy to say over 471,000 meals have already been donated as I write this since Child Hunger Ends Here began the 2013 campaign, but let's get that number HIGHER!! Let's hit 3 million!
If you are on Twitter, please join us from 1-2pm EST March 14 for a Twitter party discussing #ChildHunger and what we can do to help.  
This is a sponsored post with The Motherhood. Opinions are my own.
0