Chocolate-Dipped Pineapple Popsicles
This chocolate-dipped pineapple recipe is supposed to have been sponsored by DOLE® Canned 100% Pineapple Juice via Mode Media.
Fourth of July weekend is coming up. It's promising to be super hot, and that means I'm going to want something refreshing for a treat. I love red, white and blue as much as any of us (and love to make patriotic recipes!), but sometimes what I want for our favorite summer holiday is simply a refreshing frozen treat. We've always got DOLE® Canned 100% Pineapple Juice in the house- we use it for so many things- so making some fun ice pops just in time for our holiday cookouts was an easy step. What to do with those pops was another story… I wanted something a little more "oh wow" that was also refreshing, and so these chocolate-dipped pineapple ice pops came to fruition. (See what I did there)?
DOLE® Canned 100% Pineapple Juice is naturally gluten-free, so these are great for our get-togethers- we have several friends who are gluten-free and I really try to have fun recipes to share and serve that ALL of us can indulge in together. The juice is also non-GMO, which makes many happy too!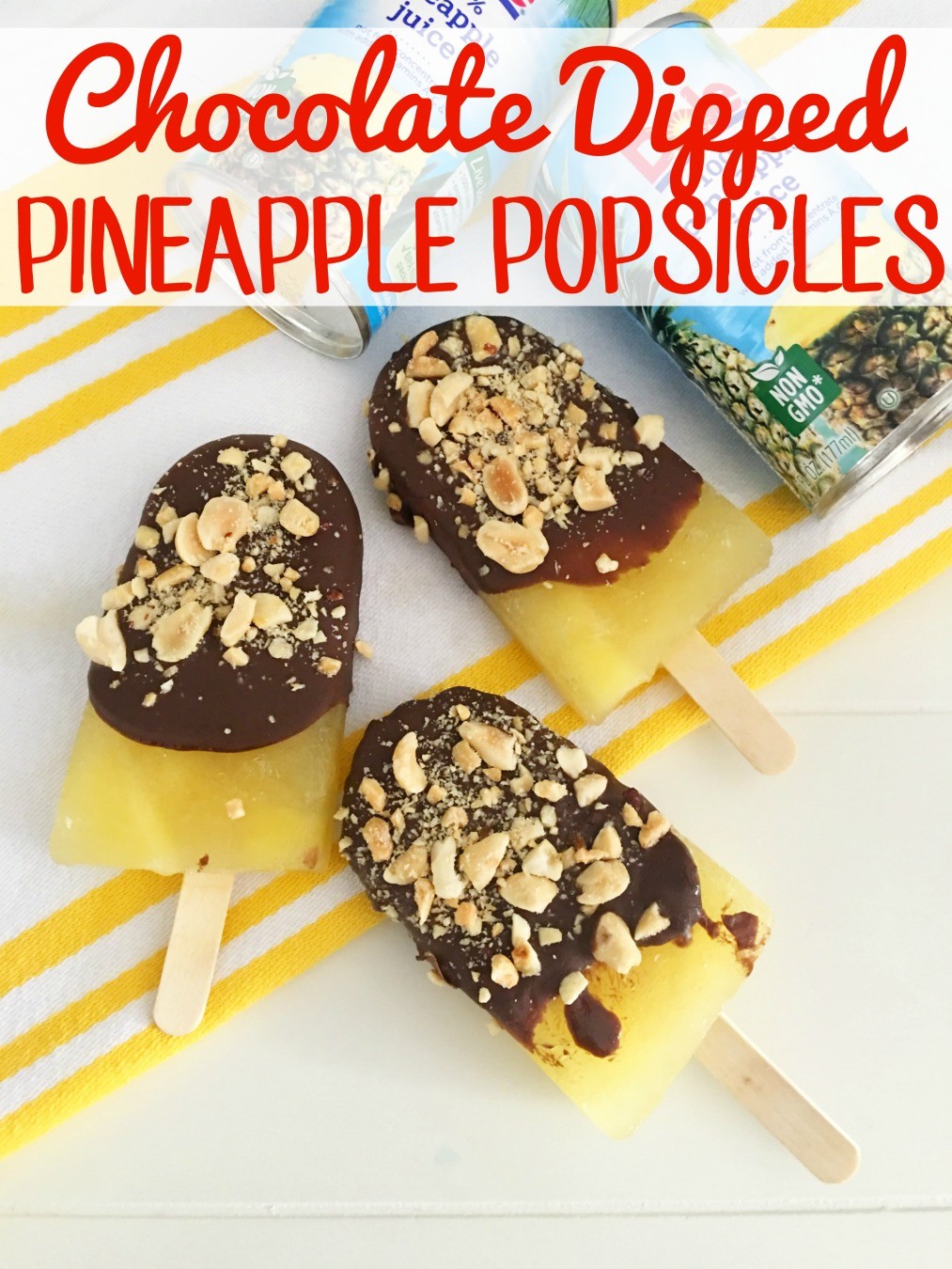 Ingredients
DOLE® Canned 100% Pineapple Juice (We usually have the 6 pack of 6-oz cans around, but you can get this in a 46-oz can as well)
Small chunks of fresh pineapple
12-oz bag of dark chocolate melting wafers
1 cup peanuts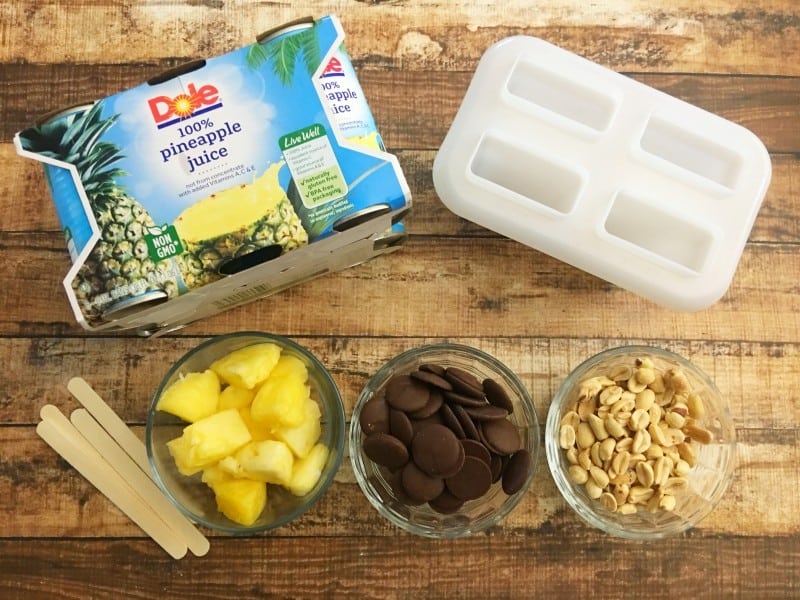 Directions
Fill your ice pop molds halfway with your pineapple juice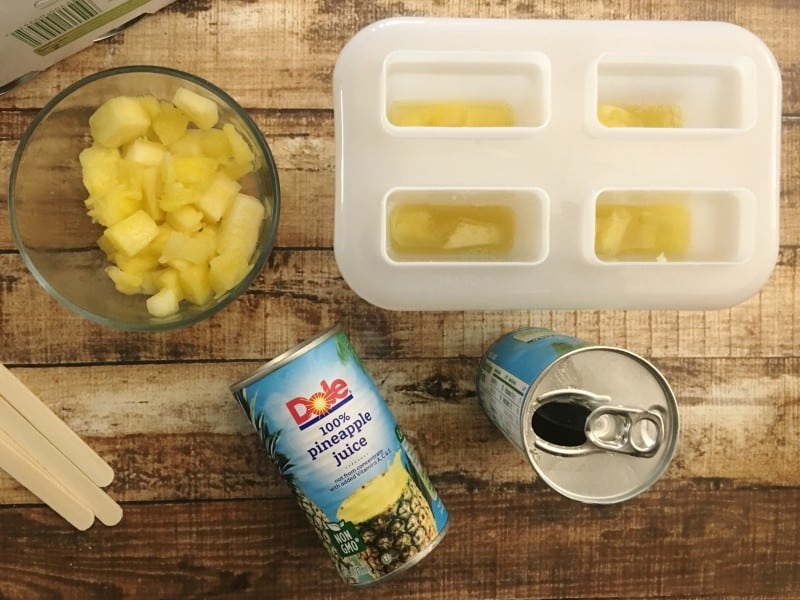 Place about 5 pieces of fresh pineapple into your ice pop molds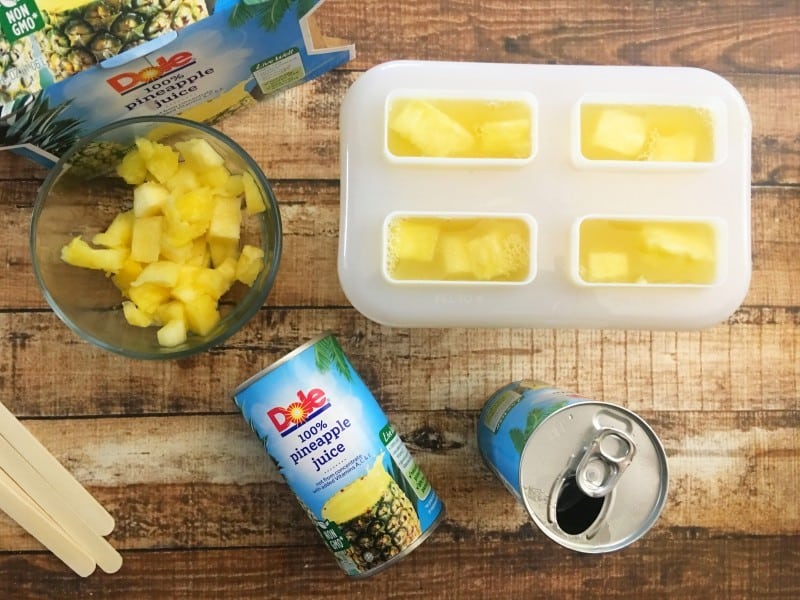 Fill the rest of the way up with your pineapple juice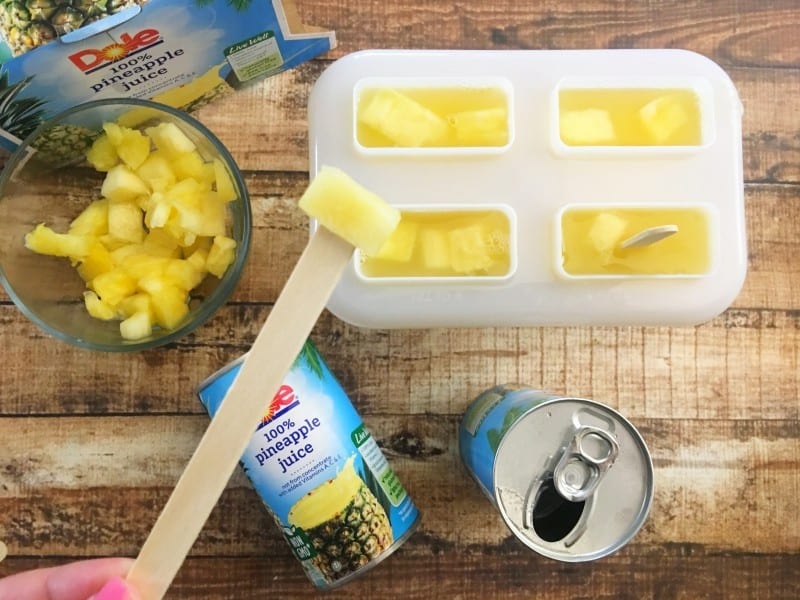 Stick a piece of pineapple into the end of your ice pop stick and place your stock into the bottom center of the ice pop mold
Freeze for 4-6 hours

Place the plastic part of your mold under running hot water, wiggle your sticks, and side your ice pop out
In a small plastic bag, crush your peanuts and set aside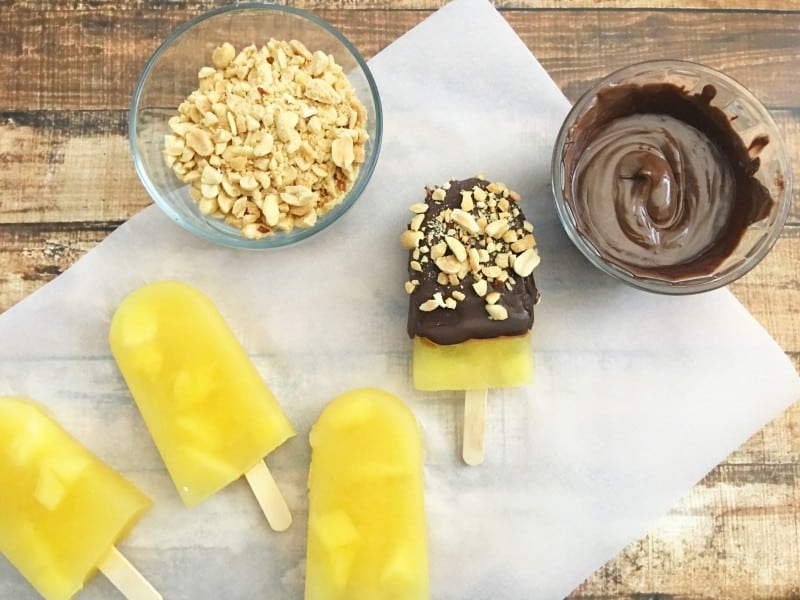 In a microwave-safe bowl, melt your chocolate wafers on 50% power for 3-4 minutes, stirring every 30 seconds until melted

Dip your pineapple ice pop into the melted chocolate and set on a piece of parchment paper
Sprinkle with crushed peanuts and let harden
Enjoy with family and friends! This is such a sweet, refreshing treat that will please all ages but it's also ok if you save these just for the adults. 
DOLE® Canned 100% Pineapple Juice, the King of Juices™, is a natural way to add excitement to your favorite food and drink recipes. It's a delicious change of pace that always delivers exhilarating flavor.

What are your favorite chocolate-dipped pineapple recipes?
[mpprecipe-recipe:2182]