In doing our  bathroom makeover, we had to rob the girls' closet of some space, in order to install some built in shelving for much-needed bathroom storage.  While their closet is a fairly good sized one for a child's bedroom, it also has to house all of the clothing for both of my girls, and all of their "stuff" including extra bedding.  We turned to Closetmaid for some help with organization, and we are so thrilled with the results!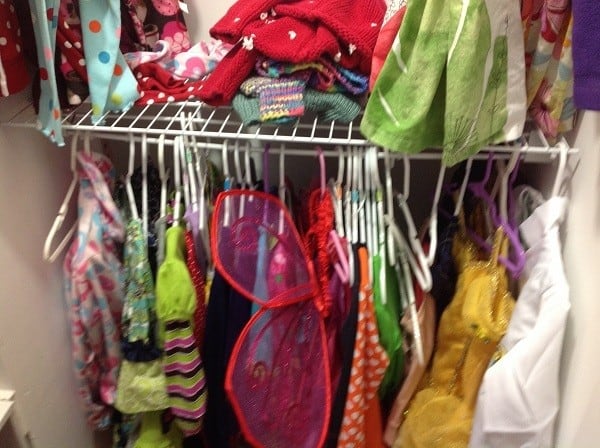 We chose a few items to get the girls gear all situated and organized.  First, an organizer.  The Up to 5ft Closet Organizer was the only option we could use, because it was the only option that might fit. It's been great.  My husband did a bit of a different configuration for the girls' room (he's pretty comfortable and confident with tools and carpentry) to get the most out of the space, but we're really pleased with this organizer.  It retails for about $45 so it's not going to break the bank, and helps keep things organized. The wire shelving also means that air is circulating and things won't have that musty odor.  The shelving also means if we have something odd-sized or shaped to hang, there are many options and ways to do so.
Up To 5 Ft. Closet Organizer
The economical way to organize your closets. Ventilated shelving allows for air circulation and room for clothes to breathe. Stacked sweaters become neatly stored and easily accessible. Wasted space is fully utilized. Get it together today, with a Fixed Mount storage system from ClosetMaid®

Everything you need to install a shelving system in a closet up to 5ft. wide
Up to 7 ft. of hanging space and up to 7 ft. of shelf space
All hardware and installation template included
Material: Vinyl coated steel
All shelving SCS® Certified for minimum of 85% recycled content
The
Cubeicals 6 Cube Storage
 ($47.0o) has been my favorite thing we added to the closet.  It can house
fabric bins
, and keep things like off-season pajamas, toys, etc, neat and tidy, but out of sight…but it can also be used to display and store hair accessories, toys that aren't "out" all of the time, special shoes, etc.
6 Cube Organizer
ClosetMaid® Cubeicals® Storage Organizers are a convenient way to hold hobbies, toys, media and office supplies. Designed to work perfectly with ClosetMaid Cubeicals Fabric Drawers.

Stackable 6-cube design great for quick organization
Suggest use with Cubeicals Fabric Drawers
Available in a variety of finishes/colors
Easy to assemble
Material: Laminated wood
CARB 93120 Compliant
Inside Dimensions of 1 Cube: 11.25 in.H x 11.25 in. W x 11.75 in. D
Cubeicals Fabric Drawers fit perfectly into the storage cubes- and look great besides.  They come in a ton of colors to complement your decor and run about $7.50 each.  I have these all over my house- I love that I can find very muted, neutral drawers to have in the main living areas, but get fun and brighter colors for the kids' bedrooms.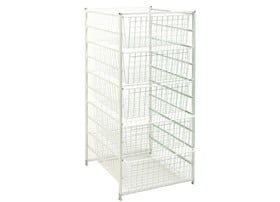 5 Drawer Kit
ClosetMaid® ventilated wire drawer systems provide convenient, drawer storage for closets and other areas in the home. The drawer kit includes five 7 in. deep baskets, 10-runner frame set and crossbars. Locking caster set is sold separately.

Smooth gliding action
All hardware included
Material: Epoxy coated steel
Tops, casters, and other accessories sold separately
The wire drawer kit was intended for the girls' closet but with the changes in our plans, it's become the best storage EVER for our wooden trains, tracks, destinations and accessories.  The drawers are so easy to slide on and off, and are nice and deep, so you can hold a good amount of whatever you store.  These would be great for craft supplies (paper, fabrics, etc) or for clothing, as well.  The drawer kit was just too deep for their closet once we had it in there and we knew immediately it would have more use elsewhere.
Closetmaid has a really comprehensive site that allows you to not only browse and purchase, but also allows you to plan and design a project and helps you with tips/suggestions based on your skill level.  You can do the design process as a beginner and not feel overwhelmed- and a pro can really get into doing exactly what they would like to do.  The saving feature means you can design something say, at home, and view it again from another location.
Choosing things wasn't very hard for us because we quite frankly didn't have a lot of space to work with, and were very limited.  We just know we have to maximize our space everywhere possible in our home.  Given that I shop sales and clearance racks for upcoming seasons, we do need to have some storage available in their closet- doubly so because there are 2 girls, and their extra bedding.  There aren't many places in our house that are single purpose I guess!
OK. So these all look great, work well, but here's the thing.  They take some patience to assemble, and patience to install.  You aren't going to buy them and have them up ready to be used in half an hour.  I think I've assembled about 10 of the cubeicals in the past few years, at our house and others', and I can assemble a 6 cube unit in about 30 minutes.  With kids helping? 45, easily.  Don't set yourself up for failure.  Plan on it taking a long time.  I usually get a glass of wine and a favorite show on the DVR while I assemble.  I leave the wire shelving to my husband, because we have plaster walls and I don't have the desire nor the inclination to try to hang something on those walls.  Just plan on having to redo a few pieces and screws a few times, and know it'll take a bit longer than you anticipate, and you'll be good to go.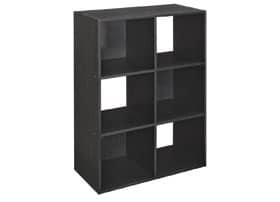 One lucky reader will win a a 6-cube organizer (choice color) and 3 Fabric Drawers (in choice color) for their house!  Let's get ORGANIZED!
Tell me what item you'd like best from Closetmaid.com or something you learned visiting the site.
*Like Closetmaid on Facebook
*Follow Closetmaid on Twitter
*Share this giveaway on any social networking site (leave a comment here with the URL of your share- can be done 1x/day per site)
*Subscribe to my newsletter
This giveaway will end on November 18th, 2012 at 11:59 PM EST. US only.
I received samples of this product to facilitate my review.  Opinions are my own. 
0