As many of you know, I have been exploring more and more with my photography. I just love taking pictures of my family, they are my favorite subjects! Photography is such a great hobby. Not only are the results something that you can cherish for a lifetime, but with a little bit of knowledge you can reap some fabulous results, even without a lot of expensive equipment.

The one obstacle that I kept running into was printing my photography. After spending so much time shooting and editing my photos, it just seemed like such a waste to print my photos at the local drugstore or at some cheap online store. I wanted some really professional looking prints, with real photographic paper and textures. One of my favorite effects is the use of a metallic finish on a black and white photo. The results are fabulous! If you have not tried this, I highly recommend it, you will not be disappointed. You can only purchase metallic prints at a professional photography printing site. That is how I ran across Color Incorporated Digital ProLab. Color Inc Pro Lab offers a variety of services, with professional quality results. Their standard prints are printed on Fujifilm Crystal Archive Professional Super Type PD paper. I have ordered prints on this paper and have been extremely pleased. The metallic prints are printed on Fuji Crystal Archive Digital Pearl paper. Just beautiful. They also offer velvet paper and unwrapped canvas paper. Other products include: Color Corrected Prints
Mounting & Finishing
Gallery Wrapped Products
Gallery Wrapped Canvas
Gallery Wrapped Panel Splits
Gallery Wrapped Wall Clusters
Gallery Wrapped Canvas Frames
Spiral Bound Products
Spiral Bound Photo Books
Spiral Bound Proof Magazines
Package Prints & Templates
Package Prints
Album Prints
Greeting Cards
Designer Templates
Sports Templates
NEW! Personalized Senior Wallets
Press Print Products
Press Print Cards
Press Print Books – Keepsake Hard Cover
Press Print Books – Keepsake Soft Cover
Press Print Books – Signature Collection
Press Print Books – Occasions Collection
Press Print Calendars
Specialty Products & Services
Standout Wall Clusters
Dry Erase Boards
Accordion Wallet Books
Assembled Albums
Trade Show Banners
Frames
NEW! High Resolution Scanning
Guaranteed Artwork
ImageQuix Online Storefront
Studio Supplies
Unassembled Wedding Albums
Boutique Packaging
Photoboxes
Wallet Boxes
ClearBags™
Photo Presentation Supplies
Monitor Calibration Kit
The generous folks at Color Inc ProLab gave me the opportunity to try out their 16×20 gallery wrapped canvas. I have always wanted to try one of these for over my fireplace mantle, and I just so happened to have the perfect photo! Here is my original photo: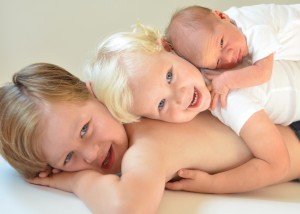 Here is the canvas product displayed over my fireplace: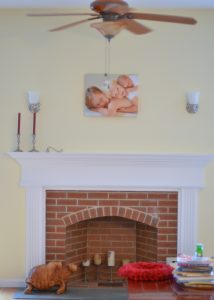 A closer look: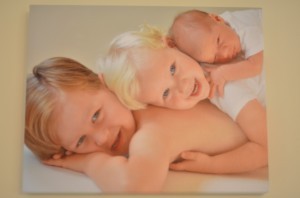 The process was really quite easy: You first have to download their ROES editing software. This is really simple to do and does not take a lot of time. From there you can upload photos, edit and choose products. The instructions are simple to follow and the ordering process was easy. I received my product quickly, within a week and was extremely pleased with the end results. The quality of the canvas itself was excellent. The picture was crystal clear. I was concerned about this, as it was being blown up to such a large size, but it turned out perfectly. The photo was digitally stretched to reach around the sides of the canvas, as my original photo was cropped too closely. The effect turned out great and I can now proudly display my photograph in my home. I love these gallery wrapped canvases and will ordering some more to line the walls of my stairway. I think the look is clean and crisp and I love that there is no worry about framing, etc…
"Each canvas is hand wrapped around your choice of 1.5" or 2.5" frame with the finest attention to detail. Each piece is then properly finished with a free wire hanger and bumpers as well as our Hahnemuhle spray coating, which protects your work from harmful UV rays and other atmospheric contaminants. In addition, you can choose to cover the back side of your Gallery Wrapped Canvas with Tyvek® backing for an additional $2.99."
This 16×20 canvas was a steal at $100 (much cheaper than framing a photo and mounting it). Check out all the products and Color Inc Pro Lab and get creative with your photography!!! I also recommend checking out their sister site www.unitprints.com for photo sharing. I use this site and love how I can share my photos with friends and family via email and facebook. Friends can even order their prints from this site using color inc pro lab!! I received a sample of this product to facilitate my review. All opinions expressed are my own.