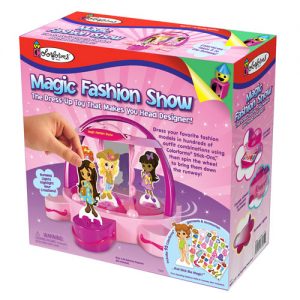 I don't know about you, but one toy I remember not just having and loving for most of my childhood, but playing with for hours upon hours was Colorforms- any style, any design- Colorforms got some major playtime at my house, friends houses, kids I babysat for.  I'm pretty impressed at their longevity- they  are still going strong some 30 years later!   I was so excited to hear about the new Magic Fashion Show Playset- although I'm going to be donating this as well to a family through church.  This toy takes Colorforms to a whole new level- with a model runway, fashion and music!!
Designed for girls ages 3-8 years, the Magic Fashion Show playset from Colorforms lets them become a head designer of their fashion shows. They can dress runway models "backstage" in different outfits and accessories and then send them along a circular catwalk to show off each new ensemble under a real working spotlight. The playset comes with five standing figures and plenty of Colorforms' signature Stick-Ons play pieces to create hundreds of different outfit combinations, allowing up to five kids to play together and participate in a real fashion show experience!

Magic Fashion Show is available through major toy retailers, including Toys R Us.  For a limited time, you can save  $2.00 on Magic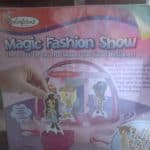 Fashion Show at http://www.areyougame.com/. You can get the discount by clicking on the "Save $2" banners on www.colorforms.com.
I received a sample of this product to facilitate my review. Opinions are my own.
0