One of my family's favorite things to do together is cook…bake…even make playdoh together. My kids love to make things "from scrap" and have all loved taking part, even as little one year olds barely able to stand on a chair to hold a spoon.  It's not always perfect, and it's definitely always messy, and I probably won't ever win an award for most attractive food produced, but you know what? It doesn't matter.  Cooking with kids, creating the memories, giving my kids these experiences- that's what matters.  Plus, we'd never refer to cooking from scratch ingredients as making stuff "from scrap" if we hadn't started this journey, and that's way more fun to say than the conventional expression, right?
My little one happened to be the only kid here with me the other day.  Big sister and big brother were both at playdates and she was feeling a little left out that she couldn't have a playdate too, so we decided we'd take a little mommy-little girl time and make pizza together for lunch.  Of the three kids, they all really love helping, but my youngest seems to be a lot more interested in learning about things, and trying to do more than the others have….so it's a real treat for her to do cooking activities just mommy and her.  We decided we'd make the Chef Boyardee Pizza Kit together- we could make it together, and do whatever WE wanted, and no one else could voice an opinion about toppings or shapes or anything.
So, we took the ingredients out…and got the dough mix into the bowl (note the mess starting)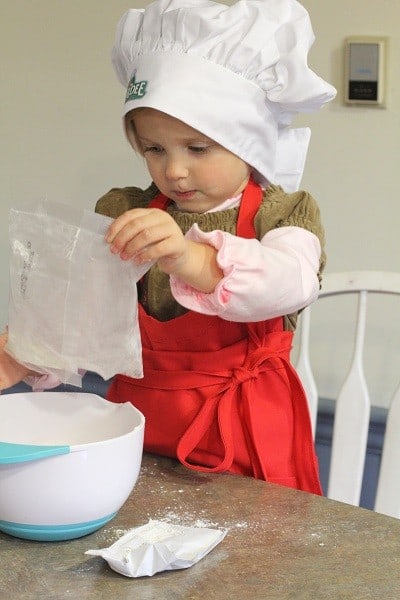 You have to expect messes when you cook with kids.  Without that expectation, you'll get frustrated.  Just trust me.  Messes can be cleaned.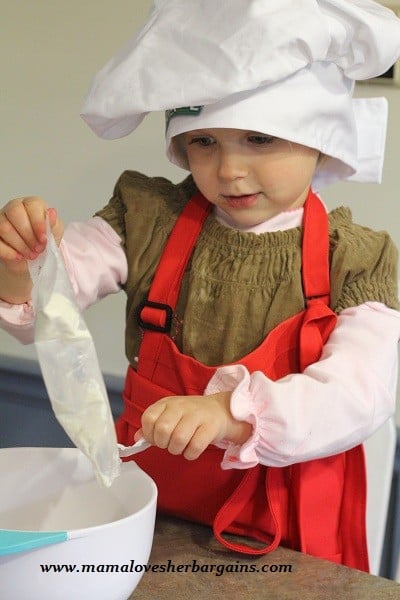 Let them do it! Look at her face- she LOVES doing it by herself!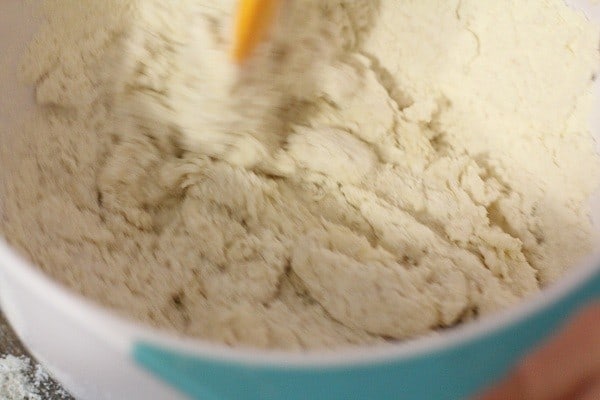 Flattening the pizza dough is oh so much fun…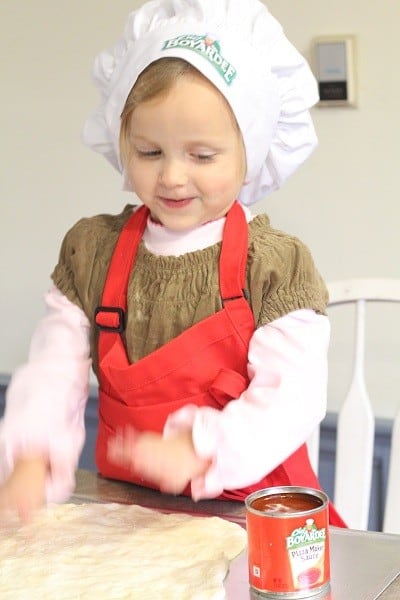 Spreading sauce  is fun too!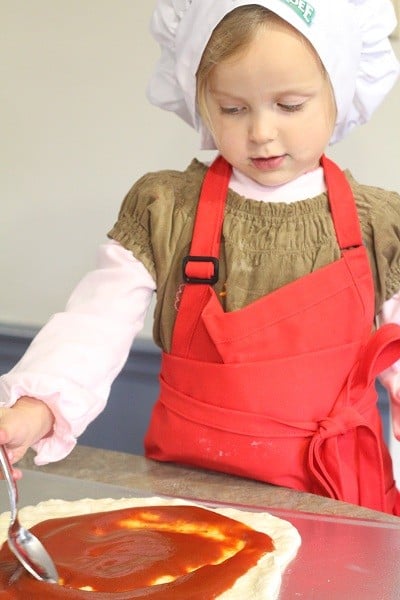 We love to sprinkle cheese- and other fun toppings.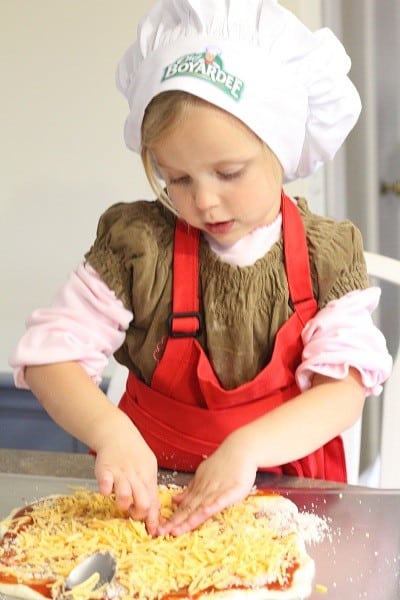 I totally forgot to take an after photo.  And wouldn't you know it, we ate almost ALL of the pizza for lunch!
Do you and your family love to cook together?  It can be such a great bonding experience, and a learning experience- and really, just plain fun.
What: A virtual Cook-Along called Everyday Fun, part of The Little Chefs Project series on The Motherhood. 
The Little Chefs Project series consists of live chats called Cook-Alongs taking place every Thursday at 2 p.m. ET until November 15, and each Cook-Along covers a different topic around cooking with kids. Everyday Fun addresses how you and your kids can create fun, lasting memories in the kitchen around events like sleepovers or holidays, or around everyday events like family dinners.
When: Thursday, October 25, at 2 p.m. ET.  It will last 30 minutes.
Where: The Motherhood – here is the link to the page where the class will be held: http://bit.ly/Q9cFLL

About the class: From weekend breakfast rituals to holidays like Halloween, you can find any occasion to cook up some everyday fun with your kids. Grab a can of Chef Boyardee and join in for further inspiration and ideas for getting started.
To participate, just click the link above, log into The Motherhood using your member ID (if you don't have one, it's easy and free to sign up), and chat away in the text-based comments. We'll also have a video feed running during the half-hour Cook-Along, so you're welcome to show up simply to watch if you'd like!  (Note: *I* will be LIVE on the video feed.  That's right.  Come watch how nervous I can really be!)
The Cook-Along is sponsored by Chef Boyardee, and it is hosted by The Motherhood.  You can visit Chef Boyardee online athttp://www.chefboyardee.com/ or on Facebook at http://www.facebook.com/chefboyardee.

I'll be there with several other bloggers to co-host the class, and I hope you'll join us!  The fabulous people who will be co-hosting with me are:
Brett, This Mama Loves Her Bargains https://www.thismamaloves.com/
Carrie, Making Lemonade http://www.makinglemonadeblog.com
Christi, Frugal Novice http://frugalnovice.com
Corine, Complicated Mama http://www.complicatedmama.com
Kim, Shop With Me Mama http://shopwithmemama.com
Michelle, Ace and Friends Co. http://www.aceandfriendsco.com
Roxanne, Children Teaching Mama http://www.childrenteachingmama.com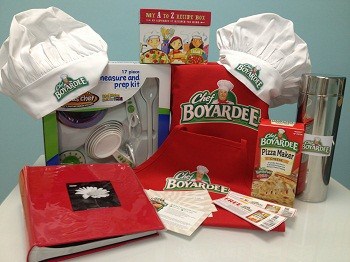 One reader will win a Chef Boyardee Prize Pack so you can have fun in the kitchen too!
Kids' kitchen measure and prep kit

Kids' recipe box

Scrapbook album

2 Chef Boyardee chef hats

Chef Boyardee adult apron

Chef Boyardee child apron

Chef Boyardee pizza kit

Time capsule

2 coupons for free Chef Boyardee Beefaroni

5 Chef Boyardee recipe cards
TO ENTER: Leave a comment and tell me your favorite activity to do with your kids!
Want extra entries?
* Like This Mama Loves Her Bargains on Facebook
*Subscribe to my site via email or RSS feed
*Share this giveaway on any social network (just leave one comment with the link to your share once per share site per day)  
*Share one of your favorite tips in the Little Chef's e-Book! 
Winner will be chosen randomly on November 6st 2012 at 11:59pm EST.  Open to US.  One entry per household.   (edit)
This is a sponsored post with The Motherhood. Opinions are my own.
0