>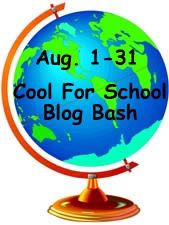 The "Cool For School" Event is in full swing!I would love for you to help spread the word! So here is a GREAT opportunity for YOU! (and you. and you, too) ** If you are a blogger grab this button and add it to your sidebar and you can get an additional TEN entries into EACH of my current giveaways! You can divide these among several or use them all in one giveaway! **If you are not a bloggers you can still get extra entries! Send an email to TEN people and CC bbm2jwmATyahooDOTcom . The email MUST include my web adddress (http://thismamalovesherbargains.blogspot.com/ )and tell them to come check out all the giveaways! Then you can have TEN extra entries too! Be sure to CC me or those entries will be deleted. (We have to be fair!!) There are hundreds of giveaways going on around the blogoshpere! I have some Cool for School Giveaways going on right now, and more to come!!
You can find links to these and others in the right sidebar!Then go check out the other blogs involved for even more great giveaways!
The Thrify Things Mom's Mutterings
Jyla's Three Of Us Giveaway
Is There A Bathroom On This Ship? Wonderful Gifts for Wonderful People
ABCD Diaries
Arms of a Sister – This Mama Loves Her Bargains– The Sugar Booty Chronicles
The Squeaky Grocery Carrt
Mon Cheri–
Not So Ordinary Girls I Am Wicked Cheap!
Boarding the MOTHERship Misfit Momma MI SavingsBudget Savvy Diva Tatum's Reviews
You can find many of the giveaways included in this Cool For School Blog Bash in this linky.
Have fun entering all the fabulous giveaways! And Good Luck!

There is a link to this Cool for School Bash on my sidebar, under giveaways, in case you forget to bookmark this post. Lots of fabulous giveaways!!