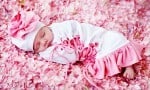 I have recently gotten into baby and children's photography.  I just love capturing those innocent little moments.  However, I have to say that newborn photography is my favorite.   I wanted to try out some of the adorable props that are available out there.  Cozy Cocoon offers the most unique and beautiful cocoon's that I have found.  Their categories include the following:
Ever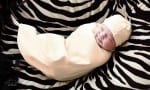 yday Layette Sets
Designer Sets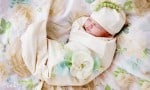 Separates
Jumpsuits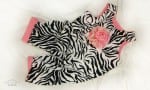 Blankets and Wraps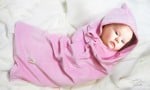 Limited Edition
Their selection is varied and all of the designs are beautiful.  You don't need to be a professional to get some great photos using props.  I have found that all you really need is a room with some bright lighting and a plain background.  Even a sheet or blanket will do.  It's best to take newborn photos while the baby is sleeping.  That way you can curl and tuck them up any way you like.  I can guarantee that you will have the most unique baby photos out there with the assistance of these cocoons.  Wouldn't these make the most beautiful newborn announcements!  So Anne Geddes!!!
However, Cozy Cocoon's are not just photography props, they are swaddlers too!  Just read how easy they are to use.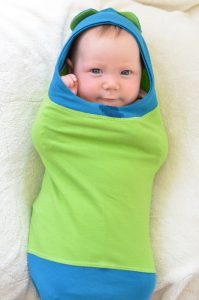 "Smartly designed in soft stretchy cotton knit, you simply roll it up over baby and baby is completely tucked and held.  Nothing to wrap or snap, no velcro and no fuss.  Slips onto baby like a sock!  If you aren't skilled in the art of swaddling, this is the perfect solution.  Studies have shown that the first 40 days of new life are the most important for keeping baby close and swaddled."
Sizing:  NEWBORN: fits 0-1 month, INFANT fits 0-3 months, BABY fits 3-6 months
My experience using the Cozy Cocoon: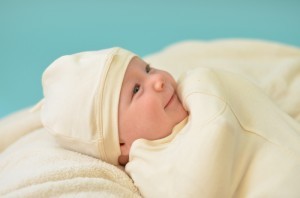 I don't have an infant right now, but a friend of mine was generous enough to let me use her 2 month little girl as a test subject.  I have to say, D was quite the little model and SO photogenic!  I tried the infant size (0-3 months) and found that the sizing was just right.  The baby I was trying this on was 10 weeks old at the time and she was just barely fitting into the cocoon.  It did take two of us to get her into the cocoon originally, but this was probably just a sizing issue.  We quickly found that the easiest way to get the cocoon on was to bunch it up like tights, then just unroll it up the body.  She was quite comfortable once in the cocoon and even fell asleep in it.  When she was awake, she did prefer to have her hands out of the cocoon.  The cotton was soft, breathable and comfortable.  As a swaddler I think the Cozy Cocoon works great, particularly for younger babies.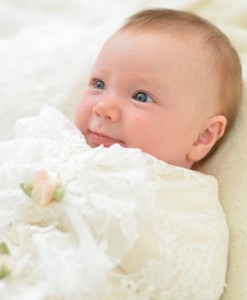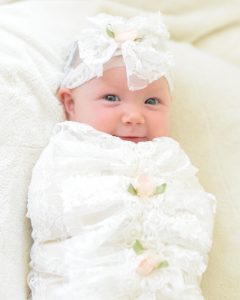 As a photography prop they also worked great.  The cocoon looked great in pictures and you could tell that the baby felt very secure in it.  I do think that the best pictures would be attained with a sleeping baby.  This way you can curl them up and position them more easily.  Unfortunately, that didn't work out for us.  But, if you were photographing your own baby you could easily work around their sleep schedule.  My two favorite cocoons were the lacy one and the plain organic cotton.  The lacy once was perfect for those girly girls and the organic cotton set was very gender neutral, showing off the baby's cute facial features instead of focusing on the outfit.  This would be a perfect choice for a baby gift!
Overall Impression:
What a great alternative to swaddling.  As easy to put on as a sock, but helps baby feel safe and secure.  With the added benefit of some adorable desgins.  What a useful and unique gift idea!  The cocoon's were constructed with quality in mind and the cotton fabric was gentle against babies skin.  The babies seem to LOVE this thing and look so cute while they are swaddled.  I guarantee that you will be the only mom with one of these things.  If you are expecting a newborn or know someone who is, get one now!
All you bargain hunters out there.  Cozy Cocoon offers FREE SHIPPING on all order over $25!!!
One very lucky reader will win their own Bumble Bee Cocoon Set!
Mandatory Entry:  Leave a comment with your name and a valid email address.  If you don't give me a valid email I can't reach you if you've won!
Extra Entries:
1. Visit Cozy Cocoon and tell me your favorite style.
2.  Follow Cozy Cocoon on Facebook (+1 entry).
2. Follow me on GFC, Facebook, Twitter or RSS/Email Subscription (+1 each)
3. Share this giveaway on any social networking site #win a cocoon @CozyCocoon #photography #Photoprops from @mamatomjr @jendpt http://wp.me/p1qA6G-1ue (can be done 2x day at least 1 hour apart) (leave URL of your post please!! hint: right click the time stamp!!) 2x/day at least 1 hour apart
4. Leave a comment on any non giveaway post +1/post up to 5 comments
This giveaway will end on June 17, 2011 at midnight, EST. US only. Winner to be chosen randomly. Winner has 48 hours to respond to my email or a new winner will be chosen.
I received a sample of this product to facilitate my review. All opinions expressed are my own.[ad#glam between posts]
0