This is a sponsored post about video memories.  Opinions are my own.
Whether I'm blogging or just hanging out with the kids, sometimes I like to tell stories – isn't that what being a parent (and blogger!) is all about? Voyzee helps me do just that, and makes it simple, too! I'm not the best at shooting videos, but some of Voyzee's features truly make it fool-proof. Trust me on this one – you don't know how many times I've messed up videos before. With Voyzee, that won't happen!
Creating Stories
Upload up to 30 photos and/or videos per story, right from your camera roll – or you can capture footage with Voyzee's Tap-Tap capture function. Then, apply filters and add animations to make it fun!
One thing I love about Voyzee's system is that I can remove background audio from videos, then do a voice-over. This is super helpful if I mess up while recording a video, because then I don't have to re-record it. What a pain that is! I can also choose a soundtrack from Voyzee's catalog – or even from my phone's music library.  I can also SKIP using my own voice and just do straight up music!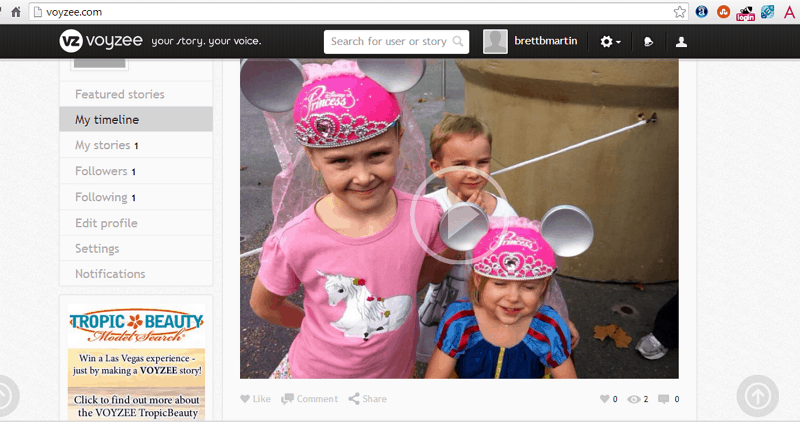 Sharing
You can share your stories directly to social media sites like Facebook and Twitter, or send them via SMS and email. If you re-edit your published story, it will automatically update everywhere it's been shared!
Win it!
LIMITED TIME ONLY, through January 15th, 2014– Download Voyzee and create and share a story to Facebook or Twitter to be automatically entered in the Voyzee TropicBeauty Video Contest. Win CASH or an exclusive TropicBeauty World Finals experience in Las Vegas! It's free to enter – no purchase necessary. See complete terms and details.
Check out MY first Voyzee! And I intentionally did the photos that represented my family year. I didn't look for the best quality or anything- not because I don't care, but like our Disney photos?  Those were selfies in dark rides.  But they captured the moments and that's what my kids want to see over and over.  I LOVE this app.
Find Voyzee for yourself and Follow them socially!
Do you love creating videos? Have you tried Voyzee?