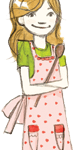 Simon & Schuster sent us a sweet and adorable board book called Who's My Cupcake and two chapter books from the Cupcake Diaries,  Katie and the Cupcake Cure and  Mia in the Mix.
Introducing the Cupcake Books:

Middle school can be hard… some days you need a cupcake.
Katie Brown is miserable when her best friend is invited to join the Popular Girls Club, and Katie is left out. Is there an Unpopular Girls Club she can join? Luckily, Katie finds her way with a great new group of friends—Mia, Emma, and Alexis—and together they form the Cupcake Club. Sometimes starting from scratch turns out to be the icing on the cupcake.

Visit www.CupcakeDiariesBooks.com for fun

downloadable activities

, a book trailer and news of what is coming next for the Cupcake Club girls!

Katie and the Cupcake Cure

introduces us to Katie, Mia, Alexis and Emily and the start of the Cupcake Girls Club. This is a cute book, albeit way above my daughter's head- she can read it just fine but at 6, the content is beyond her years. I have a friend with an 11 year old and I think she's about the perfect age for these- because she can totally relate to the girls and the situations and things that happen to them!! Katie and the Cupcake Cure has already been released in ebook format.
The next book in the series is
Mia in the Mix
, where we get to learn more about Mia, the new girl in town/school, and all of the issues and challenges

she faces while trying to be true to herself and her motto while meeting with resistance from new classmates.  Again, above my daughter's head, but right on target for the tween crowd, told from a tween point of view and the cupcake theme is just, well, sweet and fun and what's not to love about cupcakes?
 The tween and teen years are tough on kids, and anything that can give them an outlet or a sense that they are not alone and that others do experience the same feelings, thoughts and situations and lets them feel like they belong is a good thing- and who knows, perhaps discussing these books will open a new door with you and your child, for more open communication.  You never know.  I'm all for promoting reading any way you can and I think these books are definitely worth looking into!
 Emma on Thin Icing is being released at the end of August and Alexis and the Perfect Recipe will be coming in December of 2011!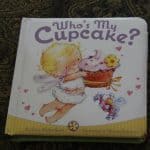 Who's My Cupcake? is one of the sweetest board books I've picked up in a long time.  Sweet in the content, sweet in the text and definitely sweet in the illustrations!! Plus, personally, I use a million and one terms of endearment for my kids and I was pleased as punch to see that several of them made it into a book!!  That means I'm not the only person who uses them and therefore, not super silly as my kids forever tell me.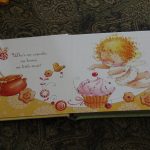 This is a darling book that would make a wonderful gift for expectant or new parents, or for a little one you love- cute, sweet, easy to read, the illustrations draw you in, and its fun to look at the edible, whimsical drawings on each page.
One reader is going to a prize pack that includes Who's My Cupcake, both of the Cupcake Diaries books and a Cupcake Diaries apron.
Mandatory Entry: Leave a comment with your name and be sure to include a valid email address in the comment form!
Extra Entries:
Follow Simon & Schuster on Facebook.
Follow me on GFC, Facebook, Twitter or RSS/Email Subscription (+1 each)
Share this giveaway on any social networking site (leave URL of your post please!! hint: right click the time stamp!!) #win @SimonSchuster #cupcake prize pack #books #children #tweens #girls from @mamatomjr https://www.thismamaloves.com/?p=10985 (can be done 2x day at least 1hour apart)2x/day at least 1 hour apart
This giveaway will end on August 28, 2011 at midnight, EST. US and Canada only. Winner to be chosen randomly. Winner has 48 hours to respond to my email or a new winner will be chosen.
We received a sample of this product to facilitate our review. All opinions expressed are our own.
0