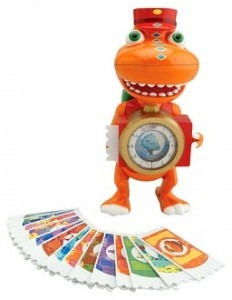 Does your budding paleontologist have a love of reciting dinosaur facts?  Do they quiz you constantly about dino this and dino that?  Dinosaur Train fans (and their grownups) will love the Dino Fun Buddy toy from Learning Curve- he's the beloved Buddy we know from Dinosaur Train (PBS Kids) but he's got a little extra fun- he's got some pretty neat dinosaur themed train tickets in his removable backpack which will tell your little dino lover 120+ amazing dinosaur facts and phrases.  Buddy's holding a clock that you can slide each train ticket into and hear some pretty cool dino facts when you press on the clock face!!
This is such a fun toy, and we're learning (yes, even This Mama Loves to learn…) lots of fun facts about dinosaurs.  (This mama is thankful because I'm also learning how to correctly pronounce many of the dinosaurs' names properly now- oh, have I slaughtered them previously!!)  Buddy is no small toy, just a head's up- he's kind of a big toy but he's so cute, who wouldn't mind seeing him atop their little one's dresser or bookshelf?
As fun as this toy is, I have to warn parents everywhere.  This is NOT a quiet toy.  The volume is pretty loud.  Aside from that, I love this toy.  I think we're just going to pop some packing tape over the speaker to muffle the sound just a bit.  No volume control on it.  It's fun, its educational, and its chock-full of facts about dinosaurs.  You can't miss (if you don't mind the volume!).
Putting Buddy's backpack on so it snaps in place and stays put takes a few times to get used to – and my 3 1/2 year old isn't quite able to do that himself, but it's not  big deal. 
Based on the new Henson PBS show, the Dinosaur Train, Dino Fact Buddy Electronic Learning Aid helps children learn their dinosaur facts and have a large loveable version of their favorite character, Buddy!

This item not only teaches facts about the Dinosaurs featured in the show, but it also says Buddy's favorite phrases! Buddy will encourage kids to play games using their train tickets for extra learning fun! Over 120 phrases and dinosaur information included! The figure is all decked out in a train conductors uniform and a large watch face on his belly.

Dino Facts buddy comes with 15 dino information tickets that are designed to be inserted into the clock to trigger different phrases and dinosaur facts. You can also press the watch face to hear additional information about the dinosaur featured on the ticket!

For ages 3 and up.
I received a sample of this product to facilitate my review.  Opinions expressed within are my own.[ad#glam between posts]