I always keep a variety of hand sanitizers around my house, in my purse and in the car. I find that they are easy to use when you are on the go, after pumping gas, with the kids. The scenarios are endless. Bath and Body works always has the best smelling and least drying hand sanitizers. I absolutely love the variety of scents and the cute size of these PocketBac Hand Sanitizers.
I was sent several PocketBac Hand Sanitizers to try out and was excited to try out these pocket sized, summer scented cuties. They fit perfectly in my purse, diaper bag or even in my pocket. The scents are refreshing and unique. With over 15 different scents to choose from, you are guaranteed to find one that you love! My personal favorite is the Apple Pie. It reminds me of summertime and the 4th of July. Now that summertime has arrived and we are constantly on the go and playing outdoors, these pocket sized sanitizers have come in handy on a number of occasions.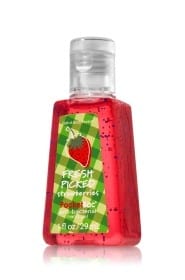 My kids love these little containers so much that they have each chosen their favorite and keep them in their backpacks. The cute labels are definitely enticing to the little ones. I find that I can easily get them to use this sanitizer without having to deal with the drama of soap and water. In addition, they never cause my hands to become dry or cracked, even with multiple uses during the day. Right now Bath & Body Works has PocketBacs on sale 5 for $5. Some varities are available 8 for $5! These sanitizers normally retail $1.50 each, so this is a great bargain! You can purchase PocketBacs online and at Bath and Body Works stores. I would highly recommend snatching these up now, you will definitely use them during the summer. Check out all the great deals that Bath and Body Works has to offer. They have several great sales going on right now. Follow Bath and Body Works on Facebook for the latest promotions and sales.
I received a sample of this product to facilitate my review. All opinions expressed are my own.[ad#glam between posts]