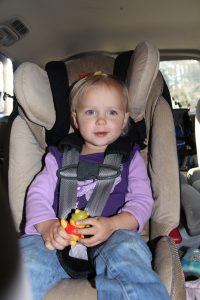 Having safe car seats for our children is something that is extremely crucial to both my husband and myself.  We've spent hours researching different seats, different brands, etc.  I've always heard such great things about the Radian line of carseats, and have recommended them to others based upon dozens of friends' experiences, but hadn't tried them until now.  The Radian RXT seat from Diono is really a buy-once-use-forever kind of seat.  Made to work from 5 lbs to 120 lbs (no that is not a typo!!), and a slender physique to accomodate 3 seats across in most vehicles, these seats are workhorses.
I've never assembled a seat before.  I mean, there wasn't a lot to the assembly (at all) and it took under thirty seconds.  But the seat does come folded up (these are also great for travel) so it's nice to see how it should look (I'm visual) and like I said, set up is super simple.  Pop the seat down and click it into place and you are ready to start the adjustment of straps based on your child's height and size and then install.
The weight range of this seat for REAR facing is 5-45 lbs.  That's awesome.  The recommended ages for rear facing are at least 20 lbs and 2 years of age.  There is a separate base component for the rear facing installation that comes with the seat and has very thorough instructions in the manual for use.
Once your child is front facing, as my youngest (26.5 months) is, you can remove that separate base component.  We did the LATCH installation which was simple, but kind of difficult for me to get as tight as it needs to be.  I had to call in reinforcements (AKA Mr. Bargains) because I simply wasn't able to get that strap as tight as I wanted.  I'm used to a different brand of seats and can get them in and out of LATCH installs in just a minute or so, which may be why this was a struggle for me.   I'm ok with this- it just means I'll move the seat as little as possible until I've gotten used to installing it properly.    I just like you guys to know what my experiences are!!
I've said before and will say again, if you have a question or aren't sure or just aren't able to get your seat in snugly, find a car seat inspector.  Most of the time you can find one at your local police station- or one nearby to your home.  It isn't a time consuming thing, and you will be able to have peace of mind that your seat is installed properly.  These are our children we're protecting, after all.  Worth the time to be 100% certain that seat is going to be able to do its job properly!!    Kids up to 80 lbs can use the LATCH system!  My husband always jokes that I cannot send my kids to their driving exams in a 5 pt harness, I'm thinking he may be wrong….I have much love for 5 pt harness seats.
The buckles are easy to maneuver, and tightening and loosening the straps is done with ease.  My 2 year old is over the moon that she has a cupholder- and I have no idea why but Diono tells us on the box you can have up to 4 cup holders on the seats.  Maybe your child drinks a lot, who knows?  But I can tell you that 4 cup holders for my kid would mean many, many small toys stowed away.  As you can see above, Pooh has already found a new home in the cupholder.  She prefers to store her cups in her brothers seat, located next to hers.
One thing I noticed a few days after installing the seat and using it was that it is quite low to the seat- which maybe isn't super great for little ones seeing out of windows but oh, was my littlest one ever happy to be able to climb into her own seat with ease!!  She keeps telling me she has a big girl carseat, too.
The RadianRXT is a highly versatile car seat that could be the only seat you'll ever need. It comfortably seats rear-facing children from 5-45 lbs, forward-facing children from 20-80 lbs in 5-point harness, then converts to a booster for children up to 120 lbs. It's built for strength and safety with a steel alloy frame, reinforced sidewalls, adjustable head support and our patented SafeStop® energy absorbing harness. EPS foam surrounds the child's head and body to provide complete side impact protection. Our unique SuperLATCH system makes installation easy. The RadianRXT is NCAP crash tested, the industry benchmark for verifying child seat performance in severe accident conditions, and the only car seat rated for LATCH use with a child up to 80 lbs. The RadianRXT sits low on a vehicle seat for easy child boarding, features memory foam padding and infant support pillows. Expandable sides and a longer seat bottom provide extra room and comfort for your growing child. One cup holder is included, with the option to add up to 4 cup holders. In addition to all this versatility, it folds flat for travel and storage, has a 10 year life and offers amazing safety, comfort and convenience your child won't outgrow.

Rear-facing: 5 – 45 lbs
Forward-facing: 20 – 80 lbs (and up to 57″) in a 5-point harness
Booster to 120 lbs
Steel alloy frame and aluminum reinforced sides
Safestop® energy-absorbing harness system
Adjustable head support, reinforced for complete side impact safety
Energy-absorbing EPS foam panels on all sides
Rear-facing tether capability
LATCH installation up to 80 lb child
Infant body support cushions
Memory foam padding for superior comfort
5 shoulder and 3 buckle positions for custom fit
Expandable sides and longer seat bottom for leg support and comfort
12 height positions for adjustable head support
2 recline positions in forward-facing mode
Sits low on vehicle seat for easy child boarding
Fits 3 across in a mid-size vehicle and offers more shoulder space
Add up to 4 cup holders (1 included)
Folds flat for travel and storage
Rubber bottom grips for no-slip installation
10 year life

There are tons of reasons to like the Radian RXT seat- the safety features are many, the footprint of the seat in vehicles is smaller than most seats, so you can keep that smaller vehicle and still have the kids safely in their seats…plus, with a 5-120 lb weight range, you may spend more when you purchase this seat, but your child can use this seat for up to 10 years- that makes this a HUGE bargain, in my eyes.  Car seats are so important to keep our littlest ones safe, those who need our protection!!

This is a joint giveaway with Living on Love and Cents- TWO readers will each win a Diono Radian RXT car seat in their choice of (available) color!! 




I received a sample of this product to facilitate my review.  Opinions are my own.
0