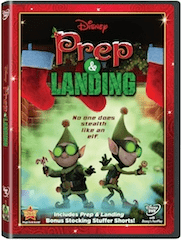 An instant family favorite was Disney's Prep and Landing a few years ago.  I loved it instantly.  Its cute, its funny, its a new twist on holiday shows, and- it's TINSEL!   This is one of the first Christmas specials where so many techy gadgets (even if they are shaped as gingerbread men) are used- such a fun twist on the ordinary.   
The DVD for Prep and Landing released 11/22/11 and is available for purchase at stores everywhere.  The story itself is great but the extras on this DVD are super cute- Tiny's Big Adventure is absolutely adorable…and it's hard not to love anything that Betty White is in. 
PREP & LANDING is an adorable holiday story about a high-tech team of elves who ensure homes around the world are properly prepared for their visit from Santa. After working for a tireless 227 years, an elf named Wayne, voiced by Dave Foley (Disney●Pixar's A Bug's Life, Toy Story 2, Cars), is upset when he doesn't receive an expected promotion. Instead he is partnered with an idealistic rookie elf named Lanny, voiced by Derek Richardson (TV's "Men in Trees"), to execute a special Christmas Eve mission. While on their journey, Wayne and Lanny encounter unexpected challenges that push them to their limits and ultimately threaten Christmas for children around the world. Bonus features include entertaining Elf training videos shot in Santa's workshop, "Operation Secret Santa" and much more!
I was a little surprised that the pricing for this video is listed at $19.99.  It's a great show but I think the price is a little steep.  I'm sure, however, that it will be on sale in many places so you can save some money on it.  Plus, 2 of my readers will win a copy of Prep and Landing on DVD!
(Just a note, because I am excited, but the new Prep and Landing: Naughty or Nice premieres next week!!)

Onto the giveaway: two readers will each win a copy of the Prep and Landing DVD!


I received a sample of this product to facilitate my review. Opinions are my own.
0