DIY Compost Bin
I shared with you our existing compost bin a few weeks ago- very simple, and has been very functional, but it was time to update and redo it.  Too many heavy winter storms, branches and even a tree have hit it.
One of the things I've discovered while working with The Home Depot as part of their blogger program is how much more they have on their website than just products.  You can find project plans including materials lists so that you can check things out, figure out what you want to make, and print out the lists before you head to the store.  My husband is always the one who does the project planning logistics- like how many screws, what kind, what size, how much sheetrock, what kind of sheetrock- what kind of wood, sizes, types…all things that are far beyond my abilities.  I was able to do ALL of the shopping for the supplies to build your own compost bin BY MYSELF (well, with my 3 year old helping).  I didn't need my husband to do the math and figure out how many of each item we'd need, it was all there for me.  I was super proud of myself for doing that shopping solo.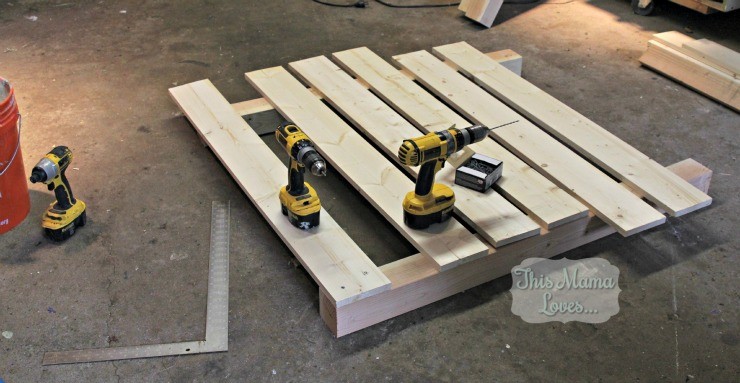 Of course, the materials called for on the website are almost all cedar boards- something that most Home Depot stores don't carry in stock, you have to special order them (which I did not have time to do).  So we modified with pine boards and I'm on the hunt for some non-chemical stain or sealant to keep the compost bin intact and help it to last as long as possible.  Cedar was the best choice but time was not on my side.  On a side note, I always assumed cedar boards were far more expensive than pine boards, but they really aren't.  If you DO have the time, I'd absolutely recommend doing the order and going for cedar.  It's naturally made to withstand the elements for longer than pine and you'll get more time with your bin.
If you do grab pine like we did, be sure to pre-drill holes into your boards before you screw them to the posts or you will likely have lots of splits from the screws.  It's worth the extra time spent,  and really doesn't take much extra time.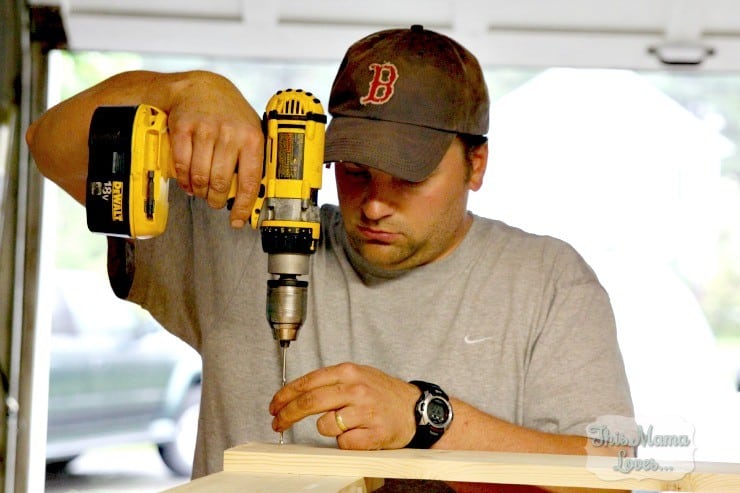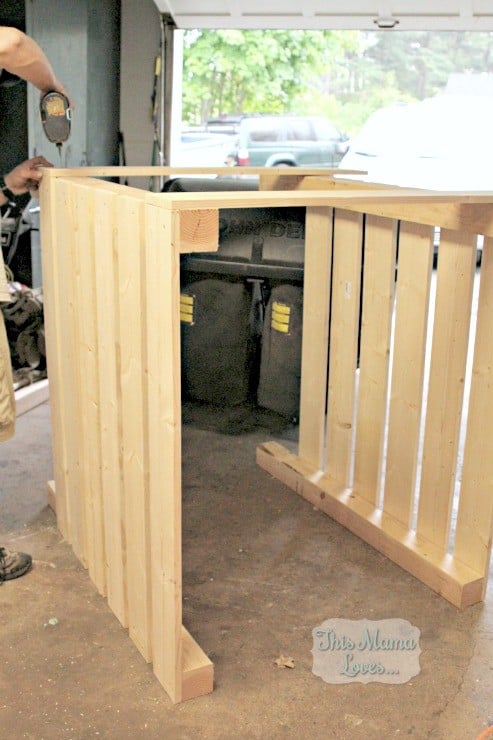 The compost bin plans didn't specify how far apart to space the boards so we did an inch and a half between boards.  The supplies and cuts are clear and concise but for the how-to, there's a bit of detail lacking.  One thing we immediately noticed was the plans call for 4 sides of the bin and a top- the bin is approx. 4 feet tall….we weren't sure where/how that would allow you to use a pitchfork to turn the compost nor how you could remove it, so instead of following the plans exactly, my husband made the front panel removable, mounted on a cleat made from a 2×4 at a 45 degree angle (see photo below).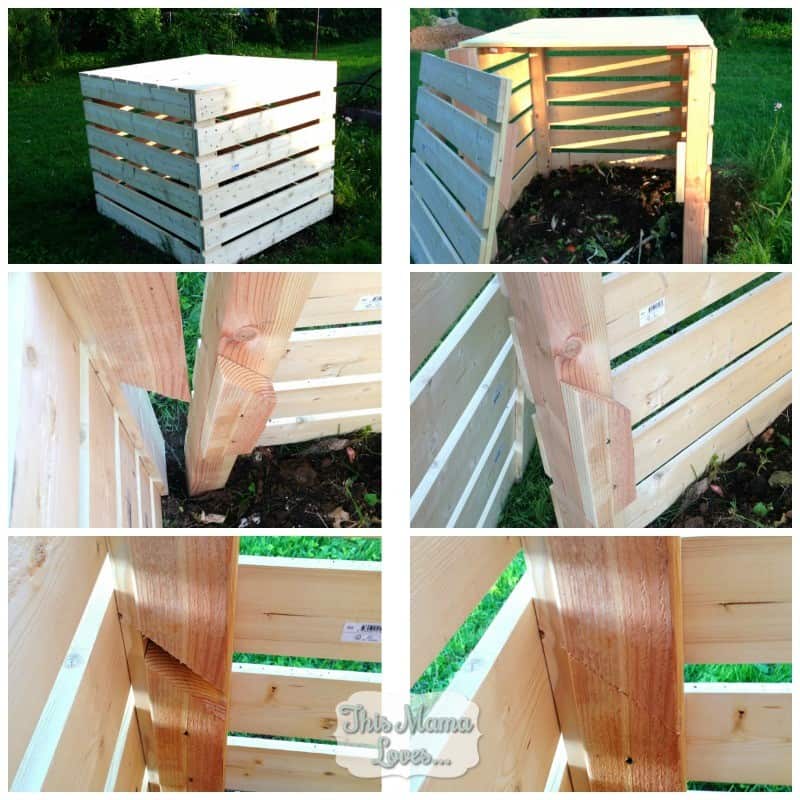 We chose to do this for the above reason- access to turn or remove the compost, but also because our kids are very much a part of our composting and gardening and they bring the compost scraps from the house down frequently and can't reach a 4 foot roof to move it and empty the scraps into the bin, and they also like to bring worms they find in the yard to the compost.  They like to put the worms in and watch where they go after they are in the pile.  Having 4 closed sides would kind of take that away from them and my kids really enjoy it.
All in all, this was a fun project- something we needed to do, it's far more aesthetically pleasing than our old compost bin was, and my husband and I got to spend several hours working on a project together, just like we did pre-kids.  The kids helped us to decide to keep the height as specified in the instructions and also helped to decide that they could work together as a team to get the front panel off and be able to access the compost by themselves.  They love being a part of our gardening as a family activity and are all three of them excited to add new "pet worms" to the compost to move the process along.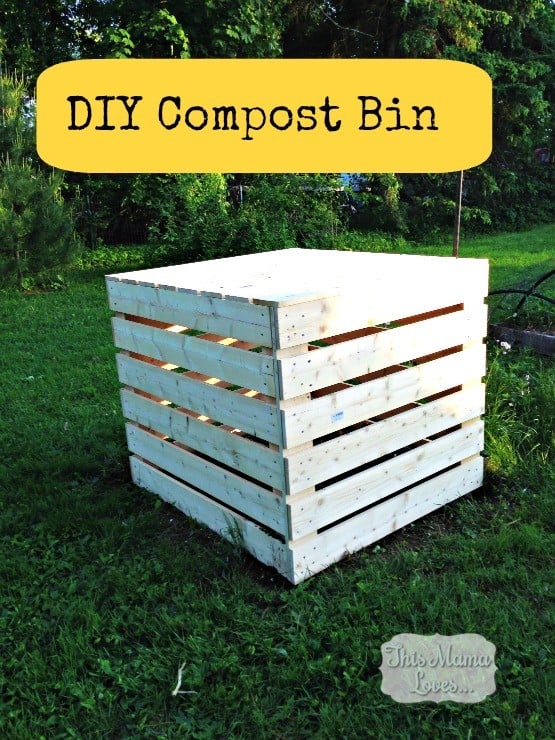 It's home improvement time, and The Home Depot has everything you need to #DigIn for Spring. No matter what projects you want to tackle, they have great values on all you need. They're ready to help you with renovation ideas and expert advice, too.
Get over $300 in email exclusive savings each year, sneak peeks on new products, monthly lawn & garden ideas for your region and access to The Home Depot's gardening experts. Click here to join the world's largest garden community today! Or go to homedepot.com/gardenclub to see some of the many benefits of membership.
This is a sponsored post written by me on behalf of The Home Depot.