Dominion NZ sent me a pair of their Jean sheepskin boots. I love sheepskin boots– they keep me warm and they are comfortable. But I didn't have any dark brown boots. So when they offered to send a pair of the Jeans for review, I couldn't resist. Of course, living in Connecticut, we have cold winters and it's hard to resist boots that can look so cute and feel so snuggly warm- warmth and comfort are top priorities- the style comes second! (albeit a close second…)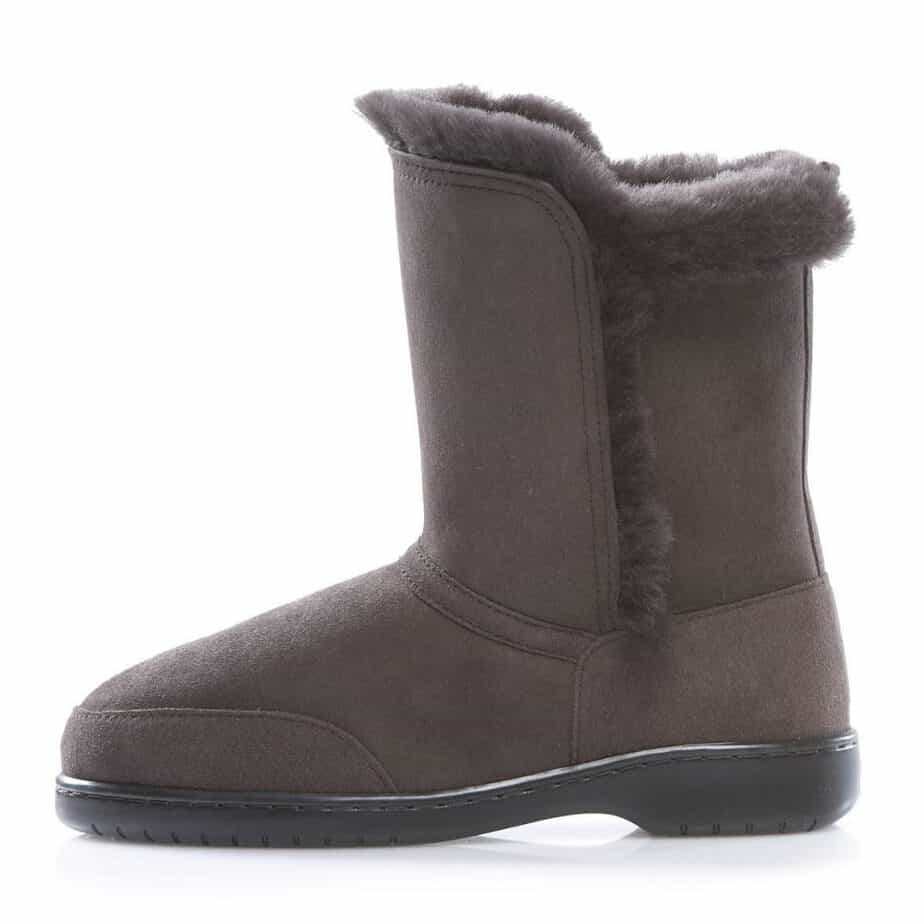 Dominion produces some of the finest handcrafted footwear and apparel that delivers the encompassing, enduring luxury of sheepskin and leather by carefully blending fashion and function. Dominion uses materials which include the very best, genuine twin-faced sheepskin, renowned in particular for its breathability as well as premium lambskin and shearling. Dominion is responsible for producing some of the finest clothing and footwear made in New Zealand. All Dominion of New Zealand products are backed with a full manufacturer's warranty.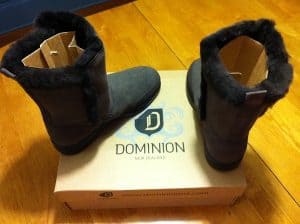 I really like these boots. They look fantastic, they are very well made, and are quite stylish. Unlike most of the Sheepskin/Shearling boots I have seen, including my own, the sole of this boot isn't flat- which is much better for your feet. I also adore the rich color of both the lining and the outer boot. The liner of each boot is a nice, substantial layer of shearling, designed to offer comfort and warmth. It hasn't shed in the three weeks I've had the boots- and I wear boots all the time, so I'd know by now if that lining was going to be shedding soon. It's clear with these boots that the folks who make them know what its like to live in a cold climate! I think the Jean boot is most definitely worth the $124.00 price tag that comes with it- these boots will last you season after season, year after year.
One thing I've found with these boots, and with all sheepskin boots, is that they seem to run very small. Order up a size!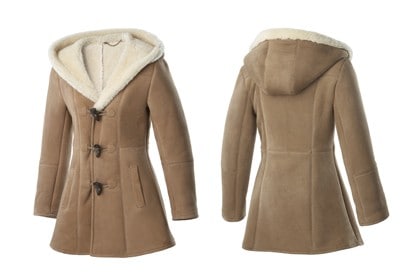 Dominion has some beautiful other items they make- there is a "Cassandra" jacket on their site that I just cannot stop thinking about. It looks so warm and so snuggly. I love how the bottom flares out- and it's long enough to cover your hips! So many women's coats don't cover the hips. Of course, it's also a $2199 jacket and it's not very likely that I will ever own it, but it sure is pretty and fun to window shop!
**From now until December 31, 2012, you can save 10% off Kate and Katherine boots on
dominionnewzealand.com
with the code
MAMABARGAINS**
One reader will win a pair of the Men's Catchee Tiger Slippers (ARV $99) in their choice of size!
To Enter: Visit http://www.dominionnewzealand.com/ and tell me another product you like or something you learned from Dominion's site.
Want extra entries?


*
*
*

*Share this giveaway on any social networking site- can be done 1x/day but leave the url of each share in it's own comment!

This giveaway will end on December 19th, 2012 at 11:59pm EST.
A sample was provided in exchange for the post. Opinions are my own.
0