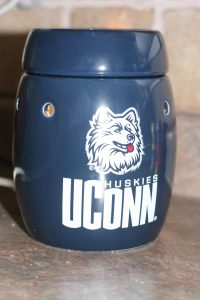 Jana's Flameless Candles  sent me Mr. Bargains a full sized UCONN Scentsy warmer with some bars – even dads like the house to smell nice!  While Scentsy does offer a variety of man- inspired scents, I've found that Mr. B, like many guys, is just as happy with whatever makes the house smell nice and fresh.  He definitely isn't a fan of crazy floral combinations, but anything else, he's happy with.  There are 5 man inspired scents- Echo, Hemingway, Route 66, Embers and Sharp-Dressed man.
I chose UCONN for our warmer because, well, Mr. B is a UCONN alum and we're both born & raised in CT, and we're big Husky fans.  I figured this should be a dad-oriented warmer since it was going to be a Father's Day review.  I love it. 
Scentsy brings a safer way to have scents in your home- without the flame you don't have a risk for fire.  No feeling of panic when you can't remember if you blew out the candles- no need to run downstairs in the middle of the night to check for sure!  The wax never gets hot, only warm, so no burn risk there, either.  (I've unintentionally tested this a few times).  Not burning a candle means no toxins going into the air in your home- and no risk of marks on your wall where candle smoke goes (which I've had to scrub off many times in my life- such a pain!!) 
I like the bars that Scentsy offers- if I want a milder scent, I put fewer pieces of the bar into the warmer- if I want a stronger scent (like the Cherry Limeade scent I have going in my living room right this minute- love it!  The bars give off a nice strong scent without being overbearing. 
Scentsy offers a huge line of warmers in a variety of sizes and a great selection of styles, sure to match any decor.  There are holiday inspired warmers, seasonal, design your own, adorable nursery ones, collegiate ones, country ones, and more. The different scents provided are sure to please anyone- fruity, manly, earthy, holiday themed, and more!
Jana's Flameless Candles has offered to send one reader a full-sized warmer and 3 Scentsy bars of their choice!!
Mandatory Entry: Leave a comment with your name and be sure to leave a valid email address in the comment form so I can reach you if you've won!!
Extra Entries:
Like Jana's Flameless Candles on Facebook
Visit Jana's Flameless Candles and tell me which warmer and/or bars you'll choose if you win!
Follow me via RSS Reader, Email Subscription or Facebook +1 entry each
Share this giveaway on any social networking site: #Win @WowWickless #Scentsy warmer & bars  from @mamatomjr @dinosplace http://wp.me/p1qA6G-218 (can be done 2x/day at least 1 hour apart)
This giveaway will end on June 25 2011 at midnight, EST. US, UK, Germany & Canada. Winner to be chosen randomly. Winner has 48 hours to respond to initial contact or a new winner will be chosen.
I received a sample of this product to facilitate my review. Opinions expressed within are my own. [ad#glam between posts]
0