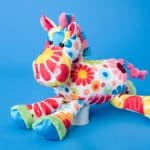 I'm not normally 'big' into stuffed animals.  There isn't a specific reason, I just don't often purchase them.  Once in a while, I find one that I can't resist- like Greta the White Flower Horse from Douglas Cuddle Toys.  SO snuggly soft, and so well made.  I love the different textures and the vibrant colors- it takes a well made stuffed friend and kicks it up a notch. The feet and  forehead  have a satiny fabric, and the same satiny fabric is inside of Greta's ears and mane, and twisted with the fabric of the tail.  The plush itself is really soft and doesn't pull apart and move around.  Her legs are easy to move and floppy which makes for fun tossing games.  I really like the beans inside of the 'hooves' for a surprise texture for little ones to discover and explore!  Even the tag is a generous size- lots of great sensory and tactile components going on in such a cute little package!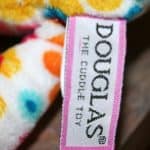 I've said before and I'll say again- my kids PLAY with toys.  We're not gentle nor delicate around here.  I'm not saying we just throw things in the air and against the walls, but in my house, if you don't want to be played with, climb way up high on a shelf.
Douglas Toys is a family owned business that's been around 50 years.  That's a long time, and the family commitment to quality really shows in their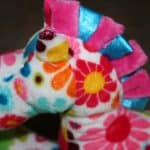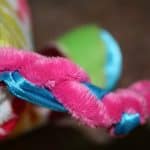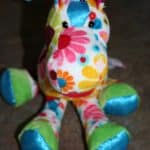 product.  I was with a friend at Barnes & Noble last week and some stuffed ocean creatures caught her eye- we were both commenting on the quality and realistic features of them- turns out, they were Douglas Cuddle Toys.  They have a big range of products, from newborn blankies to really large stuffed animals, in both realistic and whimsical design.
I've pulled and tugged on this cute little horse for a few weeks.  My kids have played catch with it, its been slept with, thrown up on (and washed in the washing machine!), run over by dumptrucks, and put to bed with baby dolls.  I can tell these are very well made and importantly, made to last.  Like I said above- we PLAY with toys.  Play is a verb, and toys should be built to be played with.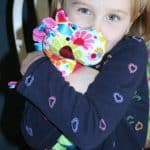 I love our new friend Greta, as do my kids (although Busy B seems to have claimed her!!) and I know that I'll look to Douglas Cuddle Toys first when we need more stuffed friends for any reason.   You can find Douglas Cuddle Toys on their site to purchase or use their store locator feature to find them closer to home.
Want to win one of these adorable critters for yourself?
Mandatory Entry: Like Douglas Cuddle Toys on Facebook.  +1 entry.  Leave a comment with your favorite product of theirs on their Facebook wall, and get a 2nd entry!!
Extra Entries:
Visit Douglas Cuddle Toys and leave a comment here telling me which product is your favorite.  +1
Follow Douglas Cuddle Toys on Twitter
Follow me publicly via GFC, on Facebook,  Twitter or via RSS/Email subscription (+1 each)
Comment on any non-giveaway post (+1 entry per post, up to 5 entries total)
Share this giveaway on any social networking site (easy to use social share button at top of post) and leave URL- can be done up to 2x/day
Tweet this giveaway: "I want to #win a #stuffedanimal friend from @DouglasToys  & @mamatomjr http://wp.me/p1qA6G-Rx " (2x/daily at least 1 hour apart)
This giveaway will end on April 5 at midnight, EST. Winner to be drawn randomly. Open to US only. Winner has 48 hours to respond or I will choose a new winner.
I received a sample of this product to facilitate my review. Opinions expressed within are my own.