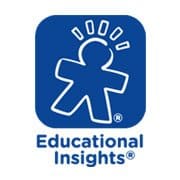 Our monthly review and giveaway from Education Insights is here! We always look forward to our package from EI. They have such fun and engaging educational toys. My kids have such a blast trying out their products. This month we tried out their Hot Dots pen and cards. These were just perfect for my families LONG road trip to Florida.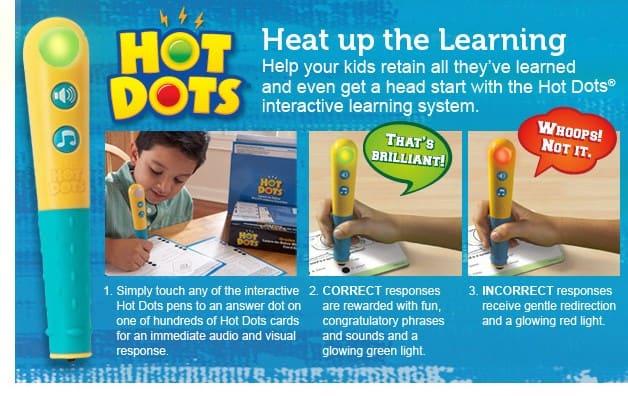 "The Hot Dots pen works with dozens of Hot Dots card sets, providing instantaneous visual and audio feedback. Simply press the pen to choose an answer on any Hot Dots or Hot Dots Jr. card for an immediate response—cool, kid-friendly phrases for correct answers and gentle redirection for incorrect responses. Grades K+"
The Hot Dots system is a great way for kids to learn while they play.  Hot Dots offers card sets for every topic.  We tried out: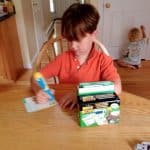 1.  Hot Dots Science Set:  Plant, Animals and Ecosystems: " An interactive way for individual students to learn and practice key science concepts and vocabulary on their own. Six different science sets available. Grades 2+"
36 double-sided illustrated cards (4.875" x 5.375")—72 questions each!
Reinforces science concepts and vocabulary
2.  Hot Dots Laugh It Up!  Vocabulary Development Cards – Synonyms- "A rich vocabulary is critical for successful test-taking, particularly in reading comprehension. Hot Dots Laugh It Up! Vocabulary Card sets are a fun and interactive way to grow kids' vocabularies. Grades 2+"
6 Interactive vocabulary card sets in all, include synonyms (shown here), antonyms (2731), multiple-meaning words (2734), prefixes and suffixes (2735), context clues (2733), and homophones (2732)
50 double-sided, illustrated cards per set (100 questions), featuring jokes, riddles, cartoons, and kid-friendly questions
Great way to familiarize kids with standardized test format
My son had a great time quizzing himself with this pen and card set in the back of our car this vacation.  He did need some help reading the cards (he is only 6), but was able to often choose the correct answer from the list.  I like how simple the pen is to use.  Simply press the pen to the card and either get a verbal or a visual response.  I like having the option of making this a "quiet time" activity, or allowing the pen to give a verbal cue.  The pen was not too loud, even when set to verbal.  The pen was larger than a regular pen, but has nice grips on the side to promote proper pencil grip.  The cards are nice and sturdy with interesting, bright graphics.  My son absolutely love the Plants, Animals and Ecosystems set.  Learning interesting science facts is right up his alley.  The Hot Dots system has dozens of cards sets to suit the needs of any child.  In addition, they have a Hot Dots Jr. for younger children too!
Deal Alert!!:  Educational Insights is offering a free Hot Dots Pen with the purchase of 2 cards sets!!!  The offer is good through August 11th, 2012 when you use the code:  HOTPEN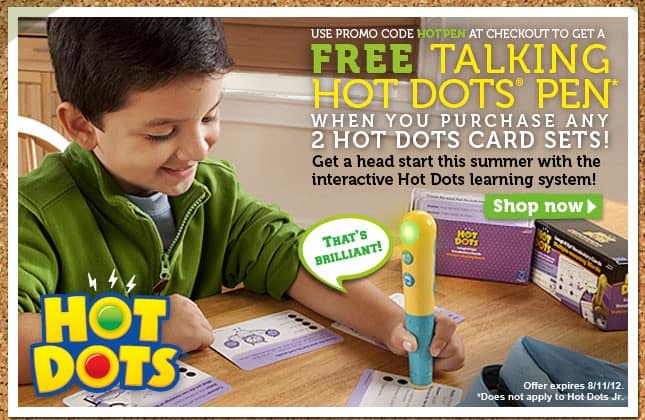 One of our winners will win their own Hot Dots or Hot Dots Jr. Pen and one card set of their choice!! (US and Canadian Residents Only)
Loading Entry-Form…
Loading Entry-Form…

"A sample of this product was provided to facilitate this review.  All opinions expressed are my own."
0