Our friends at Educational Insights have come through again!  Do you have a little sleuth in your house?  I know I do.   Mine is constantly going on "spy missions" and having super secret meetings with his friends.  When we saw the Sonic Sleuth toy from Educational Insights it was a no brainer.  This nifty little toy has headphones that attach to a device with a large cone to trap noise and amplify it.  It is super easy to set up and get going.  Once you have the battery installed, just turn it on, turn up the volume and begin sleuthing.  My son had me whispering little secrets from the kitchen and he was able to hear me from all the way across the house (I would tell you how far that is, but I am terrible at that kind of thing)!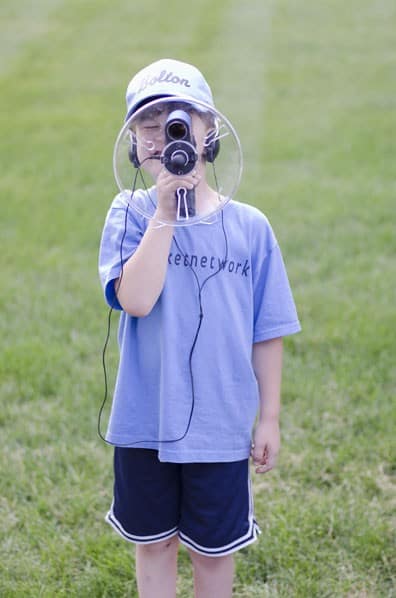 Geosafari® Sonic Sleuth.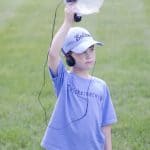 Ages 6 and up. This powerful, handheld listening device tunes in to sounds from over 300 feet away! The state-of-the-art Sonic Sleuth features a high-sensitivity microphone, parabolic sound collection dish, high-quality headphones, and sound targeting scope. Built-in frequency controller blocks out harmful noise above 85 decibels for super-safe sonic sleuthing. Young scientists and detectives can zone in on birdsong or buddies' conversations. Perfect for science experiments and wildlife adventures. Its the ultimate eavesdropper!
This toy worked surprisingly well and my kids have had so much fun playing with it!  There is only one dial to adjust (no complicated switches and dials are great for the 10 and under crowd).  It is durable and the batteries have lasted FOREVER!  This toy has been used inside, outside and in the car.  You name it, we've taken it there.  If you are looking for a fun toy for your little spy this summer I definitely recommend the Sonic Sleuth!
One of our lucky readers will win their own Sonic Sleuth!
Javascript must be enabled to enter this giveaway. Learn how to activate Javascript by
clicking here.

Loading Entry-Form
"A sample of this product was provided to facilitate my review.  All opinions expressed are my own."
0