The Facebook Portal reviewer has been compensated in the form of a Best Buy Gift Card and/or received the product/service at a reduced price or for free.
One thing that working online from home is that a lot of your people kind of "live" inside of your computer world. People you get super close with can live across the country- or the globe- and it's not often you get to be face to face. Lots of times, we'll message during the day, and more and more frequently, attempt to video chat. Video chats are really cool and fun, but honestly, pretty limited. Or have been
Facebook Portal and Portal +
Video chatting is fun, because it let's you see friends and family who aren't in the room with you, but Facebook Portal gives you a whole new way to keep in touch and stay connected with family and friends! When I say whole new way, this takes video chatting to a whole different level. Now you're chatting hands free, and the camera FOLLOWS YOU. Not in a creepy watching your every move way, but when you're actively using the Portal for a video chat, and move around in the room? It'll follow you then.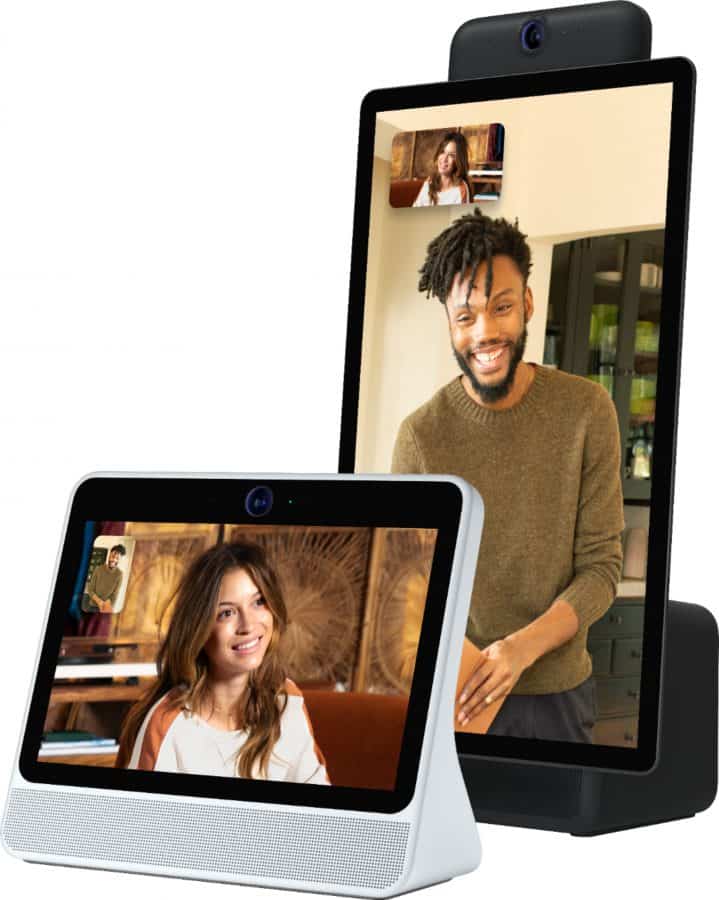 Facebook Portal is a home video communication device that makes it easier to connect more regularly with the most important people in your life, and share the little everyday moments that relationships are built on. Connecting through Portal feels less like being on a video call and more like being together in the same room, even when you're miles apart.
Guys, remember party lines back in the day when we all had rotary phones and landlines? Before landlines were called landlines? You can add up to 6 people on the Portal chats…AND they don't have to have Portal to do so. Party lines are back, but so much cooler now with video.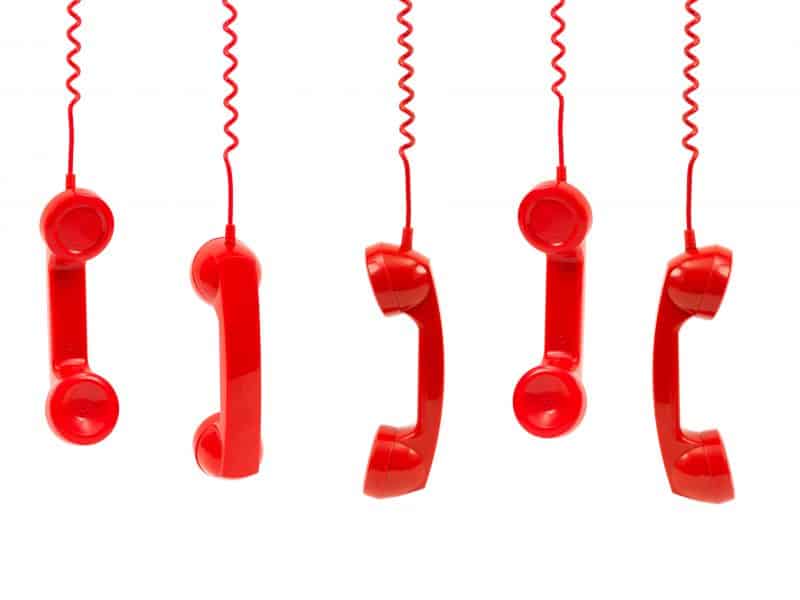 The Portal devices come with a camera cover in the box, so when you're not wanting to use the Portal, it's not able to see you, either. **The camera cover is about 1 inch to 1 1/2 inches in size, and comes in it's own little package in your box. If you're not careful, you may toss it with some of the plastic wrap from the device itself like I did. (Thankfully it wasn't yucky garbage I got to dig through).
Set up was so so so easy. Remove the packaging, place on flat surface, plug in. Boom. Done. Getting the wi-fi password entered by the 9 year old and waiting for the updates took longer, and still was less than 5 minutes total. The device guides you through the full setup and REALLY makes this easy for even the least techy folks you know.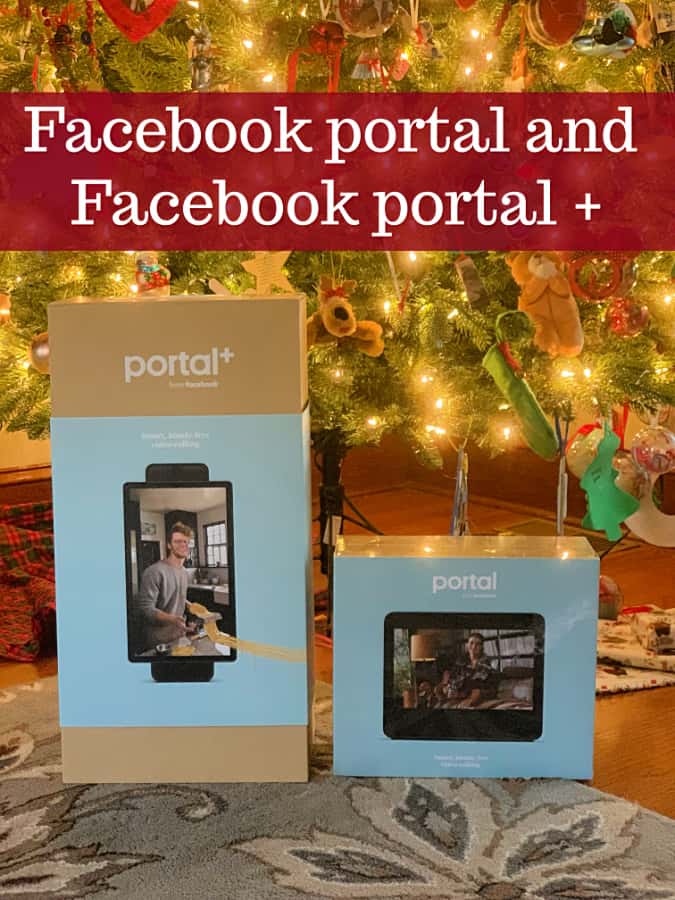 This is going to be amazing for my blogging friends and me. It's also going to be pretty amazing when it comes to feeling like you are in the same room as the person you are using the Portal with on the other end. Between the clarity and the movement of the camera, friends and family can truly feel like they are in the room with you, which is the next best thing to being in the room with you. Living in the future is SO COOL sometimes. The Portal comes with all kinds of non video chat features, including some apps like I heart Radio. We got this up when we were doing the tree so we had some fun holiday stations going!
The kids want to find a good recipe on the Food Network app and try to make dinner using just the Portal. I'm not sure that *I* am ready for that, but we'll see. It'll be nice that they can have the videos hands free while they are cooking our food and did I mention the hands free? Because kids + tech = touching and that's always leading to touching of the screen or device.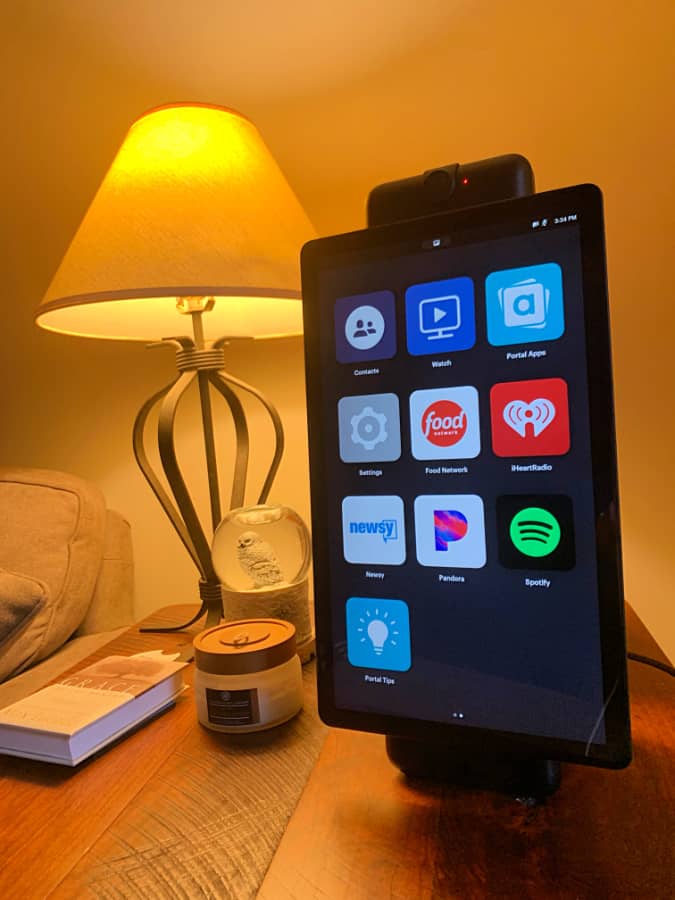 A few notes: Some of the Facebook watch videos aren't super kid friendly so we will either be diligent while the kids use it or look into how to set up parental controls. It's not a huge deal, but it's good to be aware. Also, right now, when you're wanting to make changes to the settings on your Portal, you have to enter a special code that changes- so basically each change means entering a code again.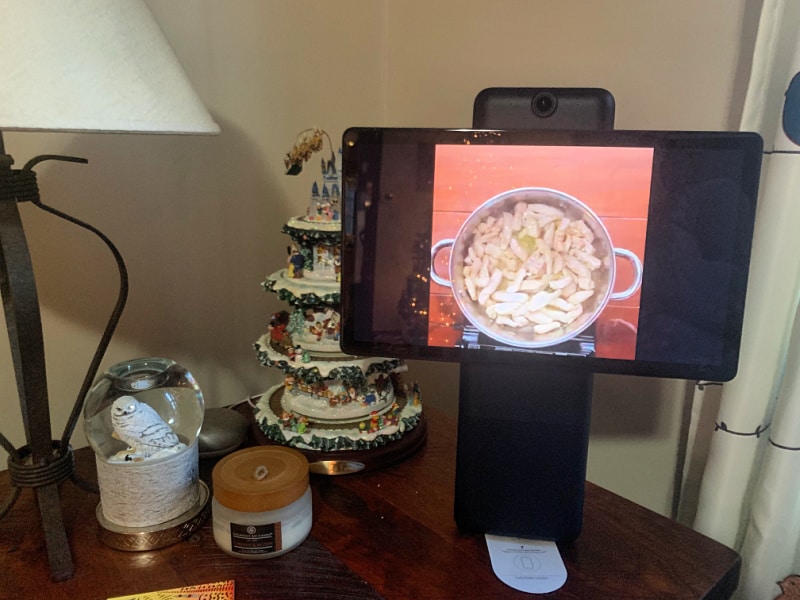 Also, friends, if you spend a lot of time while working from home without wearing pants, or in pajamas? You may have to start looking for some Portal Pants to wear when you're using it.
This would make an absolutely amazing gift for the holidays! Head to your local BestBuy store or pop over to BestBuy.com to get your Facebook Portal and/or Portal Plus! Plus, right now you can save $100 when you buy 2 Facebook Portal or Facebook Portal Plus NOW!