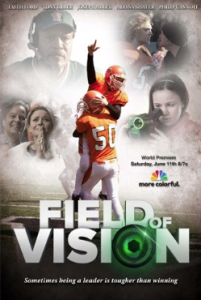 I got to have  a sneak peek of Field of Vision already this week, but I will certainly be DVR'ing it tomorrow for the premiere (otherwise engaged at the time) so I can watch again.  I love sweet, feel good family movies and this one fits the bill.  In celebration of the movie's premiere June 11th on NBC at 8/7cst, I get to host a giveaway so that one of YOU guys can win a prize package including a digital camcorder!! !!
Through mysterious footage captured on an old malfunctioning video camera, Sinclair High School's star quarterback, Tyler McFarland, learns that some of his teammates have been bullying Cory Walker, a troubled new transfer student. Aware that sharing this information with the coach might get his friends kicked off the team and ultimately cost the school the state championship, Tyler must choose what's more important: winning or doing what's right.

As these events unfold, the camera also reveals more surprising footage to Tyler's kid sister Lucy. She learns that Cory has a secret past, unknown even to him. Now Lucy must convince her mom (Faith Ford, Murphy Brown) and family that the camera's revealing insight is not a product of her imagination as she enlists their help to find the answers Cory so desperately needs. It's a compelling and intriguing story that shows both the challenges and rewards of doing the right thing even when it's tough to do.
Cory's story will steal your heart away and watching Tyler's struggles with doing the right thing, will just warm your heart.  Such a nice family movie and what a great way to open the door to communicating with your children about important decisions to make, no matter how hard.  Definitely one to watch- even if you aren't able to watch tomorrow, DVR it to watch later!! 
As I mentioned earlier, one of my winners will win this fabulous prize pack (candy may vary)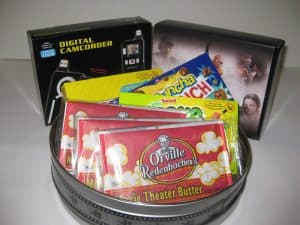 Maybe my winner will be the next big movie maker!! 
Mandatory Entry:
Leave a comment with your name and be sure to use a valid email address in the comment form.
Extra Entries:
Follow me via RSS Reader, Facebook  or GFC ( +1 entry each up to 3)
Share this giveaway on any social networking site: #Win #FieldofVision prize pack with digi camcorder #FamilyMovieNight from @mamatomjr http://wp.me/p1qA6G-29w  (up to 2x/day at least 1 hour apart)
Enter this giveaway on Living on Love and Cents, Our Kids Mom, A Mom's Take or MI Savings for +1 entry here and to increase your own chances to win!
This giveaway will end on July 2, 2011 at midnight, EST. US only. Winner to be chosen randomly. Winners have 48 hours to respond to initial contact or new winners will be selected.
I received a sample of this product in exchange for my post. Opinions expressed within are my own. [ad#glam between posts]
0