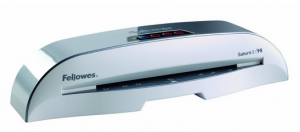 I've waited a really, really long time to say this. I have my very own Fellowes Saturn2 95 laminator. I can laminate whatever I want, whenever I want. Well, anything that fits into my Fellowes Laminator. Emergency cards? Laminated. Fun printable activities? Laminated. Name tags for the kids to wear the first few weeks of school? Laminated in seconds. If it's the right size and fits, I'm probably going to at least attempt to laminate it. I even took some Astrobrights paper and made little wipe off calendars for each of the kids – if they are waiting anxiously for an event (like their birthday) they can use a dry erase marker to cross off the days while waiting- and they aren't going to be asking me 100 times a day to write on my family calendar! (Of course, this won't stop them from asking, but I can direct them to their own calendars).
I'm a Brownie troop leader (well, to be. We're moving up to Brownies this fall, my oldest and me). That offers more chances to laminate. The Girl Scout Law, the Girl Scout Promise- both have to be memorized, and now I can make my girls cute little laminated cards with the Law & Promise on them that won't get wet or ripped!
With the holidays almost always comes cookie swapping. I am not sure I've ever finished writing out a recipe card and NOT spilled on it at some point. Recipe cards are great for laminating too. Plus, if you have a special recipe card that maybe your favorite aunt wrote out for you, and you are afraid the ink may fade or wash away if it gets wet- laminating that card means preserving her handwriting and comments/notes…while still being able to use the card.
This laminator is so much fun to have around.  Practical, yes, but also fun.  There are so many things I have plans to laminate- and so many friends who want to borrow it!
For some fun laminating ideas, click here http://bit.ly/MjTR9T.
HeatGuard™ Technology: Double-walled insulation keeps heat inside so laminator is comfortable to touch, making it safe for homes with children (Safety is so important, especially given that you have to let your machine warm up before use- it's hard to just sit next to a machine for 20 minutes when there are other things to do!)

Advanced Temperature Control: Hot and cold laminating capabilities ensure consistent, smooth results every time

Jam Release Lever: Permits easy removal or re-centering of stalled pouches. (Levers like this were made for people like me.  I don't deny it).
From August 5th – August 25th friends of Mom Central can use exclusive coupon code 87298 to receive $30 off the regular price ($159.99) of a Fellowes Saturn2 95 at Staples.com! (while supplies last; maximum two machines per person)
"I wrote this review while participating in a blog tour by Mom Central Consulting on behalf of Fellowes and received a product sample to facilitate my review."