This festive fall front door idea post was sponsored by Lowe's as part of an Influencer Activation for Influence Central and all opinions expressed in my post are my own.
As luck would have it, I realized about a month ago that I needed some serious help and love for our front door. It's a blank slate- we'll be painting next spring or summer, so it's staying the white it currently is. But we have a brick stair and landing and it just kind of called out to me to give it some attention. I snapped a photo and posted to my Facebook page wall asking for help.  The suggestions came in and I read them all, looking to see what ideas I could work with. (One was to add a front porch, which is a dream of mine, but not really possible at the moment)! Fall decor ideas? Yes. Halloween decor ideas? Not as many, but we had a starting point.
See, we've never had much of a front porch- our last house was much smaller and the little front steps were a smaller scale as well. So adding a few mums really just looked silly. See what I mean? I needed help.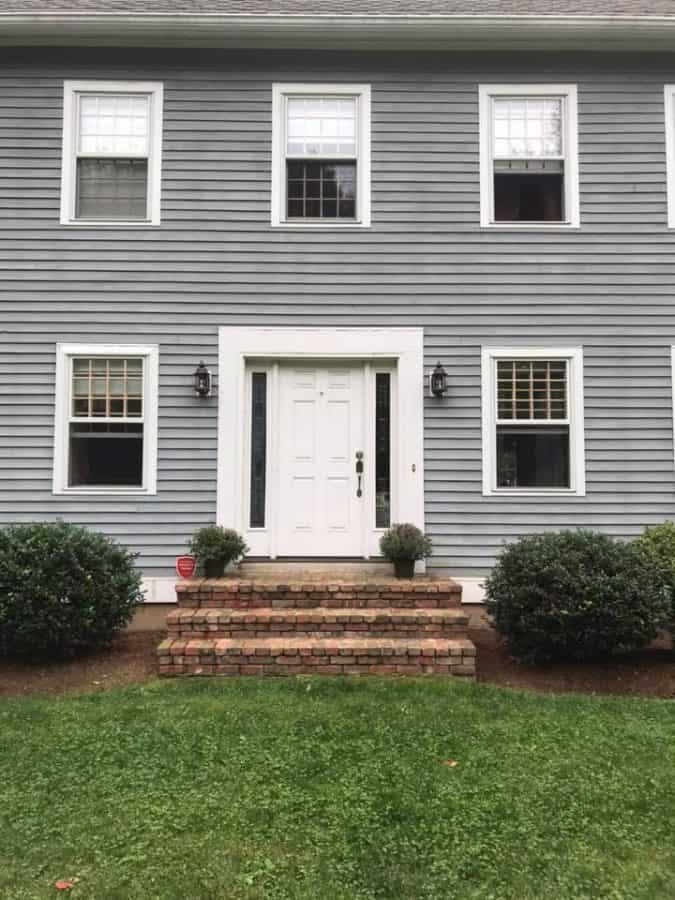 Later that same week, an email popped up that Lowe's was looking for bloggers to do a little front porch makeover for fall and Halloween and it sure seemed like I needed to apply. This was my kick in the pants. Lucky for me, I got accepted to the campaign, and off I went to shop. I'd already perused online for ideas, and I knew I wanted mostly fall with some Halloween woven in so that I could enjoy what had caught my eye for most of the fall/harvest season. There were these gorgeous pumpkin topiaries (which I love love love and am smitten with, and my husband is delighted to be able to store in the shed for the next umpteen years in the off season).
I could have bought one of almost everything for Halloween and fall decor when I walked into Lowe's. It's so exciting to finally have space to do things like this! I did keep myself sort of in check. Mostly. FUN TIP for you all: I used Curalate for this post- which means you can click on the images and find the items by clicking on the image. Cool, right?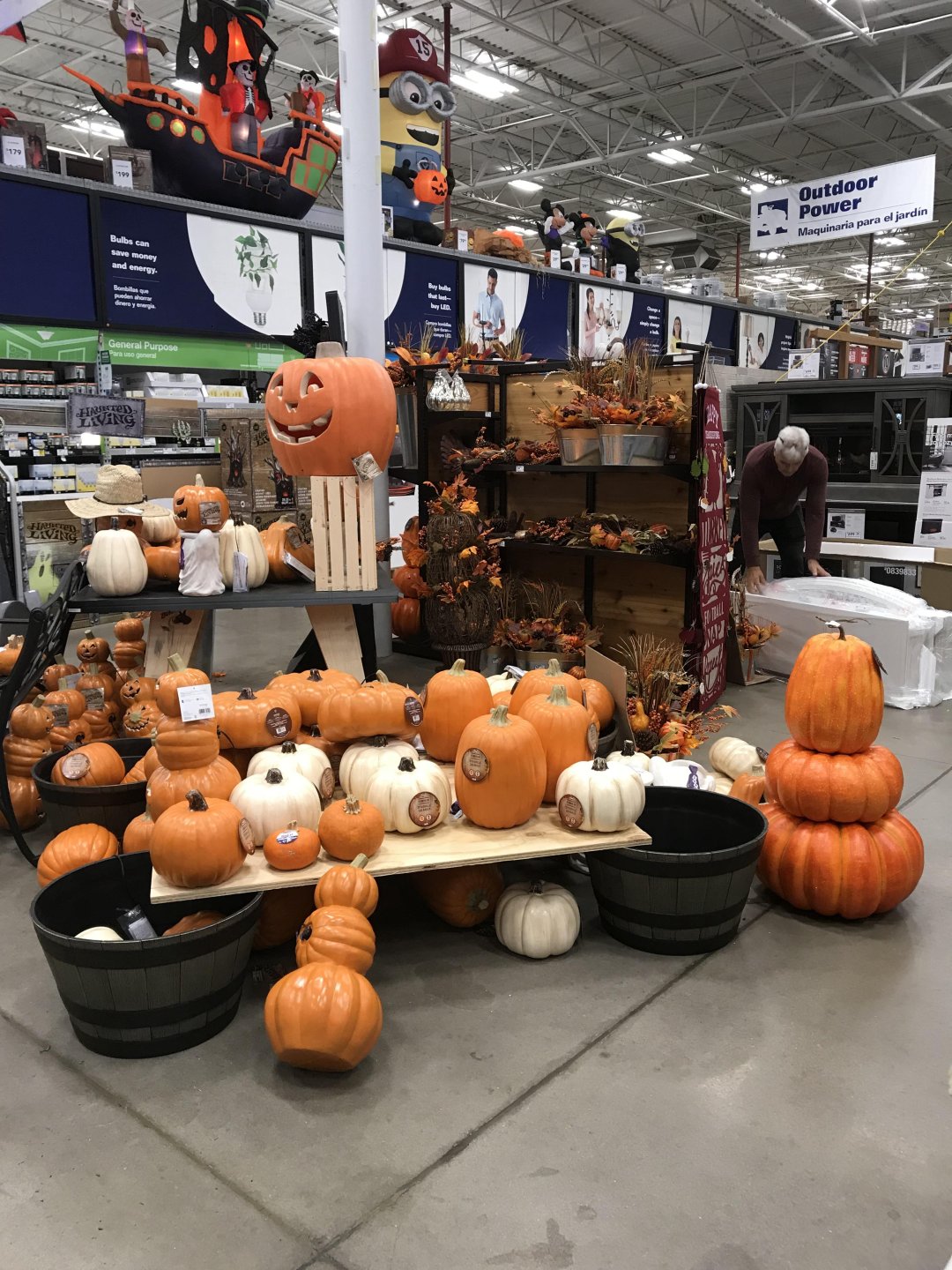 My first order of business was a door mat. We haven't had one at all since we moved in. You'll notice we don't have a walkway, so we really don't use our front door, but I still want it to look nice. I found a great option that's got a good gripping surface on the back and looks nice for the whole fall season. I love the pops of color on the leaves in the print, too.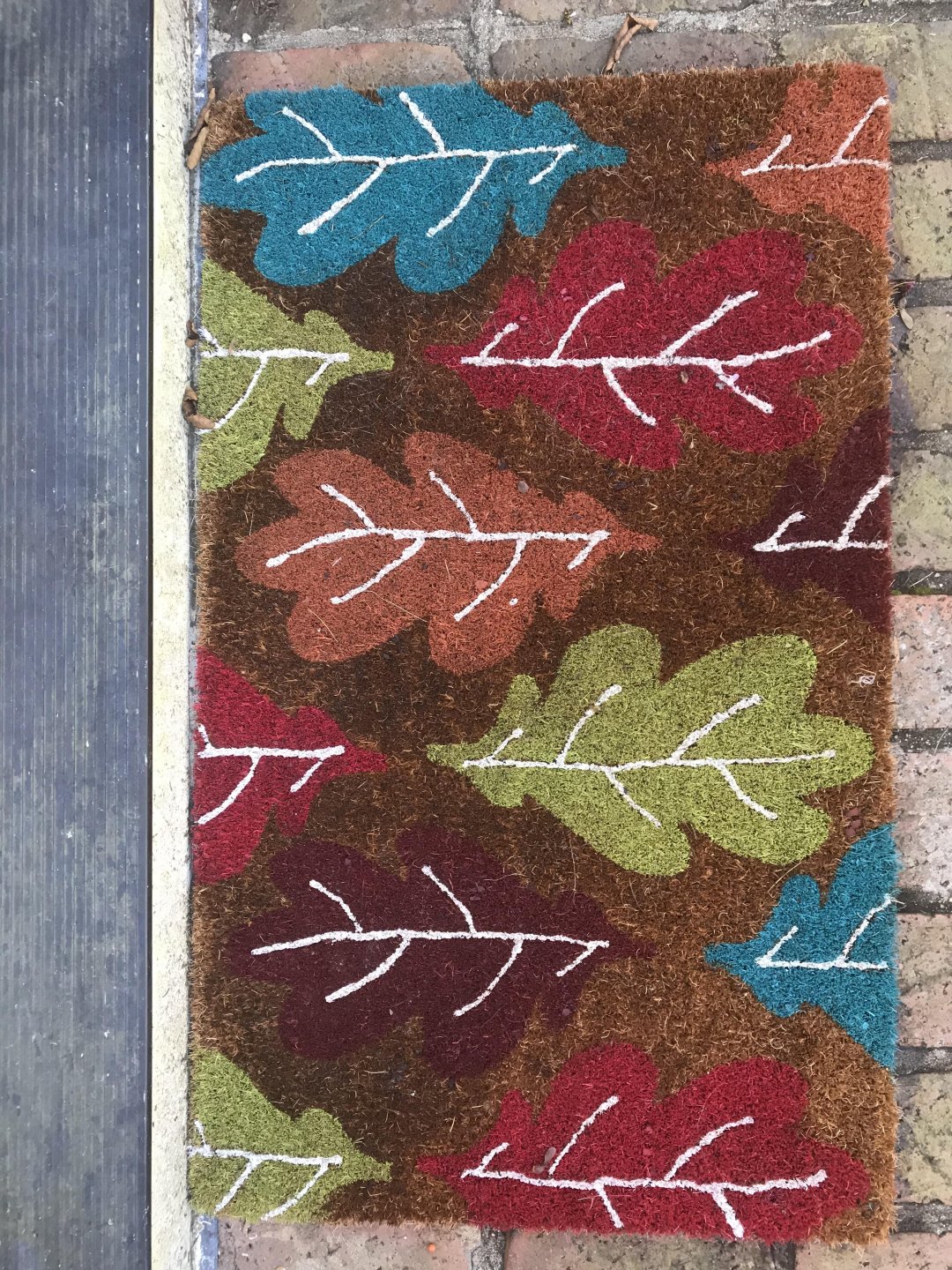 When I was browsing online before heading over to my local store, these topiaries are really well made- and LED lights that come on a 6 hour on, 18 hour off timer. A few batteries popped in and we're good to go. They look so pretty all day and when it's dark.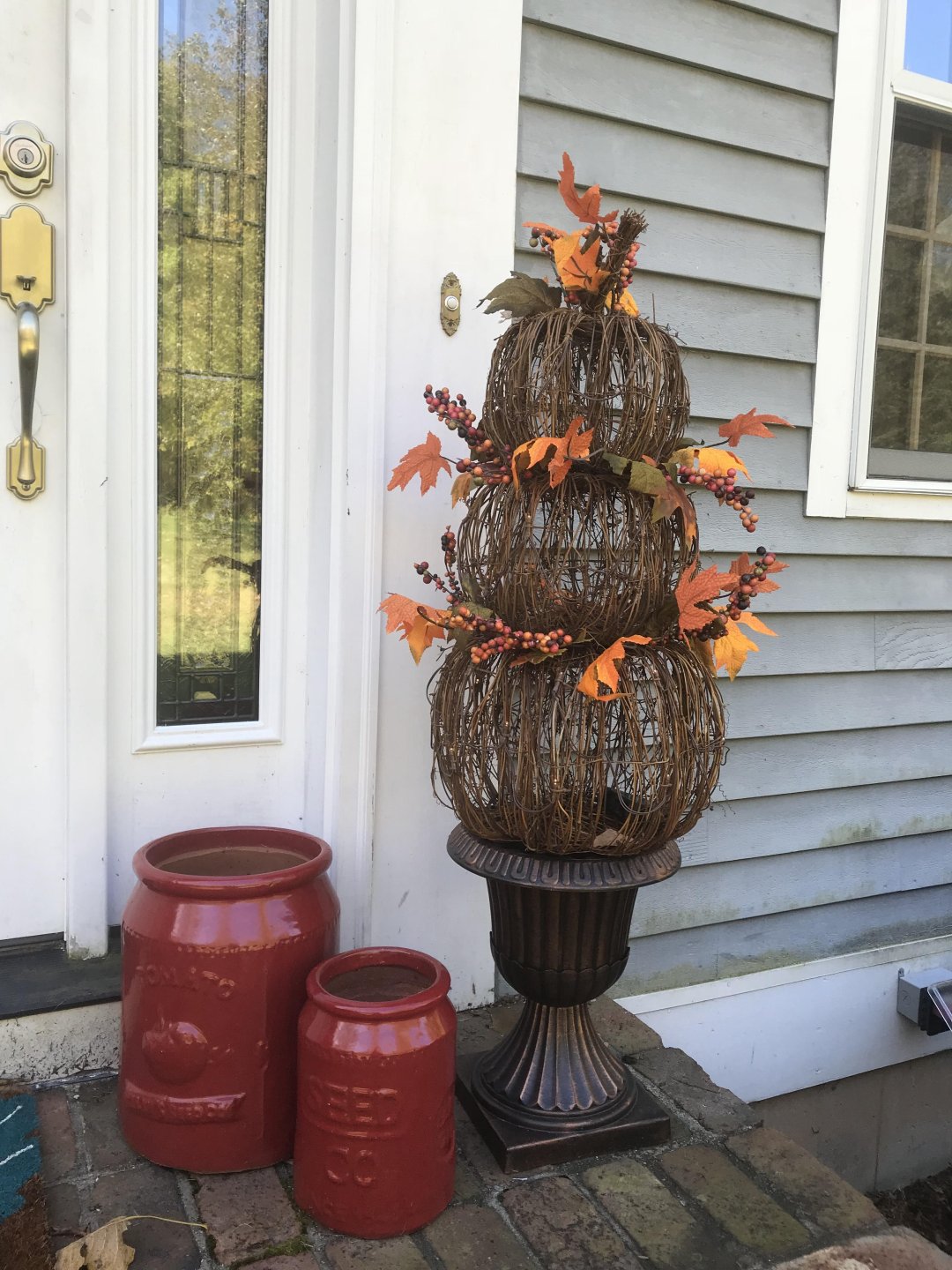 Lowe's offers great values on the latest in décor trends for Harvest and spookiest ideas to deck out your home for Halloween this Fall! The topiary was gorgeous, but when we were walking around looking for something to put the mums in that I'd already purchased, my husband saw this set of red ceramic planters and I fell in love with them. I love the details on them and I love how they look by the white door. Plus, I think I can get away with these being out for most of the year! Win for me!
I found LOTS of fall and harvest items, but I really also wanted to have Halloween decor in the mix. I had this idea in mind of doing a little bit of both so we could enjoy most of the decorations a lot longer than just October. We have a few yard decorations already, so I knew I could really do more fall/harvest at the door. But still.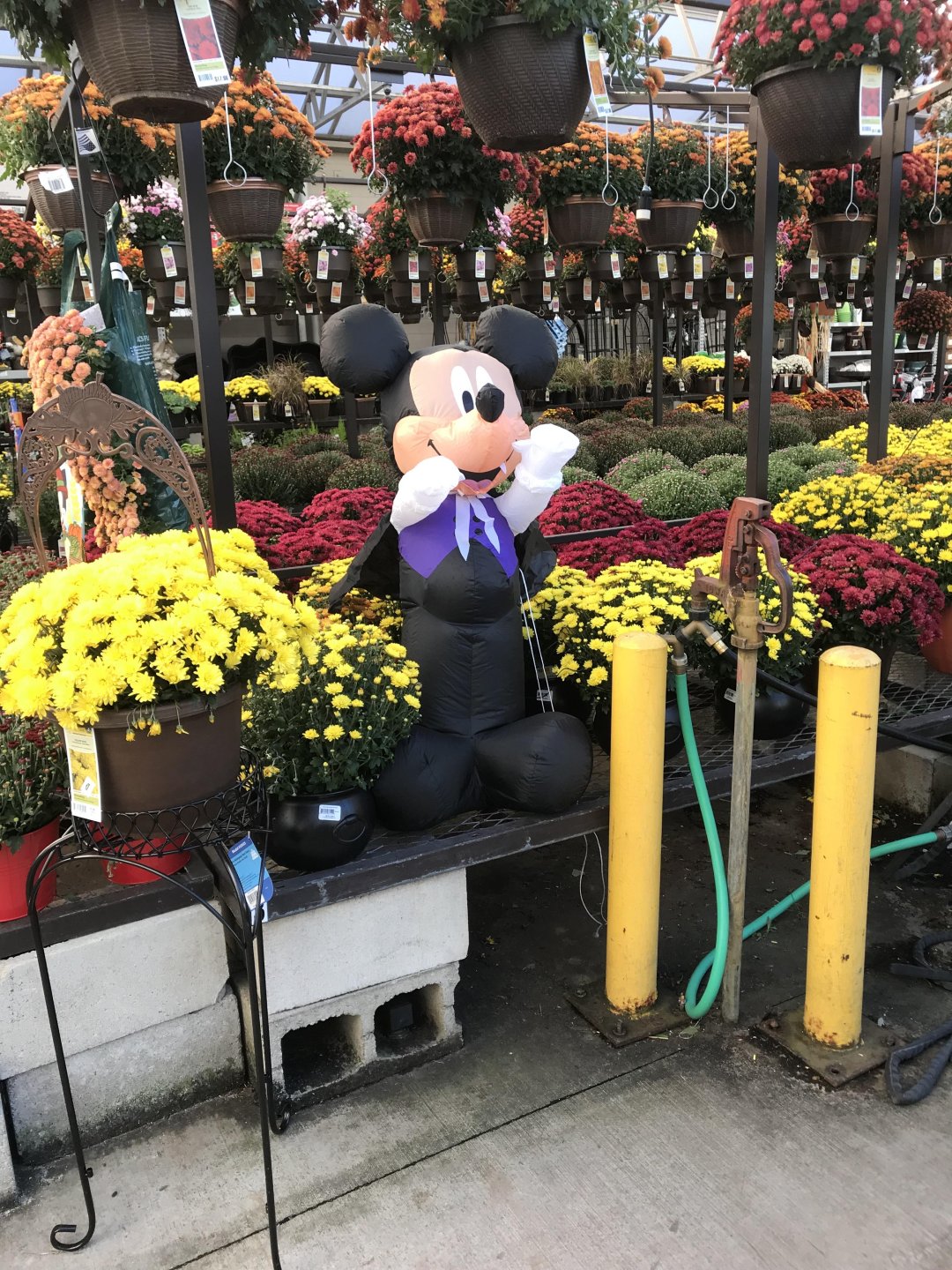 Then I saw these fun black and purple wreaths and topiaries and almost switched the pumpkins. Almost. I decided though, that I wanted to be able to enjoy the topiaries for a few months each year and not just Halloween, so I didn't opt to go glittery. I still love these. Look how pretty they are!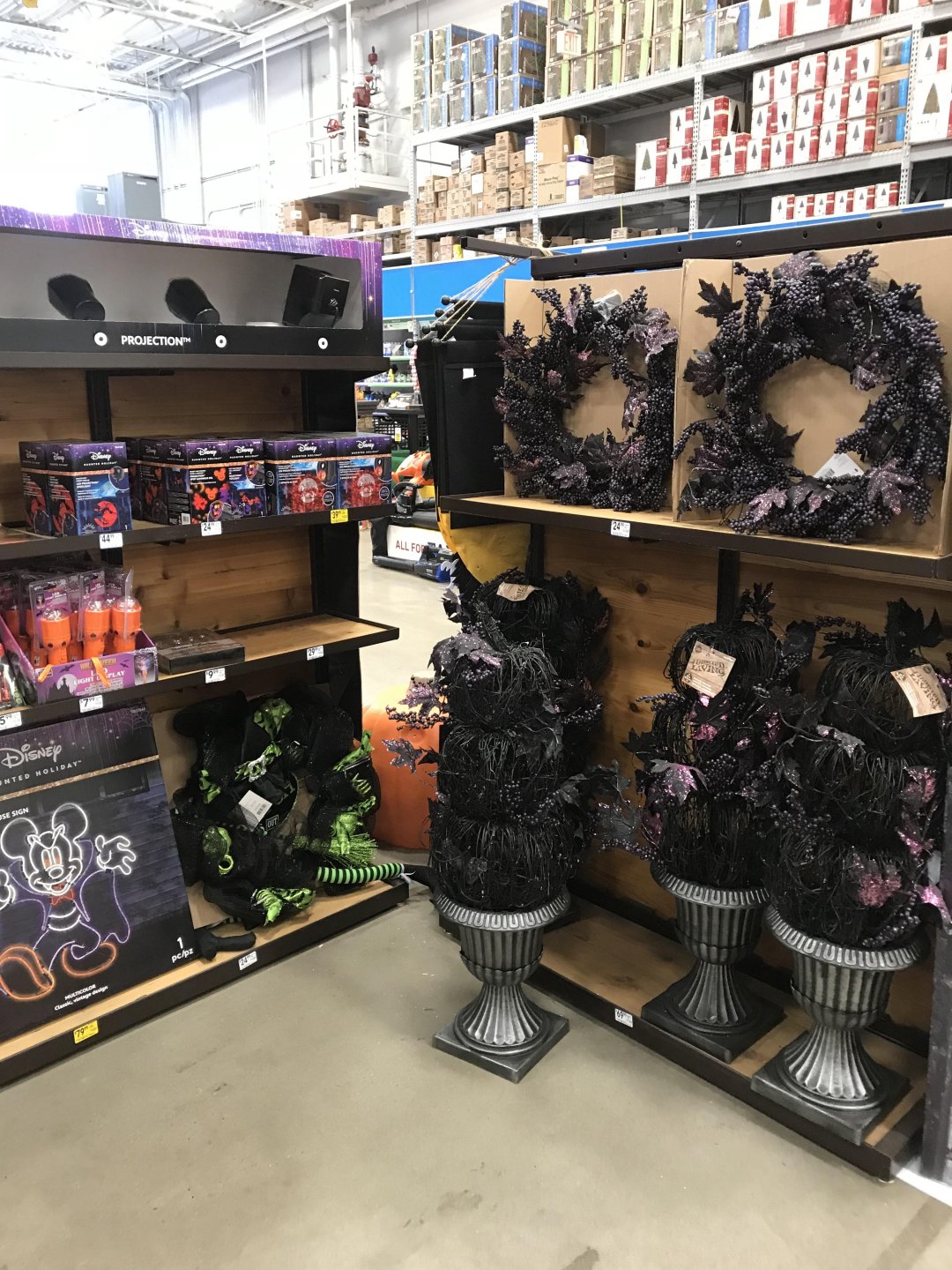 So the purple and black glittery awesomeness wasn't meant to be, but that adorable "Witch is in" wreath had my name allllll over it. I loved it. Right on top of the cart she went.
My cart overflowed with fall decor and Halloween decor goodies. I was giddy to head home and get my decorating on. It was like a birthday and Christmas with all of these fun purchases all to make our porch look pretty and festive for fall and Halloween- and I couldn't wait to get going!
Got home, set things up, and hated it. Well, not all the way hated, but it looked wrong.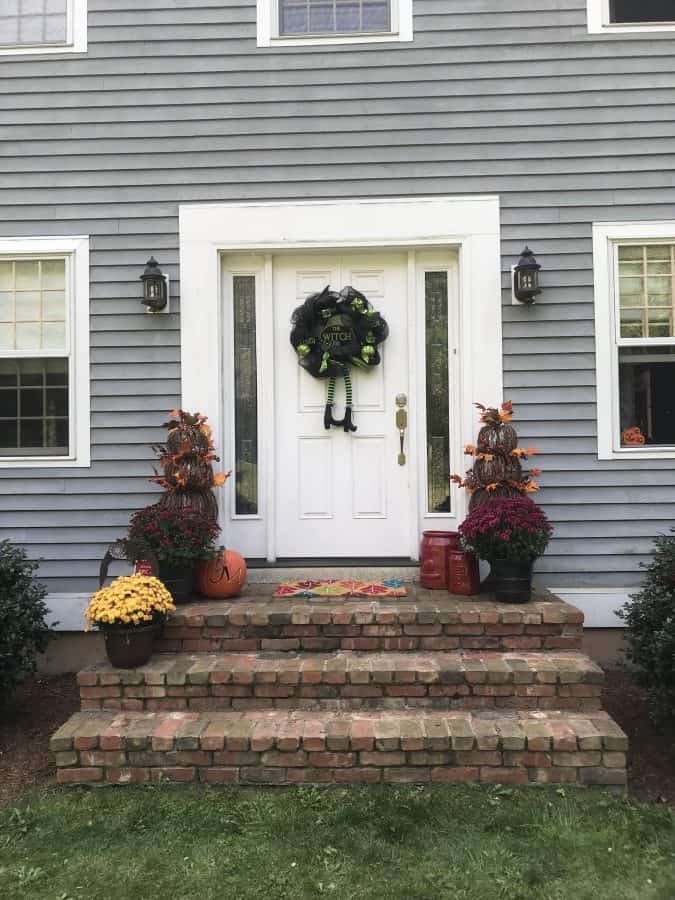 Details were lost because things were crowded. Also off balanced. Took everything off and started again.  And again. *Side note: mums purchased in the future for the front steps will be yellow. They pop more. Lesson learned.
Finally I realized that because I had only one of these cute little owl planter baskets, that it couldn't stay on the front steps. The details were lost. This (below) is much better for the owl, and it also brings a little more festivity to the front yard.
My big "helper" sat on the steps like this most of the day when I moved things around. She's cute. Just not helpful. She loves to sit on stairs like this, indoors or out. She's quite pleased with how things turned out!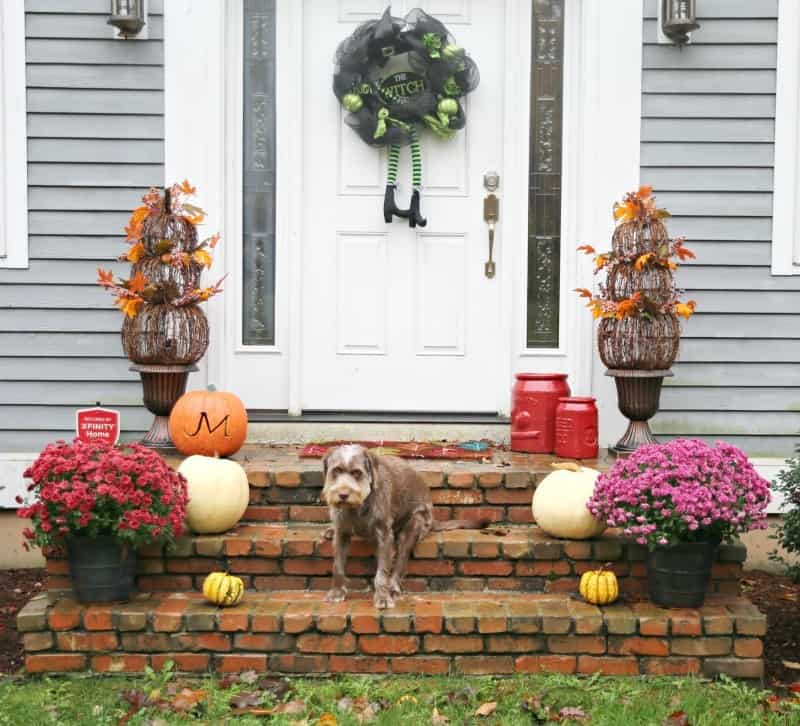 Here's a better shot sans pup. We're happy with how it looks, and excited to see how it looks when we finally paint the door next year…color suggestions welcome!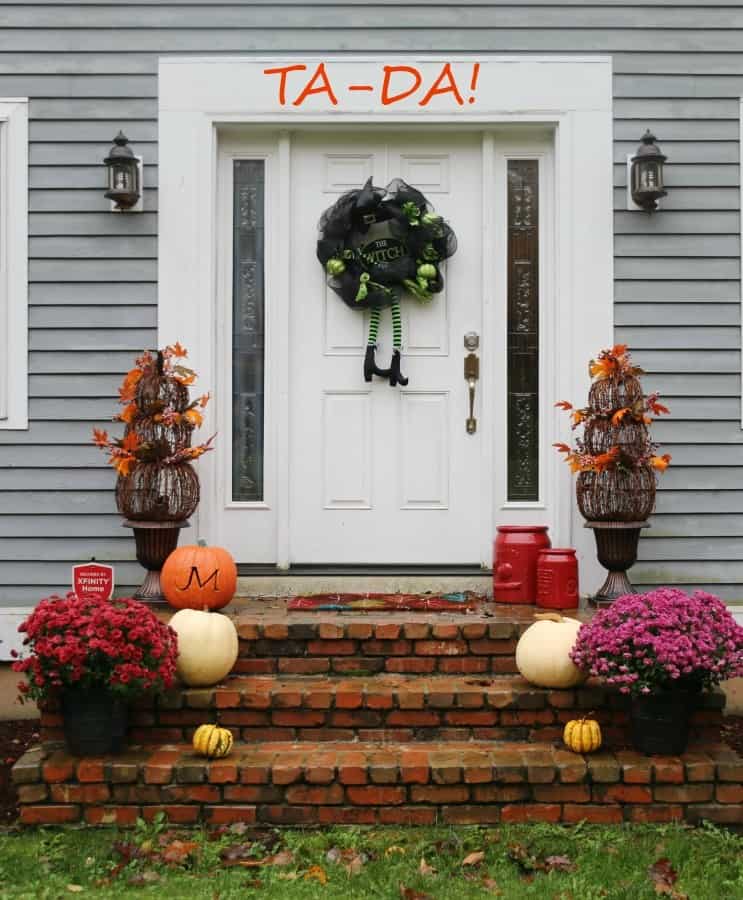 What do you think of my festive fall front door ideas? Share your ideas for decorating a front porch here! Improve your curb appeal and welcome guests in style throughout the Fall season with Lowe's! 
#LowesFallDecor #IC