This post about fighting pests with the new AMDRO PowerFlex system is brought to you by Central Garden & Pet. We don't have a lot of issues (knock on wood) with pests and/or insects inside the house, but we do have pests in the form of weeds and more weeds. Plus they always bring their friends. While we don't treat areas near our well at all, we do have areas in the yard that we've used weed killer on or other pest control products- but it's always several different products in different packaging and different applicators. In other words, lots of space taken up and lots of things to go through. The new AMDRO PowerFlex is designed to streamline the whole weed and grass, indoor and outdoor insect problem by having one kind of universal applicator and smaller concentrates that you can quickly and easily change depending on your need at the moment. They've simplified the process to a 1-2-3 step thing!!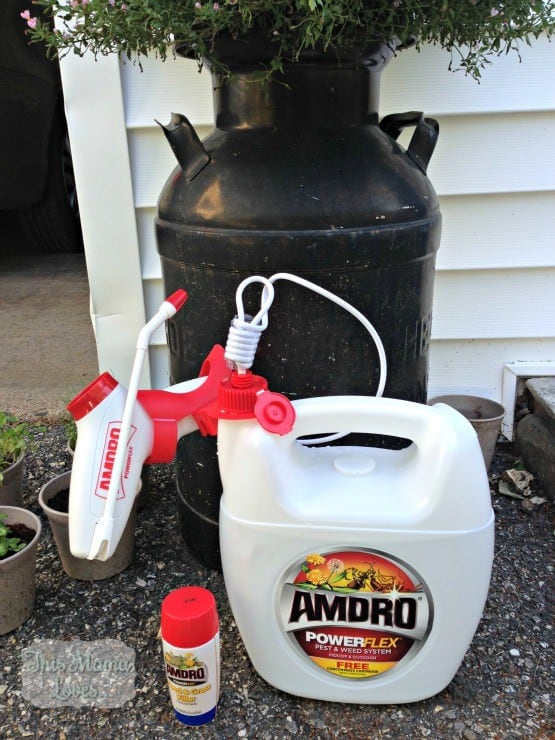 Step 1: Fill the gallon sized container with water (I'd like to thank the folks who designed this for making it a smaller sized container- it means those of us who aren't super strong can still be able to use the product system).
Step 2: Twist on the concentrate you'd like to use
Step 3: Spray your product onto the pests or weeds. That's it.
Want to change to another product quickly? Simply remove the concentrate you are finished with, flush the system for about 10 seconds, and twist a new concentrate into place. Easy, peasy. The system itself has a spot to store and go with 2 concentrates so you can cover more area or change to different product applications without having to walk back to the shed, garage, etc.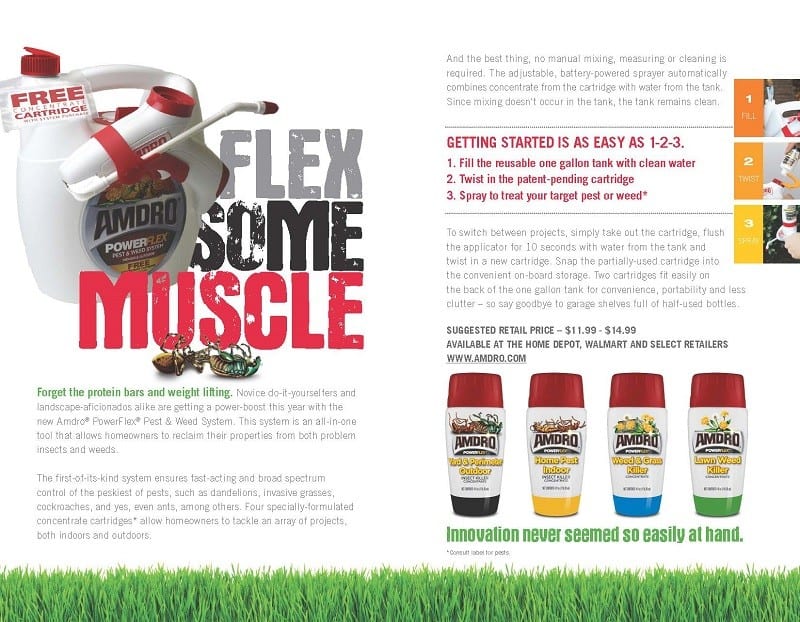 There are 4 varieties of concentrate you can get with the AMDRO PowerFlex system-
1. Weed & Grass Killer Concentrate
2. Lawn Weed Killer Concentrate
3. Yard & Perimeter Outdoor Insect Killer Concentrate
4. Home Pest Indoor Killer Concentrate

AMDRO PowerFlex Pest & Weed System
· AMDRO is introducing a revolutionary all-in-one system – AMDRO PowerFlex – created to simplify indoor and outdoor pest and weed control unlike any other product on the market.
· The AMDRO PowerFlex Pest & Weed System moves pest and weed control into the 21st century of technology by creating one innovative solution that fits all of consumers' control needs.
· The battery-powered sprayer features four specialty formulated cartridges that eliminate a wide range of pests – from ants and cockroaches to dandelion and many other hard-to-control weeds.
· Available cartridges include: Weed & Grass Killer Concentrate; Lawn Weed Killer Concentrate; Yard & Perimeter Outdoor Insect Killer Concentrate; and Home Pest Indoor Killer Concentrate.
· AMDRO PowerFlex products range from $11.99 to $14.99 and are available at The Home Depot, Walmart and select regional retailers.
Please feel free to watch my video of how to use this system and watch how easy it is (would be with 2 hands anyway) to change cartridges!! (Also, please feel free to laugh, I do).

One reader will win a $50 American Express Gift Card to buy their own AMDRO PowerFlex System – or whatever you'd like to use it on!
Central Garden & Pet partnered with bloggers such as me to help educate us all about their AMDRO products. As part of this program, I received compensation. They did not tell me what to purchase or what to say about the use of the products. Central Garden & Pet believes that consumers and bloggers are free to form their own opinions and share them in their own words. Central Garden & Pet's policies align with WOMMA Ethics Code, FTC guidelines and social media engagement recommendations. A winner will be chosen by random and gift card fulfillment will be handled by a third party.
0