Life is littered with serious financial decisions and issues that appear out of nowhere and leave you, quite often, a bit worse for wear at the end of it. But sometimes these financial issues aren't obvious as to what they can be and can spring on us at any time. In the long run, prudent financial decisions, long term savings and having an emergency fund built up over years of smart financial decisions is critical to help you mitigate these issues as best you can. Having good savings and ensuring you have the most affordable and relevant insurances where required are the best ways to protect yourself long-term. And remember that if you can't afford it, then don't spend the money on it.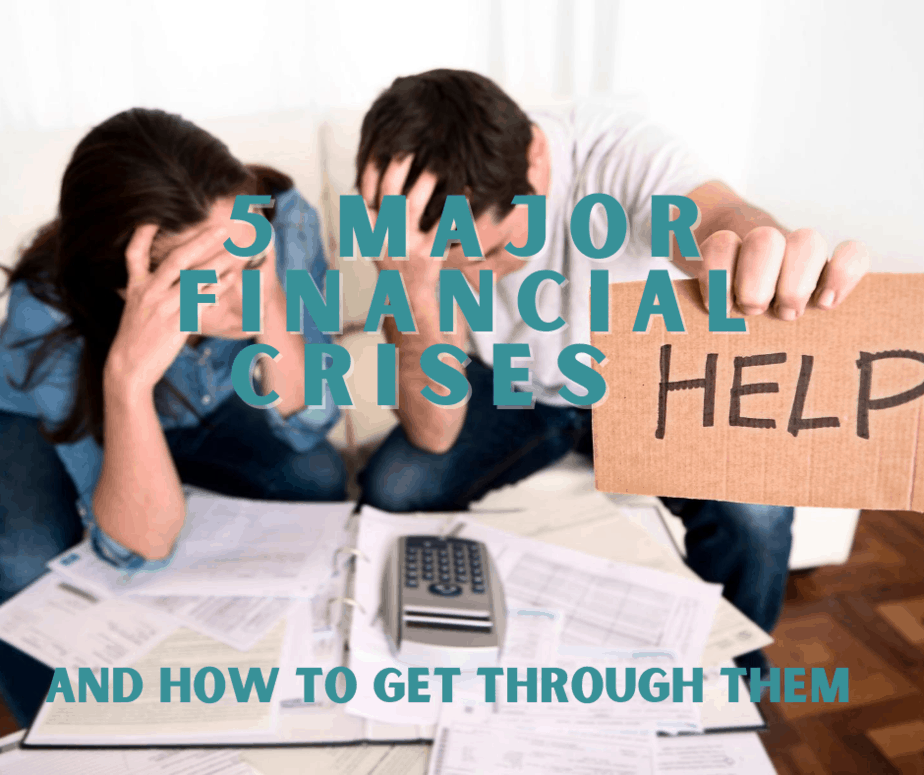 But sometimes your financial situation dictates that you are unable to have such large savings put to one side at any given time. So what can you do in some of the more unexpected financial scenarios? What follows is a brief list of a few unexpected, but potentially serious, situations where your finances can take a serious hit and how you can best try and get yourself through them as best as possible. Of course, not every solution can be discussed here or you would be reading into next week, but hopefully, you gain a few ideas and tricks that you can apply to your life to try and help prevent any major financial disasters.
5 Major Financial Crises And How To Get Through Them
Power outages
When it comes to power outages, they may not seem like they cost you money straight away but they can do so in hidden ways. Take for example a long-term power cut that lasts for a couple of days. Where do you keep your food fresh and ready to eat for a long period? The freezer. If you rely on your freezer to store your food and don't do regular shopping, you can quickly lose a large portion of your meet and frozen goods and won't be able to easily recover that cost. Losing food to an out of power freezer and refrigerator can cost you badly, especially if it is freshly frozen.
The other unexpected case of power outages costing you money is the prevention of working over the internet. This is crucial if you are a homeworker who relies on their home computer to complete their work or to run a business. Remember time is money. So losing your most precious resource due to a power outage is money you can't get back in a hurry.
In the case of power outages preparation is key. Having small generators stored and ready to go is the key here. Small generators sufficiently fuelled will keep you running for quite some time, especially if you don't run too much off of a single one. For your internet, try and use your mobile data where you can and tether it to your computer. Only ever use it to upload or download files and do so sparingly. Keep tabs with the local electrical provider to see when the power is coming back.
Car breakdowns
Car breakdowns are a nightmare. Especially when they can end up costing you so much through lost time and travel, let alone the repair job. Of course, how bad the breakdown is, is going to determine just how much financial impact you are going to suffer. Minor breakdowns, for the most part, can be fixed by your roadside repair company and they can have you on your way in a matter of hours. For this reason, you should always have breakdown repair that covers you with home starts and will guarantee to get you to a garage, or home if they cannot fix your vehicle. Shop around for a good deal on breakdown repair as the prices vary so wildly from company to company, as well as the services they offer.
Secondly, if your vehicle breaks down then you may suffer financially elsewhere due to loss in work time, and an increase in travel time. If your vehicle breaks down then open communication is key with all relevant parties, get in contact immediately with anyone that your lack of transport is going to affect. Be it work, family or otherwise as to the sooner you get into contact with them, the easier it is to explain your situation and how badly affected you are going to be.
Funerals
Funerals are possibly the worst kind of unexpected expense that can hit you at any time of the year. Especially when it is close family or friends that you may be responsible for the planning of the funeral for. If you do find yourself having to plan a funeral the first thing you may want to do is discuss with the person's partner or spouse if they had any kind of funeral care cover that they were paying into, as well as any insurance from a workplace or life insurance provider. Speak to local funeral service providers or local religious establishments (when relevant to the individuals' religious beliefs) to discuss costs and how to receive any financial aid if at all possible. It is an emotional time so getting as much help as possible is critical to get through.
When it comes to the funeral service or the gravestone itself you may want to add personal touches or choose something more decorative by with which to represent the individual. For examples of the kinds of extra items you can incur expense on when planning a funeral you can search for headstones, cremation urns, cremation jewelry and caskets from Memorials.com. There are so many different kinds of extras that can be purchased that it can be overwhelming, especially at a time that is highly emotionally charged, so always speak to family and friends before making any kind of purchase.
Healthcare and medical bills
Depending on which country you live in, major medical bills can financially cripple you for life. Again, preventing such an issue is going to be the key to getting through them safely and quickly, with as little impact as possible on yourself. Keeping healthy and active is the first key in the step to preventing major medical bills. By looking after yourself properly you can help reduce your risk of major illness and sickness thus lowering your risk of sudden financial stress. If you live in a country where medical insurance is necessary to help lower financial expenditure then always have your details and information up to date,
Make sure any premiums and payments are made consistently and that any time you have a change in personal circumstance you inform the correct people immediately. Many a time an insurance company has refused to pay out due to small details mismatching on their records. Don't become one of those people who has been stung by this. Always shop around to see where you can get the best care for the lowest cost. Some workplaces offer insurance through themselves and some don't. Look into all of your options and speak to a financial professional if you must. On this list medical bills can bankrupt you if you aren't careful, so look after your health before you have to start paying for it.
Pet bills
As much as we all love our pets, the simple fact is, they cost money. Sometimes, they cost a lot of money. The best advice for saving money on a pet is: if you can't afford it, don't get one in the first place. If you do end up having and keeping animals in the household prevention is, again, the best method to mitigate any major financial costs. Feeding them the correct food for their species, size and age as well as making sure they have the correct vaccinations and regular injections is the best way to prevent long term health issues.
Always do your research into any animal before you decide to bring one into your home. Many breeds of dog have health issues unique to them and you must know about these before you start to care for one. Knowing this information is important as you should consider pet insurance due to the regularity and high cost of pet bills. Your premiums and charges may be affected if it is known that your pet is likely to have very specific issues in later life.
Conclusion
Bills are a way fo life, but unexpected financial expenditures can cause serious harm to your financial health and wellbeing. For the most part, preventative measures and prudent financial decisions are the best way fo protecting yourself from being stung with crippling bills and costs. Making sure to live within your means and putting a little bit away often is the best way to making sure you protect yourself from any financial disasters in life. Having appropriate insurance, keeping your information up-to-date and making payments o time not only protects yourself but helps your financial and credit health. This allows you to apply for loans and financial aid much more easily when you require it.