Last week, I had the pleasure of being part of a small group of bloggers who had the chance to participate in a phone interview with Jennifer Garner. She's starring in the fun new family film, Nine Lives, coming to theaters TODAY, August 5!  Now, I'm not really one to get starstruck. But this was pretty fun. And exciting. I mean, it's not every day I chat with celebrities who have kids that are similar ages to my own- and I just have always heard such great things about Jen's sweet demeanor and it's all true. She's a doll.  I liked her before and I adore her now even more. She's likable, she's personable, and she's funny- on and off screen!
Jen dished with several of us on NineLives, being a mom on screen and off, and Mr. Fuzzypants himself. She plays married mom, Lara, mom to Rebecca, who's turning 11 during the film, and married to Tom, a workaholic who's lost sight of how important family really is.  Her husband accidentally finds his way into Christopher Walken's pet store, gets his sweet girl the one gift she's wanted for a long time, and then detours en route to deliver the gift and- well, this is where Mr. Fuzzpants really comes into play. Lara has a lot to contend with, having Mr. Fuzzypants (not the best behaved cat around) at home while parenting and having a very sick spouse in the hospital. Below is a shot of one of my favorite scenes from the movie. I can't wait for you all to see it!
Brett: Hi, Jennifer. I'm trying to decide what question I want to ask. I think my first question, is about when Rebecca [Malina Weissman] threw the mean girl's phone in the toilet.
Ms. Jennifer Garner: Yes?
Brett: I have three kids too, and my oldest, she just turned 11 last week. So, you know, for me, that really hit home, especially with her going to middle school and, you know, Rebecca is almost exactly the same age. But, I was kind of wondering did that speak to you as well? And do you think that moment is going to stick out with kids? I know your kids are kind of close in age with mine.Do you think your kids are going to notice that? Mine did. My 11-year-old wasn't home to watch it with us, but my other two did. And I was kind of curious. I don't know if they just included that on purpose, or if it was meant to be powerful.
Ms. Jennifer Garner: Yes, sure. I think it was meant to be an empowering moment for kids, and I'm glad you picked up on it. I think anything that can start a conversation with an 11-year-old, I have a 10 1/2-year-old, and anything I can do to get her talking about what part or what she struggles or for me, with that particular kid, I'm grateful for those moments.
So, I am glad that this movie has one of those. And I'm interested to see–my kids haven't seen it yet. But, I'm interested to see if she picks it out and mentions it, and if I can build off of that, or if I'm going to have to say, "Hey, what'd you think of that?"
Brett: Yes, I'm planning on playing it again as soon as she is home from camp next week because it did stick out that much to me. And I felt exactly the same. Is she going to notice?
Ms. Jennifer Garner: Yes, you're welcome. And happy birthday to her.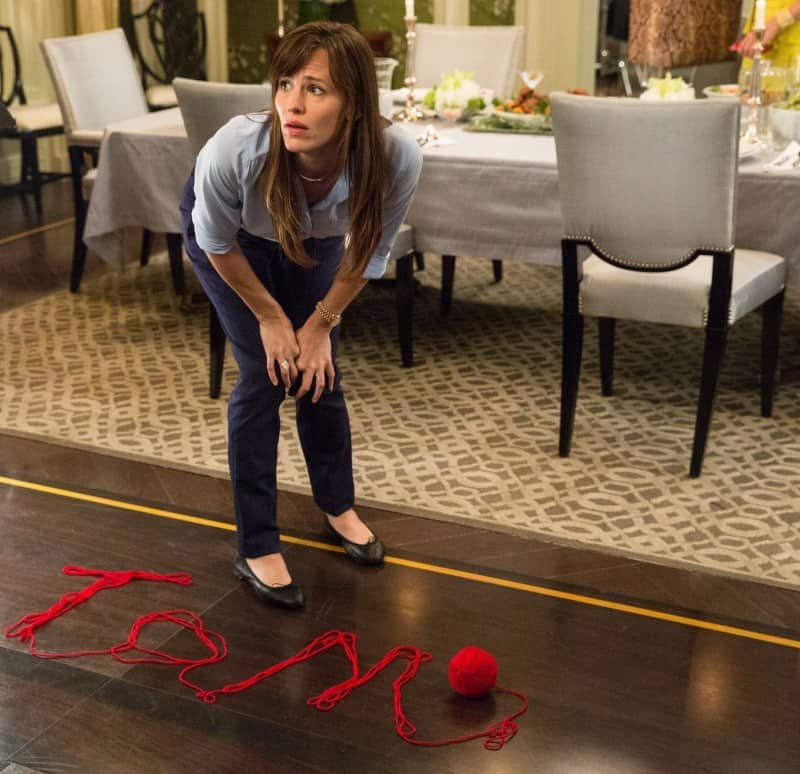 Brett: Yes. I want to know what the craziest thing Christopher Walken did during filming, and I guess Kevin Spacey as well. And well, the rest of the question was do you think that they're going to include outtakes like the safety pin food and stuff during the closing credits?
Ms. Jennifer Garner: I don't know if there are actually. I haven't asked. What I saw was early enough they didn't have credits. But, Christopher Walken did not do one crazy thing. He was quiet and on time and knew his stuff and was clever and pleasantly funny and completely un-crazy. So, that was Christopher Walken.
Let's see. Kevin is just a funny person. So, he just made us laugh. It wasn't a movie where we were all being zany with each other, and also you have to be really calm when there are animals on set because you can't schitz them out. You have to keep them really chill.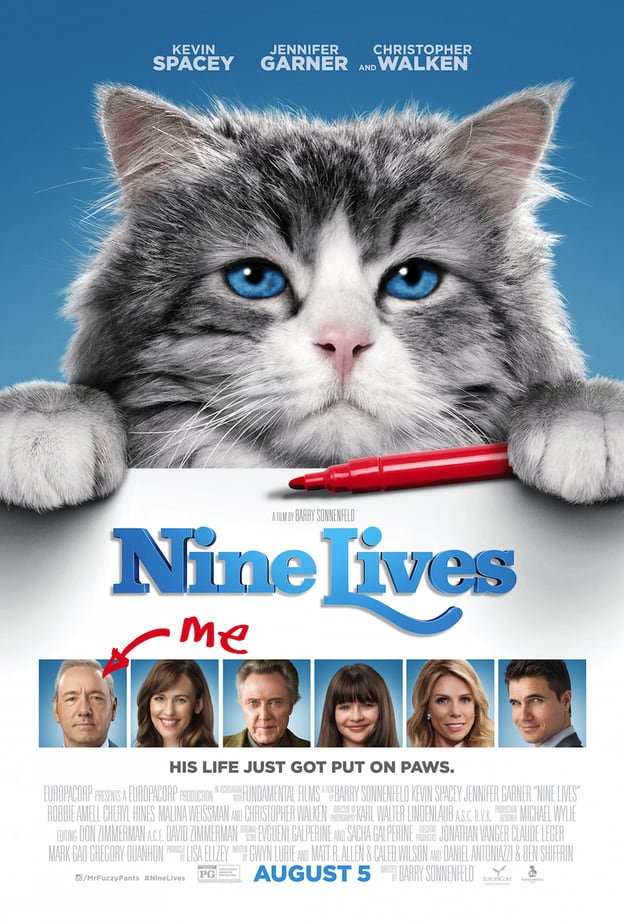 Don't be the scaredy-cat in your family! ‎Nine Lives opens in theaters this Friday. Get your tickets: http://ninelivesmovie.com/tickets/
Official Websites
Like 'Nine Lives' on Facebook
Follow on Twitter and Instagram
Follow Mr. Fuzzypants on Instagram