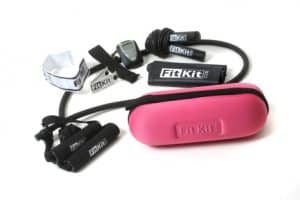 Its time, my friends.  Time for THIS mama to find a way to love exercise (or, let's just be real here, moving?) as much as bargains.  Thanks to the ingenius ladies behind FitKitHOME, I may just find that way.  Slowly…but hey, steps are steps, right?
FitKit is a company started by Amie and Beth, 2 sisters who are also from a family of 8 children like my own. Both are passionate about fitness and exercise, and I think it really shows through in their FitKits- Total Fitness in a Kit. FitKit has all the tools for a total body workout so moms can workout wherever, whenever. It comes in a seek, sexy case and the online exercise library is like having your own personal trainer.   The FitKits come for home, office, travel, dorm and golf- and there are over 500 exercises in the FitKit exercise library to customize your workouts.  There are suggestions for healthy eating at the office in the FitKitOffice- and I know I am totally wishing the FitKitDorm had been around when I was in college- perhaps I'd have been able to avoid that freshman 15 (times 2?)!!
With the pink neoprene case, the kids can even grab my FitKit and bring it outside for me- and I don't have to worry about it being broken/smashed because of the durability.  The pink is just…well, awesome in its pinkness (for non pink lovers, no worries.  There are other colors for your FitKit).  Compact, portable, and simple to use.  See what I mean?  There's really not an excuse for not moving anymore.
Thanks to FitKit, I can now jumprope 20 times in a row without hyperventilating.  That's right!  ME.  That's not happened (and honestly, not been attempted) in about 30 years.  Nothing fancy, just a basic, functioning jumprope.  I'm also getting ready to think about using the resistance band.  Yes, you read that right, friends.  The gelatinous gams I have are quaking in fear at the mere idea of resistance against them, but if I am to be healthy and fit, this is part of it.
What comes IN your FitKitHOME?
Exercise band
Resistance tube
Jump rope
Stability attachment
Pedometer with safety alarm
Reflective arm band
ID tag
Get fit wherever you are, including HOME-specific exercises.
Nutrition tips for healthy eating at home
Home Fitness and Safety tips
My readers can save 20% off of their FitKit purchase using the code TMLHB.  Just enter at checkout!!  (If you order- let me know- I'd love to know which you chose!!)
For THIS mama, What a Mom Wants is to be healthy and fit so that as my kids grow up and find new interests and activities, I can join them and participate alongside them.  I also want to be healthy and fit so I can be around a very long time and live to be a fit and healthy cranky old lady someday!
I received a sample of this product to facilitate my review.  Opinions expressed within are my own.