OK,  this one combines several things that kids love so it should be  a big hit in your house. Frozen+Handmade Christmas ornament+ I Spy Game= Winner, Winner, Chicken Dinner! This is a fun idea to make and let them give to their friends, keep for themselves, or use in an ornament exchange.  Here's the thing.. it is super easy and inexpensive to make even a half dozen of these up Start by picking up a multi pack of clear plastic balls on sale this shouldn't cost you more than a couple dollars for 4 to 6, then use a little imagination to turn what you already have on hand into "Frozen" props. Let's get starte
Frozen I Spy Ornament

Supplies Needed:
Large clear plastic ball ornaments
Fake snow, epsom salt, or clear bath salts.
small Frozen or snow themed items
Hot glue gun/sticks
Ribbon or string
Directions:
Pull off the hanger portion of your ball ornament.
Make sure every object you choose can fit inside the opening of your ball, I used an oversized clear ornament  to give me a little more width. Choose your items for I Spy-  I cut a heart from craft foam to represent the sisters love, a small  smooth rock for the rock people, a flower for Elsas eternal spring and optimish,  a small bent piece of orange chenille stem for Olafs nose, a snowflake button, I also included  alpha beads in the first initial of all the main characters- O- Olaf, A-Anna, E-Elsa, K- Kristoff, etc
Before you load up your I spy spread all the items you are going to use inside on a piece of white paper and snap a picture. Print this out and laminate or cover in clear contact paper on both sides so kids can mark off objects as they find them with a dry erase marker.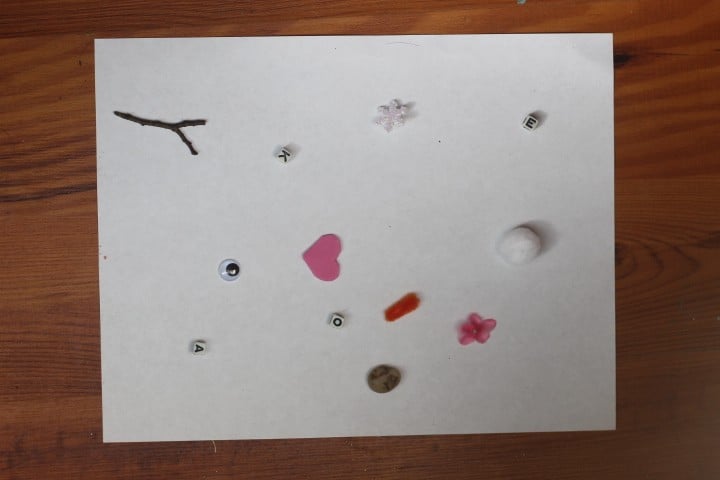 Now take all your little items and drop them gently through the opening.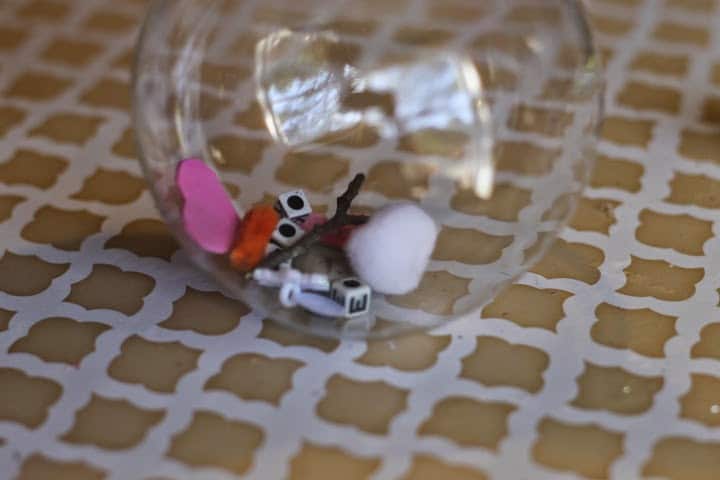 Use a funnel (or a funnel shaped piece of paper if you cant' find yours because you never put things back where they go-which may or may not have happened to me) to fill your ball between ½ to ¾ of the way full with filler, I used epsom salt because that is what I had on hand.
Place the tongs of your hanger  back inside but don't seat the metal cap yet, run a generous line of hot glue all the way around the neck of your ornament and press cap down, allow it to dry for 5 minutes before touching again. Tie on ribbon, or use a pretty glittered tulle in Frozen colors to dress it up a bit more.