What is your stance on party favor bags? As a general rule, I am against them. I like to send my party guests home with something memorable and useful. For my 3 year olds Busytown themed party I sewed up some reusable snack bags that turned out so cute! The kids loved taking home their bags, and parents were happy to take their little ones home with a useful gift. I am not a talented seamstress, but I was able to whip up these bags easily. Each one took about 15 minutes from start to finish. Supplies for 9 snack bags: Fabric – Cotton – 1 yard Design for front of bag – 1 yard Design for back of bag – 1 yard Coordinating design for lining of bag -Thread Sew On Velcro (8 inches per bag) Embellishments I found this great tutorial for Reusable Snack bags here at Prudent Baby. Please refer to this blog for detailed instructions. For my Busytown party, I was inspired by the new Busytown prints available at Fabric.com. In fact, I totally lucked out with the Busytown Book Panel, which is a yard of fabric with 12 images printed on it (intended to be sewn as a soft book). It turns out that each square is approximately 8 inches: just the perfect size for our snack bags. No measuring was needed. I just cut out the panels, then cut out one square of the same size from my fabric for the back and 2 for the lining. This left me with 4, 8 inch fabric square per snack bag.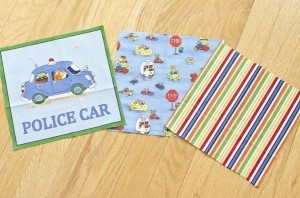 Sew embellishements on front and back of bag as desired (I used ric rac), set aside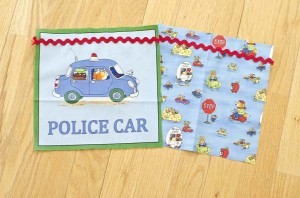 Sew the front of bag and lining fabric together, right sides facing: Repeat with the back panel and lining. You will now have 2 pieces.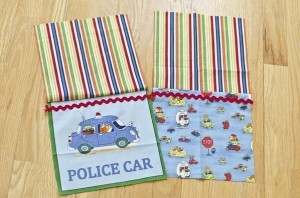 Turn the pieces so that wrong sides are facing. Press seam flat. Sew on Velcro to the lining side, at the top of the bag. Do this for both pieces.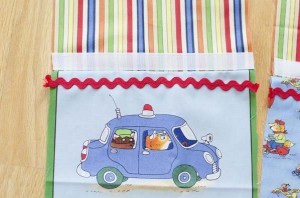 Take both of your pieces, with velcro sewn on, place them together so the lining with velcro is facing outwards (your bag will be inside out) Sew around the edges and bottom to make a bag. Turn right side out and sew another seam around the edges
and bottom to finish.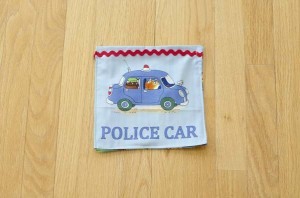 Done! These little bags would be great for any kid's party. You can find fabric of almost any theme at fabric.com.