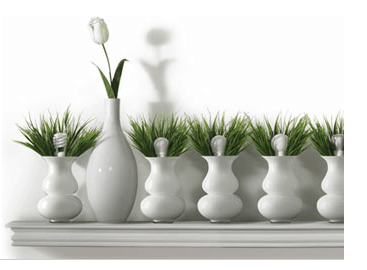 Living in today's society often means the use of a lot of resources.  Driving back and forth to activities, to events, charging the many, many electronics we have in our homes…powering these electronics.  Even watching television isn't simply turning on the television anymore- most of us turn on the television, the cable/satellite box, and maybe even a surround sound system.  That's a lot of resources, without even touching on the lighting our homes!
We try to live smart and live green in our home.  Sometimes we are successful, sometimes we are not.  But we do try to be conscious of turning off appliances and electronics when they are not in use, and we do make sure to purchase energy efficient products whenever available, even if the cost is greater.  This is the only earth we have to live on, and we feel strongly that we need to take care of it.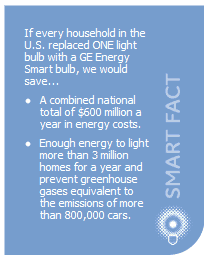 Buying and using energy efficient light bulbs is one very easy, super simple step all of us can take to be a little bit greener- with almost no effort.  Sooner or later, our bulbs will die, or be broken…they will need replacing. Why not replace with greener, energy efficient options?
Come join us at the #GELighting Sustainability and Frugal Living with Energy Efficient Light Bulbs TWITTER PARTY on May 31 from 1-2PM EST to chat about green living and energy efficient light bulbs! You can win prizes, and you will probably learn some great tips about ways to live smart and green at the same time!! Won't you join us?
Custom Tweet Grid: http://bit.ly/gelighting
Prizes: (2) $25, (1) $50 and (1) $100 Walmart GC
NO PURCHASE NECESSARY. VOID WHERE TAXED, PROHIBITED OR RESTRICTED BY LAW. Subject to Official Rules. Open only to residents of the United States.
Enter by RSVPing for the Twitter party on the link above, be actively participating in the party and are using the hashtag #GELighting. To be eligible, entries must be received by 1:55 p.m. EST  on May 31, 2012 (5 minutes before end of party) except that mail in entries must be mailed separately and postmarked by May 27, 2012 (4 days before party). To enter without purchase, hand write your name, completed address, age and telephone number on a 3"x5" card and mail it to Collective Bias, 205 S. Main Street, Ste. 1, Bentonville, AR 72712.
Prizes will be limited to 2 $25 Walmart Gift Cards and 1 $50 Walmart Gift Card and will be given away every 15 minutes during the 1 hour duration of the party on May 31, 2012. The grand prize of 1 $100 Walmart Gift Card to 1 winner will be given away at the close of the party. All winners will be chosen using random.org from the RSVP link and winners must be present and participating in the party using the hashtag #GELighting/Sustainability  at the time that they are drawn as a winner. Odds of winning depend on the number of eligible entries received. Winner will be notified via Twitter @ message by @lomargie during the party on May 31, 2012 and must respond to @lomargie within 5 minutes of being selected to claim their prize. All entries will be eligible for any unclaimed prizes after the close of the Twitter party via random drawing held on June 14, 2012 .
To obtain a copy of the Official Rules, send a self-addressed stamped envelope to Collective Bias, 205 S. Main Street, Ste. 1, Bentonville, AR 72712.
SPONSORS: Collective Bias, 205 S. Main Street, Ste. 1, Bentonville, AR 72712
All winners will be chosen using random.org from the RSVP link and winners must be present and participating in the party at the time that they are drawn as a winner.  There is a limit of 1 (one) prize per household during the party.
I am a member of the Collective Bias™ Social Fabric® Community.  This shop has been compensated as part of a social shopper insights study forCollective Bias™. #CBias #SocialFabric


0