Kids are are full of so much wonder and awe of everything around them. When they open a gift, they have this look of pure joy on their face that is irresistible! Here are some gift ideas for kids under $200! Some items received as samples, some are just because we love them.
Gift Ideas For Kids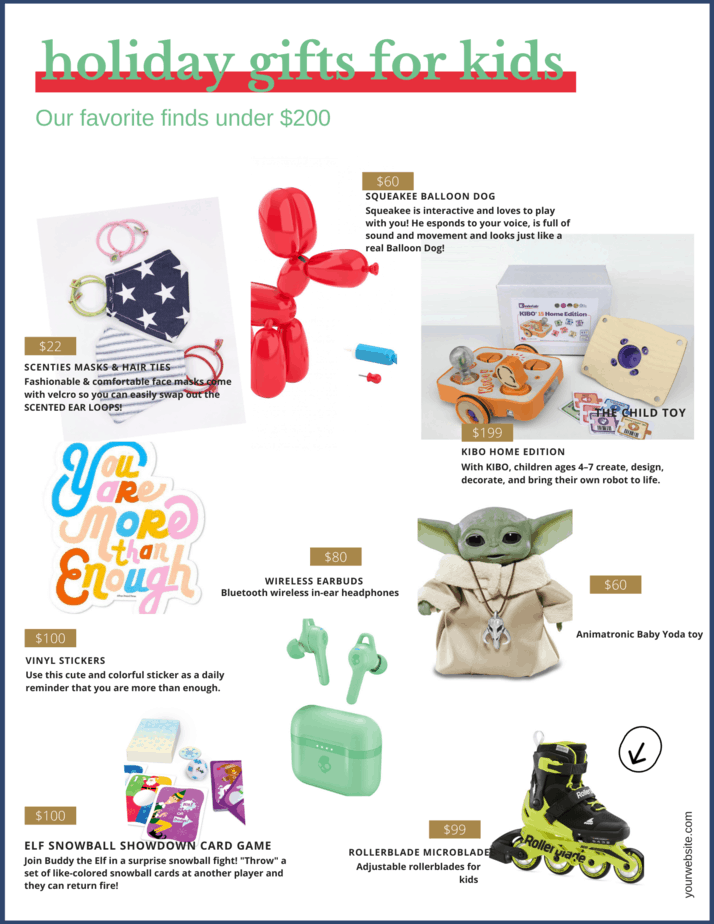 What toys would you add to our Gift Ideas For Kids?
At STRONG self(ie) we believe moments matter and should be celebrated!
From birthdays to break-ups or just because... the perfect gift will leave her feeling like her STRONGest self(ie). ALWAYS. ALL WAYS.
We make gifting easy for YOU and positive for HER!
Themed gift boxes filled with stylish, trendy, fun products make finding the perfect gift for each of her special moments a breeze.
Moments matter...celebrate them!
Photo Credit: bananagrams.com
Duel is a head-to-head BANANAGRAMS snack for cozy spaces and on-the-go play! It's a two-player word game face-off, where players race to build their own word grid using letter cubes. BANANAGRAMS Duel includes fun banana-shaped theme cards for an added challenge during every round of play! The (24) dice feature all (144) letters from the classic game crafted into a perfect BANANAGRAMS experience for two!
The affordable new KIBO Home Edition introduces young children to coding and robotics, inspiring parents, children, and siblings to engage and collaborate. With KIBO, children ages 4–7 create, design, decorate, and bring their own robot to life. Children build onto KIBO with familiar arts and crafts materials, engaging in imaginative play and storytelling that motivates and guides their learning. They can tell stories, choreograph dances, create a robotic vehicle to explore a cardboard town, create an animal habitat, and more.
30 Hours Total Battery + Rapid Charge
Full Media Controls on Each Bud, Use Either Bud Solo
3 EQ Modes (Music, Movie, Podcast)
IP55 Sweat, Water and Dust Resistant
Built-in Tile Technology
Collapsible Feature: Take your wired headphones wherever you go. Just fold them up, twist up the cord, and be on your merry way
Hands-free Talking And Volume Control: The built-in mic,remote and volume control lets you pick up calls and skip between tracks without missing a beat.
Adjustable Hinge: The adjustable headband gives your headphones some impressive flexibility so they can adapt to the shape of your head for a perfect fit.
Noise Isolation: full-sized, on-ear construction isolates from outside noise so you can hear the deep bass, and crisp mids and highs of your upcoming track.
Widely Compatible: with a flexible and durable 47 inches braided cord and sturdy 3. 5 mm stereo Plug. Will not kink, twist or break under normal use. Use with all your favorite devices like cellphones, laptop, computer, Chromebook, Zoom, MP3, MP4 and other Audio devices
Join Buddy the Elf in a surprise snowball fight! "Throw" a set of like-­colored snowball cards at another player and they can return fire!  When you're the target, roll the jumbo snowball dice to dodge the icy barrage. When you get hit, take a snowball "splat" card-three hits and you're out. In this frigid fight, the last elf standing wins!
Highlights
Family Card Game 
Ages 6 and up
For 3-6 players
20-minute gameplay
Photo Credit: scen-ties.com
Fruit is not only good for you! It smells great! Enjoy the scents of Strawberries, Watermelon, and Sour Apples.
Scenties new Mix & Match Face Mask Kits are designed to add a little Zest to a very basic accessory. We want everyone to live happy & healthy lives!
Our fashionable & comfortable face masks come with velcro so you can easily swap out the SCENTED EAR LOOPS!
Includes:
2 Washable & Reusable Face Masks with Velcro
1 Set of Strawberry Scented Ear Loops
1 Set of Watermelon Scented Ear Loops
1 Set of Sour Apple Scented Ear Loops
Photo Credit: Think Outside
THiNK OUTSiDE is a monthly subscription box full of outdoor gear and resources that will get your kids away from a screen and outside exploring nature!
3 to 5 pieces of quality outdoor gear
Water-resistant resource cards
28+ page educational booklet
Hands-on activities
Challenges to do as a family
Education and skill building
Monthly themes, such as navigation, shelter building, or star gazing
National park spotlights
Global features
Empathy section
Photo Credit: alwaysfits.com
Use this cute and colorful sticker as a daily reminder that you are more than enough. Add this sticker to your water bottle, computer, phone case (or anything you want!) to add a little inspiration to your day.
Approx. 3"
Die-cut
High quality vinyl
Meet Squeakee! The first ever balloon pet that's inflated with personality! He'll WOW you as he comes to life just like a real pup! Squeakee is so interactive and loves to play with you! This very playful toy responds to your voice, is full of sound and movement and looks just like a real Balloon Dog! Watch him sit and stand as you pet his head or tickle his tummy to make him happy! Squeakee comes with a range of fun accessories for you to interact and play with. Use his Pump to feed him. Place the Pump in his nose and hear him inflate! But be careful, when he's full he may pee or fart! Squeakee loves his Squeaker Toy and gets very excited when he hears it! Use his Squeaker Toy to train him to sit or beg! Feed him, teach him, even "POP" him with his Pin and watch him deflate! You'll be blown away at all his reactions and what he can do! Squeakee is your interactive balloon best friend!
1 x Squeakee
1 x Pin
1 x Pump
1 x Squeaker Toy
1 x Instruction Manual
Photo Credit: www.rollerblade.com
ADJUSTABLE SIZING, VERSATILE, LOW CENTER OF GRAVITY, SUPPORTIVE
Microblade is a high-quality adjustable skate for kids. Using Rollerblade expertise, skates are adjustable four full sizes. An easy-to-use system works with the push of a button and markers in the toe area align the skates to the correct size. Junior Fit support includes an engineered mesh for breathability and provides enhanced comfort. A durable frame design lowers the center of gravity to improve stability, balance and control.
SERIES-INSPIRED SOUNDS: Touch the top of The Child Animatronic Edition's head to activate sound effects inspired by The Mandalorian, including happy and excited, giggles and babbles, tired and sleeping, and Force effects sounds
ANIMATED TOY: Features motorized movements, including a head that moves up and down, ears that move back and forth, eyes that open and close, and more
FORCE ACTIVATION: Boys and girls ages 4 and up will love patting The Child Animatronic Edition's head 3 times for Force activation, in which the animatronic toy will raise its arm, close its eyes, and sigh, as if using the Force
FORCE NAP: Pretending to channel the Force takes a whole lot of energy and requires a lot of rest. Lay The Child toy down and it will close its eyes and take a "Force nap"
STYLED AFTER THE DISNEY PLUS SERIES: Inspired by the fan-favorite character from The Mandalorian, this 7.2-inch-tall Star Wars toy by Hasbro includes a removable Mandalorian pendant necklace and premium soft goods robe
Photo Credit: winning-moves.com
13 Dead End Drive first hit the scene in 1994. Now this fan favorite is back, by popular demand, to entertain a whole new generation. Your goal is to be the last surviving heir and inherit Aunt Agatha's fortune. Which one of her motley crew of friends and employees will it be?