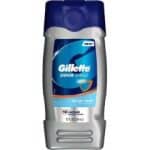 I love the smell of men's bath products.  Shave gel, after shave, body wash- there's just something I love about it!  Gillette Odor Shield Body Wash and Gillette Odor Sheild Anti-Perspirant and Deoderant trap and lock in odors as they occur and work to eliminate body odor, not just mask them, so your man can be confident !  The products are both designed to eliminate the odor and not just cover it up which so many products to- and fail at I may add…and then you get the lovely combination of BO and scents!! Yuck!
These products sound wonderful, but do they work?  Will This Mama Love Her Bargains and her man's new body wash?  (Let's not share with him that I'm admitting he's used body wash before, mmmkay?  We'll just be all kinds of hush-hush about it.) Let's see:

I received a sample of this product and promotional items in exchange for my review.  Opinions are my own.
0