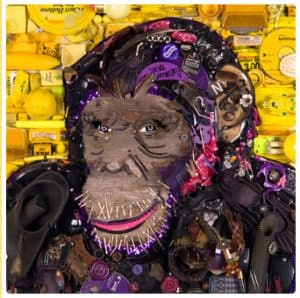 The Glad Art Auction lasts from April 16th through April 26th, and there are some truly amazing works of art on there. I'm in love with the Chimpanzee art, perhaps inspired by my newfound love of chimpanzees!?  Be sure to check it out.  There are just a few days left.  Turning trash to treasure can be fun- and beautiful, in more ways than one!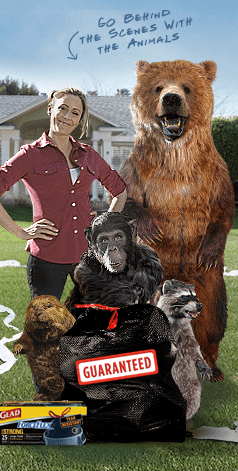 Have you seen Glad's latest campaign – The Wild Life?  So cool and so much fun!  Be sure to visit Facebook.com/Glad and watch as real life becomes the wild life with a unique family of six wildlife–each of whom inspired the Glad Black Bag art auction's unique art.
You can create your own sharable trailers for a chance to win $25,000 and other prizes and coupons!
I love that Glad is focusing on turning trash to treasure- and in such a fun, positive way!We decided to do some recycled crafts of our own- although I remembered AFTER the recycling was picked up last weekend so we didn't have as much material to go by as we might otherwise have, but the kids had a blast and they are always happy to use materials – any materials- that they are allowed to cut, glue or color.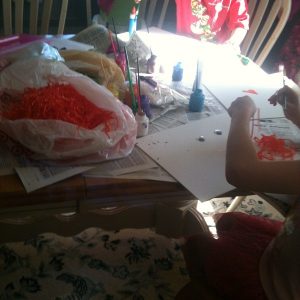 Any blogger will have packing materials around- the shredded orange paper?  Straight from a box that arrived that morning!! (The extras went to preschool with my son today.  Shredded paper is all the rage in preK.)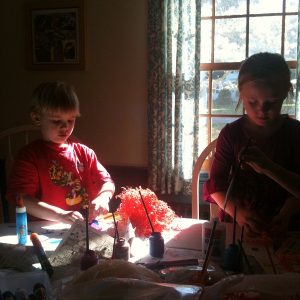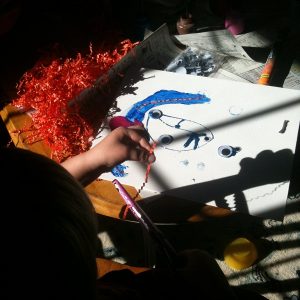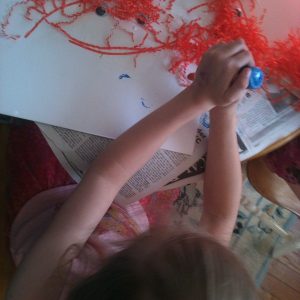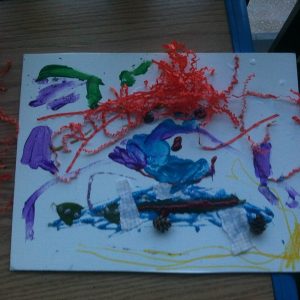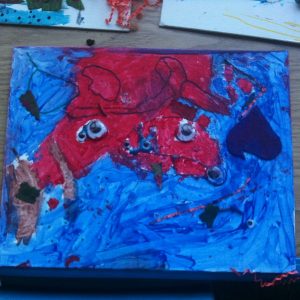 Got some fabric scraps, bits of yarn, felt, almost-empty tubes of glitter glue? No problem! Cover the table with Glad bags and newspaper (easy clean up, although I totally forgot to grab a shot of the table with the Glad bags on it) and let the kids go to town. When tubes of glitter glue are too far down to squeeze out, I cut the ends off and the kids use paintbrushes to apply.  It's a different way to experience the same medium, no waste, and a new way to use the same old stuff.
We do a lot of reduce, reuse, recycle in our home…it's something we feel is very important and have worked hard to instill that importance in the kids.  We use plastic bottles to make bird feeders- and I found a really neat idea on pinterest we're going to do in the gardens- making drip irrigation systems using plastic soda bottles.  My husband built each of the kids a small raised bed in the garden this year, and we're working on the square foot gardening concept in those.  Each of their beds has 9 squares, so they'll be learning a lot about watering, weeding, etc.  They helped build the boxes, which we used excess lumber from other projects on- more recycling.
What do YOU do with materials you don't have use for anymore?  Do you donate them?  Throw them out?  Freecycle them?  Repurpose them?  This is something I want to do over the summer!
Adorable, fun, and another great way to keep trash OUT of our landfills!  Can't you just see a whole tire "worm" for kids to climb on?
Now, in cleaning all of the craft project mess up, and also an unfortunate incident I had over the weekend….Glad Black Bags have come to my rescue.  These are my favorite trash bags!!    So strong, so flexible- and trust me- they don't rip.  I tried.  Well, I can't say I tried- but oh goodness me.  I better just tell you the whole story.
See, my van is perpetually dirty.  3 kids, crumbs, dirt…you know.  A mom van.  So I was cleaning it out on Saturday, but our shopvac cord didnt' reach to the van.  So Mr. Bargains helpfully used his handy retractable extension cord to get me some power.  Being awesome like I am, I was putting things away after finishing the big clean, and…well, while retracting the cord, it kind of whacked my elbow- surprising me, and I let go.  The housing for the cord is mounted about 8 inches below a large flourescent light.
Retractable extension cords should not be mounted anywhere near lights.  Particularly when you are married to someone clumsy like me.
Glad Black Bags came to the rescue in my 3 hour cleanup that commenced immediately after this photo was taken.
I was really nervous about the cleanup- which of course, the light shattered EVERYWHERE, and since my husband's been doing some projects, there were things out all over the place…which means glass was in eleventy million places. Glass tends to poke through bags and stuff, making the risk of cuts and glass slivers worse and worse…I did double bag the glass mess, just in case,
As you can see, Glad bags are excellent to contain any trash, any time- no matter what the materials or how much. I love them, and I'm sold.  Now if they'd only come in pink….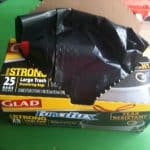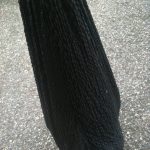 "I wrote this review while participating in a blog tour campaign by Mom Central Consulting on behalf of Glad Black Bag and received a Glad Black Bag product, a craft kit and a promotional item to thank me for taking the time to participate."
0