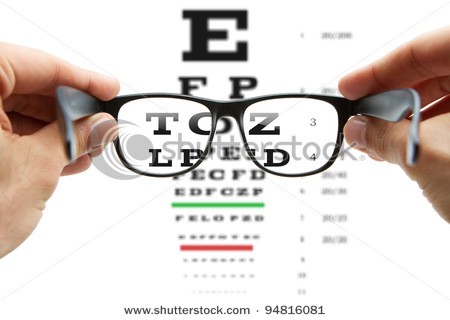 I have worn glasses most of my life.  I remember my first pair of glasses- they were, of course, "Annie" frames…big, buglike, and ohsounattractive.  I *had* to have the Annie frames…although I'm quite certain my mom must have argued with me to no avail.   The older I get, the worse my vision gets- and it is by no means "poor" vision, but there's been a definite decline, especially in the past 10 years.
I've always chosen glasses since my first pair- some cute, some funky, some super spunky (ok maybe not super spunky for others, but for me, they are spunky), some boring…
…and one time, I chose contacts. I did so with apprehension but thinking I'd be better about actually wearing them than my glasses.
That didn't go over so well.  I have this thing about my eyes.  I can't stand touching them or putting things- even drops- into them.  I'm probably not the best person to be trying contacts, even if they are cheap contact lenses.
But now I'm due for an eye exam and checkup, and it's time to decide…glasses, contacts, or surgery?  The laser surgery seems to huge and- well, SURGICAL…but it's kind of a one and done thing…contacts would be great if I could just get over my issues…and I'm so tired of glasses.
What do you think?  Would you look more into surgery?