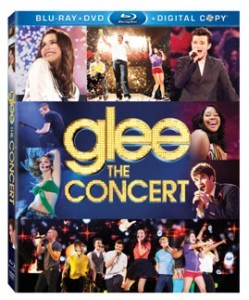 Here we are in 2012, and I have my first (of many I'm sure) confession. I've never seen GLEE.
I know, I know. It's like you don't even know me.  I mean, how can it be true?
I love music, I love drama-comedy shows, so what gives?
I'm afraid to get hooked on another show.  That's it.  Glee, I apologize.  I have no other reason.  I think I'll love you too much and will find something else to avoid housework.
Well, maybe I should amend that original confession a tiny bit.  I'd never seeN Glee, up until I got this DVD.  While the music and concert were enjoyable, I think I'd enjoy it more having more background for the show.  So………….. who wants to help me?  (You will want to anyway, when you get to the giveaway part).
Glee: The Concert Movie came out December 20th, and I'm sure "Gleeks" everywhere were excited for the release as I would be.  But what sticks out to me most about this for Blu-Ray viewers  is that by using the  Shazam® app to tag the movie, they can unlock extra content.  Um, coolness?   (We don't have the BluRay because we're stuck way back in 2011 still and only have DVD players in our house still).  As if Gleeks didn't have enough to love about Glee.  Now they can interact and get more cool stuff.  Discounts.  Features.  Freebies.  Smart marketing move- and cool for fans!!  (Happily, the Shazam app is not limited to android or iTunes- its available for lots of smartphones- yay!!)

Enjoy the sold out concert in the comfort of your living room

Experience your favorite stars, more performances and GLEEful moments using Shazam for

GLEE: THE CONCERT MOVIE Blu-ray, DVD and 3D Blu-ray on December 20th

Twentieth Century Fox Home Entertainment has teamed with Shazam® to present an industry first – the premiere of the first Shazam-enabled Blu-ray and DVD with the release of GLEE: THE CONCERT MOVIE on December 20th.

GLEE: THE CONCERT MOVIE stars Lea Michele, Jane Lynch, Cory Monteith, Chris Colfer, Dianna Agron, Darren Criss, Mark Salling, Naya Rivera, Heather Morris and the rest of the GLEE cast and is packed with new exciting never-before-seen and extended performances, clips of fans' favorite characters, exclusive extras and more.

Fans watching GLEE: THE CONCERT MOVIE on Blu-ray and DVD will see Shazam prompts on the screen alerting them to a Shazamable moment. Using their smartphones, fans can "tag" the movie when prompted to unlock exclusive content, including:

Song lyrics in time with the music using the LyricPlay feature
Exclusive behind the scenes footage not seen in theaters
Exclusive photos of the cast, and…
Trivia about one of FOX's most popular shows
Offers for Glee Seasons 1 and 2 on DVD as well as Glee merchandise

Every time people use Shazam while watching the movie, their tag will live on in their Tag List, giving them access to the extras that they can "snack on" anytime and anywhere, so they can be engaged with the movie even when they're not near a TV! Additionally, with the Shazam Friends feature, they can share their finds with their Facebook friends.

"The Shazam App lets fans interact with GLEE: THE CONCERT MOVIE in a way that's never been done before," said Mary Daily, Executive Vice President, Marketing for Twentieth Century Fox Home Entertainment. "Working with Shazam underscores our commitment to leverage technology innovations to deliver the very best entertainment experiences to fans."

"Incorporating Shazam for TV into a DVD or Blu-Ray release is a perfect fit for what Shazam is known for – discovering more about entertainment," said David Jones, Shazam's Executive Vice President, Marketing. "For many years, people have been using Shazam to unlock information about the songs they love, so working with Fox Home Entertainment to give people a truly interactive experience with the GLEE: THE CONCERT MOVIE DVD is a natural next step in the expansion of what people can do with the Shazam App on their mobile device."

One of my readers will win Glee: The Concert Movie on Blu Ray!


a Rafflecopter giveaway

I received a sample of this product to facilitate my review. Opinions are my own.
0