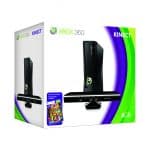 Yes, my friends, I do know this is *so* not the same as winning one, but at least its a bargain!!
The Xbox 360 4GC Console with Kinect for $279.00 right now on StuffBuff.com! 
 I will be sharing more about StuffBuff soon, but my new affiliation with them will help me bring deals to all of you that you can add to your cart from right here on my blog- no clicking to other sites!!  I'm excited about this- lots of great bargains and always FREE SHIPPING!!  
This video can easily explain StuffBuff. I'm all kinds of excited to share this with you!

0