I will be compensated for hosting the  #UrgentCareApp Twitter Party on October 29. Opinions are my own.

You're invited to the #UrgentCareApp Twitter party!
October 29, 2013 
2-3pm EST 
Hashtag: #UrgentCareApp
Sponsor: @GreatCallInc
Your Hosts: @brettbmartin along with @KelliBMiller @SuburbanMomClub @CrystalandComp @EllenBlogs @LisaSamples
You MUST RSVP (below) and be participating during the party to be eligible to win!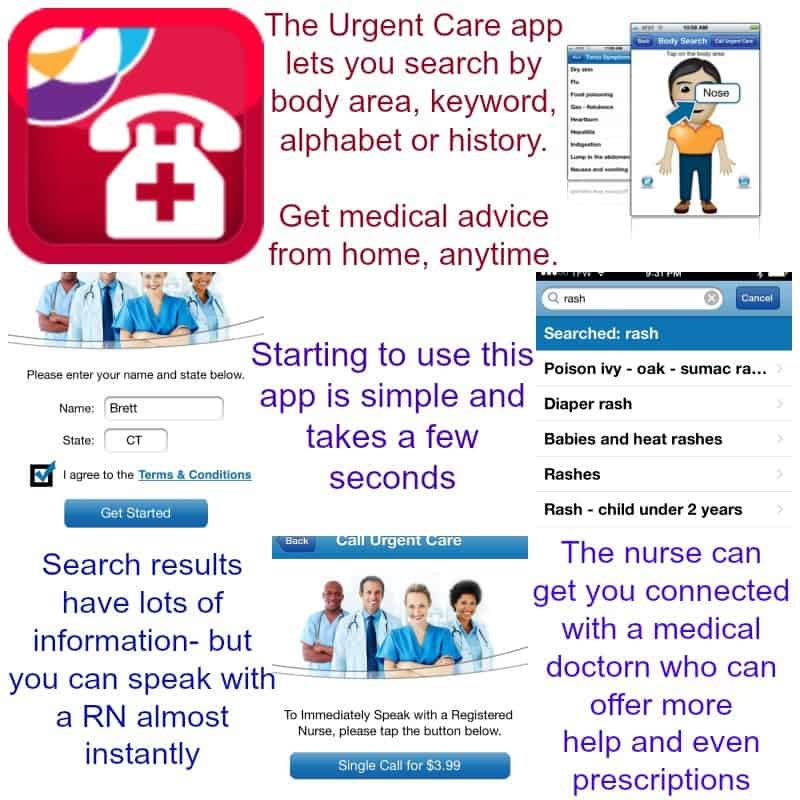 The  GreatCall Urgent Care app allows you to:
Have one-touch access to a live nurse for advice 24/7, who can escalate the call to a board-certified physician if needed
Get health-related assessments, general health information, diagnosis or even a prescription
Have access to an easy-to-understand medical dictionary
Research your symptoms with the medical symptom checker tool.
It's particularly convenient to use this tool when:
Your traveling and can't get to your doctor
You simply don't have time to run to the doctor,
You need medical advice when your physician or Urgent Care is closed or unavailable
You don't feel totally comfortable discussing your symptoms in person with your normal doctor
You want to save money. (The app is free, and calls are only $3.99. Much less expensive than a doctor's bill or co-pay!)
You don't have health insurance
You have a quick on-set of symptoms
The app download is free and available on iTunes and on Google Play. We have it on both of our phones and my iPad!
Here's a funny story- just last night, my littlest one kept waking up saying her hands were itchy.  Being the (not at all) stellar parent  that I am, I sent her back to bed.  One of the times she got up I did get her some lotion- in my defense, she's been doing a lot of stalling and excuses and it kind of seemed like that's what the hand thing was.  But this morning…well, she needed help because her shirt had a button that needed to be undone so she could get it on and I noticed a red rash and some hives on her arm right up to her hand. Upon further inspection, there was that same rash and random spots in multiple places on her little body.
And even though I HAVE this app, and know I'm hosting a Twitter party to talk with others ABOUT this fabulous app, I totally, 100% forgot about the app, and called the pediatrician.  Sigh.  It's not everyone who can be this spacy.  But someone has to be, right?
Anyway, given that she wasn't feverish or exhibiting any other signs of illness, I could have saved myself $50 and almost 2 hours of time (going to and from doctors office, wait time, exam time) and just checked the app.  With access to a live nurse 24/7 I could have easily gotten some advice and maybe even skipped the whole trip to the pediatrician.  I might also have found out it wasn't contagious and that she could have gone to school today.  But, I'm not that smart.  So  there you go.
That said, this app is pretty great.  Especially with most people having their smartphone or tablet within reach at all times- if your little one wakes up in the middle of the night and you just aren't sure what's up or what to do… this app is a GREAT way to get some info fast…and get professional advice at the touch of a button (or a few buttons, if, like me, your kids use your phone and you don't want to have eleven calls to nurses because the kids were playing push the button on mommy's phone)